Strike King Retooled Tour Grade Spinnerbaits ICAST 2020

Lexington, S.C. – July 10, 2020 – Look in the tackle collection of every serious angler, and you will find a variety of spinnerbaits.  Look a little closer, and you are sure to find several Strike King models in that bunch.
Strike King, the number one selling spinnerbait brand in the industry, announces the release of a retooled Tour Grade spinnerbait for the 2021 tackle year.  The term Tour Grade signifies a product that is designed to produce under the most intense conditions, and that benchmark of performance was at the forefront of these new baits. This spinnerbait is the highest end, premium spinnerbait we've ever built and still have maintained a great price point.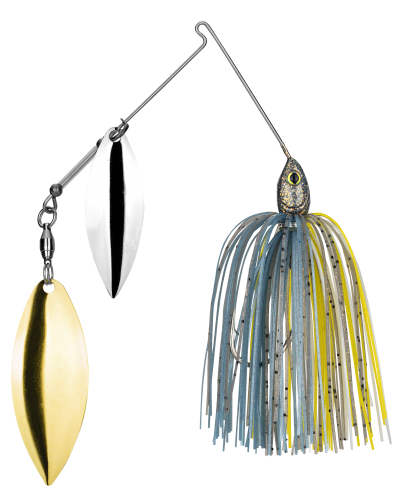 The new Strike King Tour Grade spinnerbaits will come with double willow blades, one on the shaft, and the other attached to premium ball bearing swivels for free rotation.  The uniquely detailed bullet style head is molded with 3D eyes and a molded baitholder collar to a 35-thousandths R-bend wire frame, and an O'Shaughnessy bend hook provides the bite to hook and hold the hardest charging bass.  The silicone skirts are wire tied to assure that the skirts stay up during the retrieve or during battle.  It features all new color combinations that include newly designed head colors that were made to match the custom skirt colors. Most spinnerbaits have a "one size fits all" head color and then put a skirt on it. On ours, each head color is matched specifically to the skirt.
Andy Morgan, a three-time FLW Tour Angler of the Year and new addition to the Strike King pro staff said that there is a familiarity with the brand, and an enthusiasm about this new product.  "The first spinnerbait I threw as a kid was a Charles Spence Strike King Spinnerbait; they were good then, and they've only gotten better since," he said.  "This new Tour Grade spinnerbait is no different than any other Strike King product, it's made to exacting standards and uses only the best components – it's at the top of the spinnerbait game."
The new Tour Grade Spinnerbaits will come in all of the popular fish catching colors and several new additions to the Strike King lineup.  Available in two sizes, 3/8 and 1/2-ounce, and will be available in the fall of 2020.