Strike King KVD 100 to Jerkbait ICAST 2020
Strike King Adds KVD 100 to Jerkbait Lineup for ICAST 2020
Lexington, S.C. – July 10, 2020 – When the topic of fishing a jerkbait is discussed, the name Kevin VanDam is going to be a major part of the discussion. Several years ago, Strike King introduced the KVD 200 and 300 size jerkbaits, then added to it with the 300 Deep model the following year. To further enhance the lineup, Strike King introduces the KVD 100 model jerkbait to the lineup.
The new KVD 100 is a 3.5-inch, shallow running, darting jerkbait that shines in conditions when larger baits might be too much for the fish. Featuring a slim, minnow shaped body and precisely engineered diving lip, the KVD 100 comes equipped with treble hooks affixed to high quality split rings and an oval split ring to ensure proper positioning on each cast.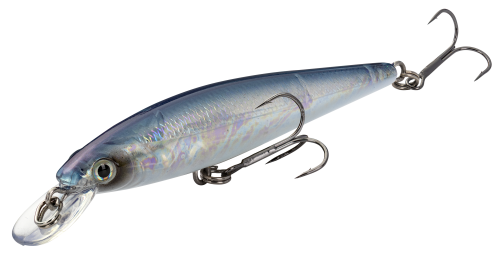 VanDam said that the Strike King KVD Jerkbait lineup had a hole that needed filled. "There are times that a standard sized bait is too much for the conditions," said VanDam. "The KVD 100 is a much slimmer, minnow profile that is perfect for clear water, and bright conditions. It presents a target that fish in pressured conditions will respond too."
He revealed that the project was built around the profile, but that he wanted an abundance of action. "This has one of the most unique bills I've ever seen on a jerkbait, and it has a ton of action," he said. "It is super lively, and responds to the rod tip with a snappy, darting action that really triggers strikes; it's a great bait. Some of the greatest attributes of the J100 are what's wrong with other small jerkbaits. Either they don't weigh enough to cast, or they weigh enough to cast but have no action. This one casts great and has ridiculous action."
The KVD 100 Jerkbait will run in the 3 to 4-foot range on 10-pound line, will be available in more than a dozen of Strike King's most popular finishes and will be available in the fall of 2020.