Seviin Features I'm liking right out of the box!
By AC Insider, Danny Blandford
The folks behind the legendary St. Croix brand have been in business for over seven decades now and we all know of their iconic reputation as rod builders and passionate anglers.  Now, they are bringing all that experience to the world of fishing reels under the brand name Seviin.  I've gotten my hands on two of their new GF Series baitcasting reels and plan to put them to work for some fall fishing.  I'm pairing a GFC811 (8.1:1) with fluorocarbon and my flipping stick, and a GFC731 (7.3:1) with braid and a topwater rod.
Now admittedly, I'm writing about these prior to putting them through the paces, but I've handled a ton of reels over the years, and have slung plenty of baits, so this first review is just that "new out of the box impression."
Here are "Seviin" features I'm digging after getting my hands on the GF Series of baitcasters
I:  Fit and finish – This thing is rock solid!  The frame is listed as "reinforced composite" and you can feel it in both the material used and the way the frame is all tied together.  I put some pressure on it from side to side, as well as a firm twisting motion to see if the torque would show up as weakness somewhere, and I couldn't find any flex in the frame or components.  It also has a nice matte finish that should wear well and hold up to the elements with no problems.
II:  Overall size – I don't have big bearpaw hands by any means, yet these reels are very easy to comfortably wrap my hands around.  The frame mentioned above lays in a way that my thumb naturally contacts the reel for the full length and I find that my index finger wants to wrap around the front side as well.  My other models of reels don't lend themselves to this grip, which I think I'm going to really prefer, especially on my flipping set up.  I feel like the more contact I have with the reel and rod seat, the better I feel the "tick tick".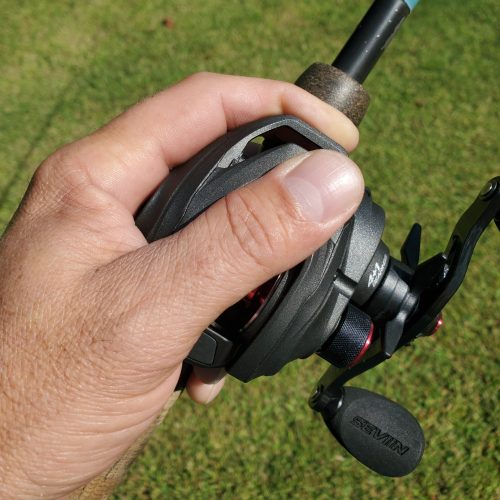 III:  Easy adjustment and access – Your magnetic brake dial is easy to see, feel, and hear adjustments and the mechanism itself feels solid.  As far as getting to the guts, I really like the latch system for the side plate.  It's tucked into a convenient spot on the side and it makes getting in to clean, lube, and/or swap spools simple.  This is also where you're magnetic braking components are and that side is very clean and self-contained.  There are no pins or internal settings to mess with or malfunction, and all your adjustments can be done externally with a large easy to read and hear dial.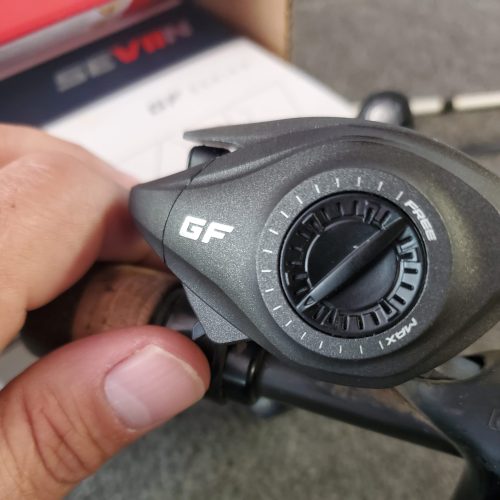 IV: Easy ID system – Not a critical thing, but it does show that "anglers" have put a lot of thought into the Seviins.  Each reel has a gear ratio stamp in bold lettering right on the back side, so when you have several set ups on the deck like I do, knowing which is which can come in handy.  Likewise, they have a smart little line indicator tucked away right there with it.  It was tough on my "middle-aged" eyes, but still very useful.  It can be dialed to whatever line size you are using so you'll know what you're picking up.  In my case I keep a couple identical crankbait combos on the deck, but one is rigged with 10 and one is rigged with 12 lb. line, for different applications.  This makes identifying those types of things simple, and I'm a big fan of KISS – "Keep it simple, stupid".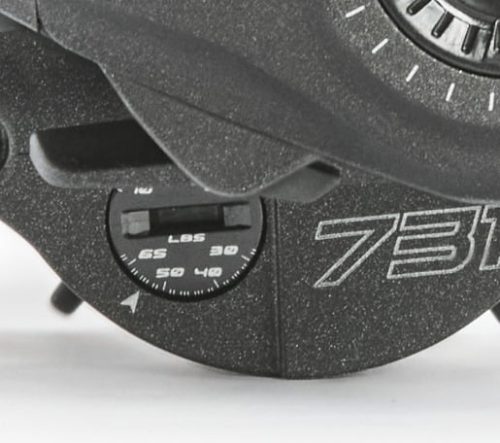 V:  Solid handle/drag combination – I didn't think I'd care about a "carbon fiber" handle, but I have to admit, it's a nice feature.  It was thicker than I was expecting and that results in a very rigid feel, which I like, especially the way it looks like I'll be gripping this reel for flipping.  The locknut system seems like it should be solid and worry free, and the EVA foam grips feel good to the touch and should provide a good grip.  Regardless of where your hand is on the handle, it's an easy reach to the drag star, so making adjustments in the heat of battle feels natural.  You can also hear the drag adjustments with audible clicks as you work the star, and I like that.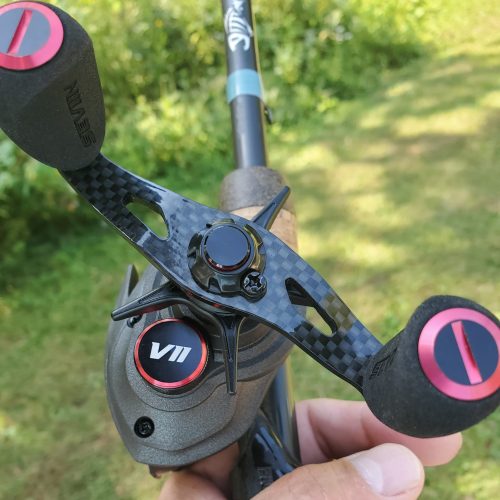 VI:  The drag itself – I've mentioned audible adjustments on the side, which I like, but the carbon fiber/stainless steel drag system itself is also audible, like we're accustomed to on spinning reels.  Now, I haven't had the opportunity to test that out on the water yet, but hopefully it's coming soon.  I'm "thinking" I'm going to like that too.  Hearing that drag should be a good indication of how much heat I'm putting on a fish, or better yet, how much heat it is putting on me, and I'd think it would help with making adjustments on the fly…we'll have to see, but I'm optimistic on this one!
VII:  The price!  I was recently on the $100-$120 reel hunt with my young nephew prior to the introduction of the Seviin.  Undoubtedly, we had a lot to choose from and we didn't come away empty handed, but I'm not sure that we got the bang for our buck that comes with these new GF Series of baitcasting reels.  He and I will be on the water together this weekend and I'm looking forward to slinging some baits with both and getting a real world feel for the Seviin.
In today's world a hundred bucks doesn't get you very far, but my first impression is that it goes farther with these Seviins than it does with some of the other products out there.  More to come after we get 'em wet and put them through the paces!
Here are the full specs:
• One-piece reinforced composite frame and side covers
• 4 + 1 stainless steel bearing system
• Rock-solid one-way clutch anti-reverse
• 32MM forged aluminum spool holds 110 yards of 12 lb mono
• Custom designed carbon fiber handle with EVA grips
• Multi-stack carbon fiber drag / stainless steel drag system
• Micro-adjustable magnetic cast control
• Precision hobbed hard brass pinion and drive gear
• Line memo indicator dial
Check out the website HERE