Seaguar Gold Label Fluorocarbon Leader ICAST 2020
Meet The New Gold Standard In Freshwater Fluorocarbon Leaders
"Simply amazing," is what Mark Daniels Jr. has to say about the 'secret' leader that he's been quietly testing on the Major League Fishing – Bass Pro Tour this season. "When you can pack that much strength — that much performance — into a leader so incredibly thin, you've engineered something really special."
Seaguar Gold Label – Mark Daniels Jr.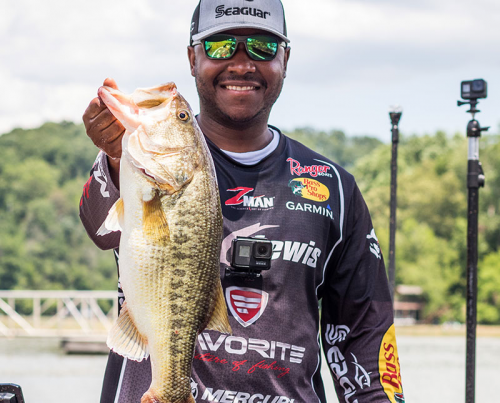 "This is the real deal," confirms Bassmaster Elite Series Pro Brandon Palaniuk, who, like Daniels Jr., has been using a leader that only a chosen few have been able to access – until now.
These tournament-tested pros have been fishing a new leader from Seaguar®, one that establishes the new gold standard for freshwater fluorocarbon. This leader is thinner and stronger, with less memory and stretch, plus excellent abrasion resistance and near invisibility beneath the surface – this is Seaguar Gold Label.
Seaguar Gold Label – Brandon Palaniuk
Gold Label is a 100% fluorocarbon leader manufactured using a dual extrusion process which unites a strong, sensitive core with a soft, supple exterior – a groundbreaking, proprietary line manufacturing technique that is exclusive to Seaguar. The result is a double-structure fluorocarbon leader that exhibits the beneficial attributes of each of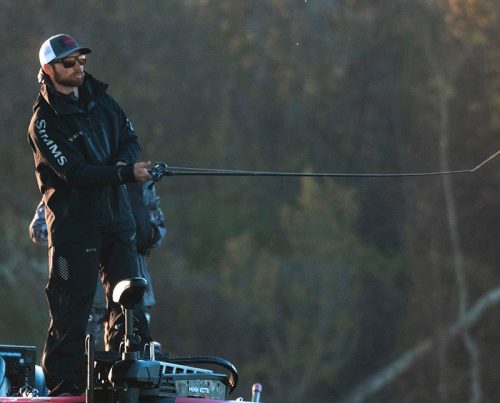 its two resins. With line diameters as much as 18% smaller than other Seaguar fluorocarbon leaders, Gold Label is the thinnest fluorocarbon leader available and is perfect for stealthy bass, walleye, and even panfish presentations. "Thinner leaders are always better," asserts Captain Mark Davis, host of BigWater Adventures, who has been leveraging the benefits of Gold Label for tackling saltwater brutes ever since its introduction. "When I fish with Gold Label, baits swim more naturally, triggering more bites and helping me to catch more fish." Now, those same benefits are also available to freshwater anglers.
Seaguar Gold Label
Thinner is better — but that's not the end of the Gold Label story; rather, it's just the beginning. The properties of Gold Label ensure that knots snug down tight and strong, whether you're linking Gold Label to Seaguar Smackdown™ braided main line, or tying a lure to the business end of your leader.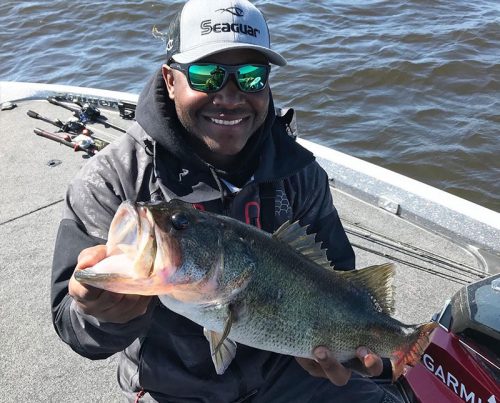 The exceptional tensile and knot strength you'll experience with Gold Label — as much as 17% stronger than other Seaguar fluorocarbon leaders — means fewer heartbreaks after the strike. Also, with a refractive index that closely matches that of water, Seaguar 100% fluorocarbon leaders
virtually disappear beneath the surface, ensuring that fish see your bait without detecting your line. In addition, because Seaguar fluorocarbon leaders offer enhanced abrasion resistance compared to monofilament, you'll experience fewer line failures from sharp walleye teeth, or from battling giant bass around rocks, docks, and timber.
"Anglers can leverage Gold Label, with its best available strength-to-diameter ratio," notes Daniels Jr., "in several different ways to put more fish in the boat. For example, finesse presentations can use a thinner leader than ever before, without sacrificing strength – and that's a huge advantage in clear water or when dealing with heavily pressured fish. On the other end of the spectrum, power anglers can tie up with a stronger leader than they might normally use, without having it be thicker than they want. Gold Label is truly a win-win proposition!"
"Everyone who ties up with Gold Label will immediately notice some of its other benefits," continues Daniels Jr., "especially its suppleness and very low memory. I've used a lot of different fluorocarbons over the years, and Gold Label has the least memory that I've ever encountered. Low memory makes the line easier to manage, especially in cold weather, and makes knot tying much easier — a big advantage whether I'm 'on the clock' at a Major League Fishing – Bass Pro Tour event, or just fishing for fun on one of my days off. Soon, everyone will have the chance to experience all of the benefits of Seaguar Gold Label for themselves." Brandon Palaniuk agrees, stating that Gold Label, "has the lowest memory I've seen, and its strength-to-diameter ratio is on another level. Gold Label is truly the ultimate fluorocarbon."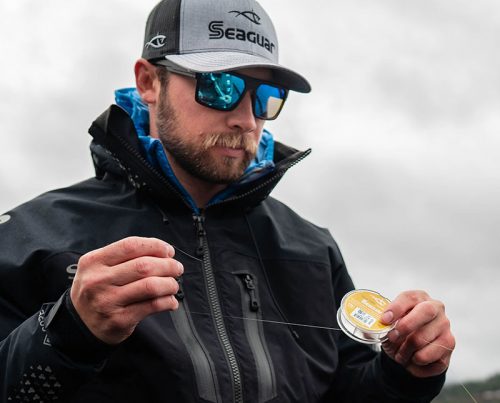 Seaguar is the originator of fluorocarbon fishing lines and leaders, and leverages nearly 50 years of experience in the design and manufacturing of 100% fluorocarbons to produce Gold Label, the new gold standard of performance for freshwater fluorocarbon leaders. Twenty five-yard spools of Seaguar Gold Label — with MSRP $16.99 to $18.99 — will be available in 2, 4, 6, 8, 10 and 12 lb test, complementing the 15, 20, 25, 30 and 40 lb test leaders currently available for saltwater use. Tie on a Gold Label leader for your next bass, walleye, or panfish trip, and you'll soon appreciate why Seaguar lines and leaders are Always the Best!