Lew's Reimagined Mach Crush Combos ICAST 2020
Lew's Introduces Reimagined Mach Crush Combos for ICAST 2020
Company Looking to Extend Combo Record Best of Show Win Steak
Lexington, S.C. – July 10, 2020 – For the past six years, Lew's has earned favor of the voting media and buyers at ICAST in the combo category of the Best of Show awards.  The company's use of innovative materials, design and engineering, coupled with bold, eye-catching cosmetics has resulted in a humbling, six-year streak of Best of Show Category wins.
For ICAST 2020, Lew's is unveiling completely reimagined Mach Crush SLP and Mach Crush Spinning combos for the 2021 tackle year.  The combos will once again be entered into the freshwater rod/reel combo category of the ICAST New Product Showcase/Best of Show competition and is a contender for earning a seventh award in the category.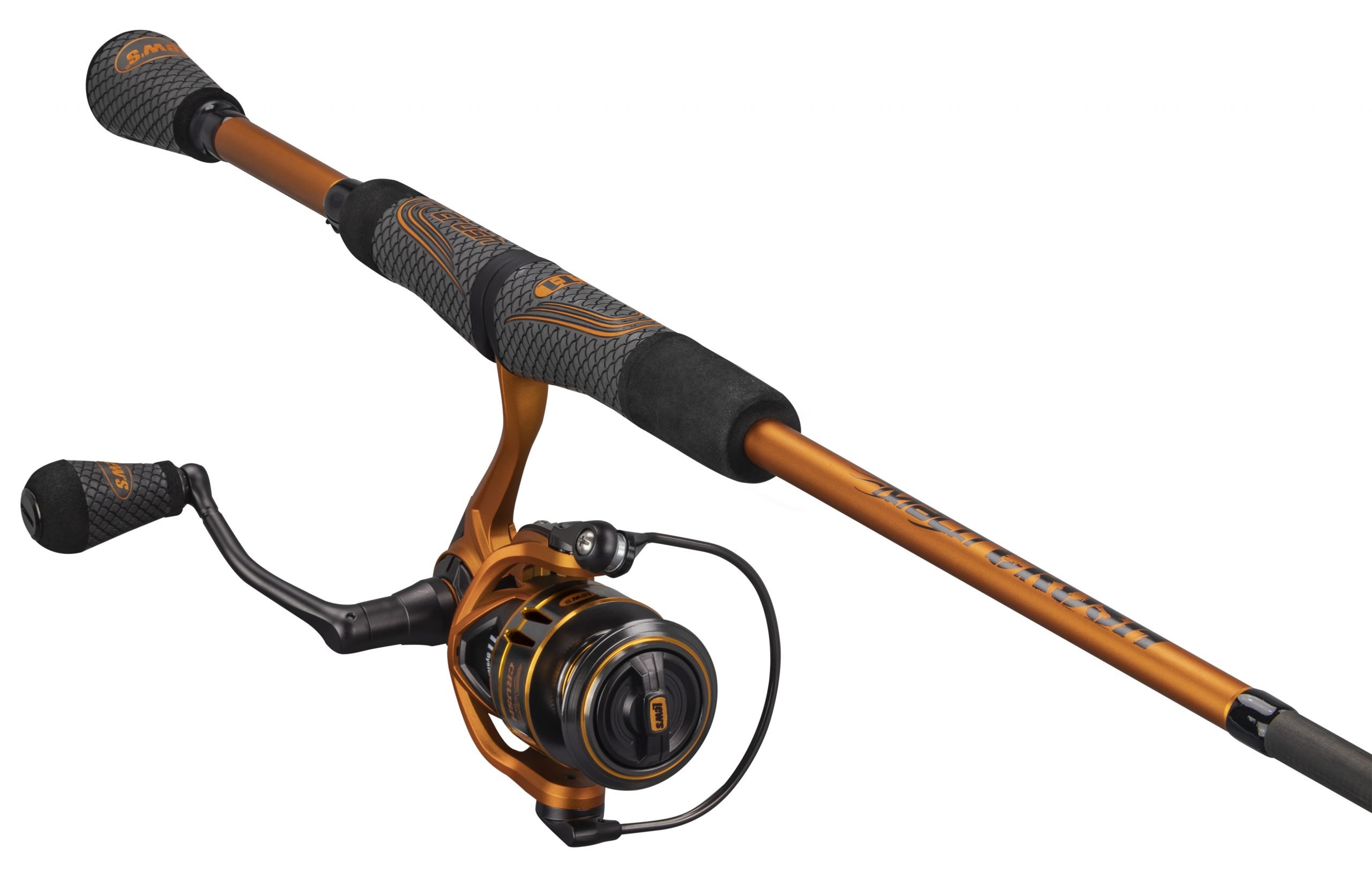 The combos – which will retail at $199.99 for the baitcasting models and $179.99 for the spinning series, will contain three models in the casting series and two in the spinning versions.
The Mach Crush rods are built on IM8 graphite blanks with nanotechnology, stainless steel guides with Titanium Oxide inserts, Lew's new Full Contact reel seats and full-length Winn Dri-Tac handles on casting versions and exclusive patent pending ComfortTouch™ split grips on the spinning models, which both feature SoftTouch finish. There will be three casting and two spinning models available and are finished with a beautiful metallic orange butt section and raw graphite upper.
Mach Crush SLP baitcasting reels on the combo will be available in 7.5:1 left or right hand versions finished in the metallic orange paint scheme, with a laundry list of features; strong and lightweight, graphite frame and sideplates, machined and anodized aluminum U-shape 32mm spool, high strength solid brass Speed Gears®, a premium 10 bearing system with double-shielded stainless-steel ball bearings and Zero Reverse® one-way clutch bearing,  externally adjustable Multi-Setting Brake (MSB) dual cast control system utilizing both an external click-dial for setting the magnetic brake, plus 4 individually disengaging disk-mounted internal brake shoes that operate on centrifugal force, an anodized aluminum spool tension adjustment with audible click, a rugged carbon fiber drag system that provides up to 20lbs. of drag power, an anodized, bowed aluminum 95mm handle with Winn® Dri-Tac handle knobs, an anodized aluminum bowed drag star with audible click adjustment, with a locking pin sideplate, a Zirconia line guide and external lube port.

Displaying the same metallic orange finish, the Mach Crush spinning reels feature a 6.2:1 gear ratio and come in two sizes.  Like its baitcasting cousin, the Mach Crush spinning reel has performance features throughout, including:
A premium 11-bearing system with 10 ball bearings and Zero Reverse one-way clutch bearing, and a smooth and powerful sealed carbon fiber drag system, a strong aluminum body and sideplate, with a lightweight high strength Carbon C40 Skeletal Speed Rotor with an aluminum bail wire, a S-curve oscillation system to precisely load the double anodized braid ready knurled aluminum spool, a quality solid brass pinion gear and durable stainless steel main shaft driven by an aluminum handle with Winn advanced polymer Dri-Tac handle knob and Lew's Speed Lube® for exceptional smoothness and uninterrupted performance in all weather conditions, from extreme heat to freezing cold.
New Mach Crush combos will be available for shipping in December 2020.
| | | | | | | |
| --- | --- | --- | --- | --- | --- | --- |
| Description | Length | Power/Action | Bearings | Gear Ratio | Retrieve | MSRP |
| Mach Crush Right Hand Baitcast Combo | 7′ | Med Hvy/Fast | 9+1 | 7.5:1 | Right | $199.99 |
| Mach Crush Left Hand Baitcast Combo | 7′ | Med Hvy/Fast | 9+1 | 7.5:1 | Left | $199.99 |
| Mach Crush Right Hand Baitcast Combo | 7'3 | Hvy/Fast | 9+1 | 7.5:1 | Right | $199.99 |
| Mach Crush 20 Spin Combo | 6'9″ | Med Light/Fast | 10+1 | 6.2:1 | Reversible | $179.99 |
| Mach Crush 30 Spin Combo | 7′ | Med/Fast | 10+1 | 6.2:1 | Reversible | $179.99 |
About Lew's
Lew's Fishing is a Lexington, South Carolina based supplier of fishing equipment and tackle. The Company supplies branded fishing reels, rods, and related accessories through the mass market, sporting goods, and specialty outdoor channels. For further information about Lew's, please visit www.lews.com.
About Strike King
Strike King is a Lexington, South Carolina based supplier of fishing tackle and sunglasses. The Company supplies hard baits, wire baits, soft plastics and related accessories through the mass market, sporting goods, and specialty outdoor channels. For further information about Strike King, please visit www.strikeking.com.: