Lew's New Team Lew's Pro SP ICAST 2020
Lew's Introduces New Team Lew's Pro SP
Skipping and Pitching Reel to Create New Category for Reel Performance
Lexington, S.C. – July 10, 2020 – Combine the creativity of one of the most elite group of professional angling teams in the business with the capability of a manufacturer to produce some of the highest quality products in the business, and the result is bound to be innovation.
From the mind of professional angler Andy Montgomery and the engineering team at Lew's comes the new Team Lew's Pro SP Skipping and Pitching reel.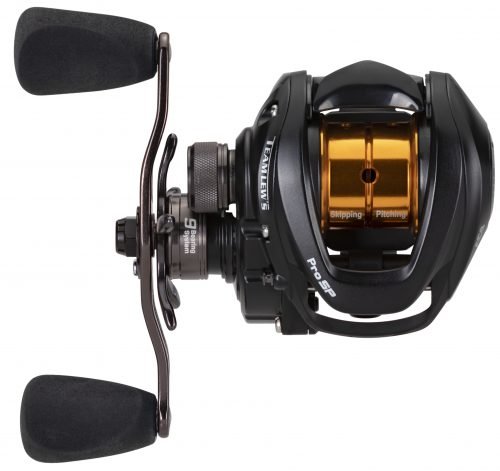 Skipping a jig has become one of the most productive fish catching patterns in the sport of bass fishing.  However, along with its potential for producing giant bites, it has its own unique perils.  The most prominent is the potential for tremendous backlashes if the lure strikes a dock post or a wave that arises.
To solve that problem, Lew's created a specialized spool that holds 40 yards of 20-pound-test Fluorocarbon with its recessed Knot Slot and included a special "Skipping Zone" in their externally adjustable QuietCast® centrifugal braking system.  The result is a reel that has all the performance of a Lew's reel, tuned to greatly minimize backlashes.
According to Montgomery, this reel has made a tremendous difference in his ability to make his namesake skipping presentations.  "The spool and braking system of the reel have revolutionized my ability to skip a jig," said Montgomery.  "It has the smoothness to make the casts, and the power to get the fish out from under the docks; it's absolutely amazing."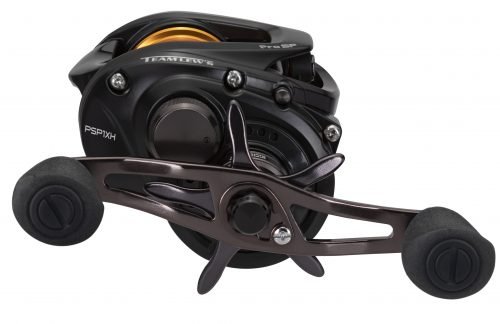 Kevin VanDam, who has been involved with Montgomery in the testing process, said the Team Lew's Pro SP is not a one-dimensional product.  "While it is known as a "skipping reel," the features make it perfect for any short line target casting and pitching and flipping application," said VanDam.  "I have used it for target casting spinnerbaits and Thunder Crickets, and it makes it easy to be aggressive with casts without fear of backlashing."
Team Lew's Pro SP Features
One-piece aluminum Super Low Profile frame with strong, lightweight graphite sideplates
Drilled and forged, anodized Duralumin 32mm shallow spool with Knot Slot
Hard anodized aluminum Speed Gears®, cut on precision Hamai CNC gear hobbing machines
P2 Super Pinion™ bearing supported pinion gear provides precise alignment and solid stability, resulting in for a smoother operation and extended gear life
Externally adjustable, 6-pin 27 position QuietCast® Adjustable Centrifugal Braking system (ACB) with orange skipping zone
Premium 9 bearing system with double-shielded stainless-steel ball bearings and Zero Reverse® one-way clutch bearing
Anodized aluminum spool tension adjustment with audible click
Rugged carbon fiber drag system provides up to 20lbs. of drag power.
Bowed lightweight 95mm aluminum reel handle with EVA knobs
Bowed anodized aluminum drag star with audible click adjustment
Zirconia line guide
Exclusive patented Speed Keeper® hook keeper
External lube port
The Team Lew's Pro SP will retail at $199.99 and be available at fishing tackle retailers beginning in the fall of 2020.
Team Lew's Pro SP
Model
Retrieve
Gear Ratio
RPT (in.)
Line Cap
Yd / Lb
Drag (Lb)
Weight
MSRP
PSP1XH
Right
8.3:1
33
40/20
20
6.0 oz
$199.99
PSP1XHL
Left
8.3:1
33
40/20
20
6.0 oz
$199.99
About Lew's
Lew's Fishing is a Lexington, South Carolina based supplier of fishing equipment and tackle. The Company supplies branded fishing reels, rods, and related accessories through the mass market, sporting goods, and specialty outdoor channels. For further information about Lew's, please visit www.lews.com.
About Strike King
Strike King is a Lexington, South Carolina based supplier of fishing tackle and sunglasses. The Company supplies hard baits, wire baits, soft plastics and related accessories through the mass market, sporting goods, and specialty outdoor channels. For further information about Strike King, please visit www.strikeking.com.: