Kayak Bass Fishing…Take Two
By Danny Blandford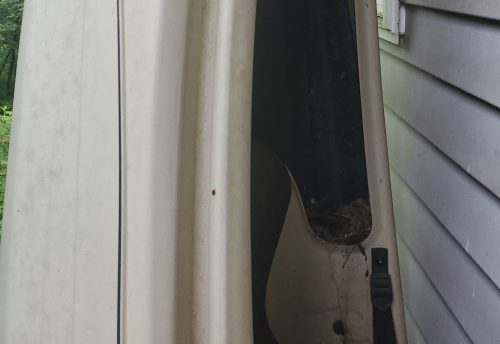 I'm starting to dig "back" into kayak bass fishing more and more, but I've had to do some homework.  I bought a sit-down/sit-in "fishing" kayak as an impulse buy years ago, but the purchase missed the mark and left a lot to be desired.  I love the concept, the access the kayak provides, and the simplicity it brings to bass fishing.  I didn't like the kayak…that was a huge roadblock to moving forward, so I shelved it…all of it.  My first attempt has made a great birdhouse, not so much of a great fishing platform, so I've recently decided to revisit that project.  Coming at it from a more informed perspective this time should certainly help with the results.
Fortunately, at AnglersChannel.com, we can get plugged into experts pretty quickly when we're looking to learn more.  I got a chance to chat with Old Town Kayak Pro, Anthony Garcia, of Los Angeles, CA.  What an awesome conversation; two anglers from completely different environments and backgrounds, tied with the common thread of bass fishing.  It was evident from the start, that Anthony's California rivers and my local Ohio River, don't have many parallels, but shallow water bassin' is shallow water bassin' regardless of locale, so we hit it off.
Anthony shared his fishing story of going from "Bait and weight" fishing with family as a kid, to getting into kayaks, then fishing kayaks and ultimately, national tournaments.  Ironically, he was fresh off his first co-angler bass event, the WON Bass CA Open, on Clear Lake.  He was just starting to dive into "our" world, as we were diving into his.  He ended up with a 5 bass limit each day and a 15th place finish, so I'd say kayak angling absolutely develops tournament anglers, and he knows his stuff.  Curious if I will take to a kayak as well as he did to the back of the boat…
We started with the basics of boat selection.  Anthony's advice was simple, "Get in kayaks…find buddies, or stores that have demos, and get in every style you can access.  What works for me is specific to me…my size, my fishing style, even where I fish dictates "why" my boat is right for me.  In my case, the Old Town AutoPilot 136 was right for me"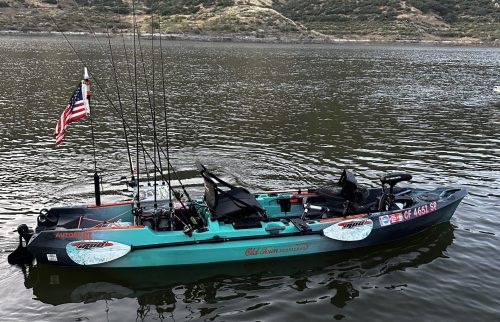 "What you'll learn by getting in them is what style feels stable to you; stability equals comfort out there on the water.  Choosing that first will set you on the right path.  You can check out different brands, price points and features once you know what kind YOU like."  Although simple, it was sound advice.  I had skipped step one and as a result, I felt like kayak fishing wasn't a good fit for me…in actuality it was having my butt below the water line and sitting all day that was just too foreign to me.  The opportunity to stand up and move around, like I do on the front deck of the boat is likely to make a huge difference.  Old Town has a Kayak Selector, but it sounds like seat time is the next step after online research.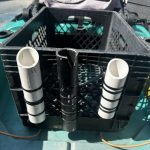 The conversation drifted from which boat to which "power".  I found dealing with the paddles for positioning, while also dealing with the rods, to be cumbersome and pretty inefficient to be honest.  Anthony had solutions for that as well.  "Over the years, we've dealt with a lot of those issues, some through our own innovation…things like bungees, milk crates, and pvc tubes can help provide some creature comforts to help with on the water organization.
With my current Old Town setup, I keep 6 to 10 rods rigged and ready, have tackle storage, the whole deal.  A while back, pedal drive kayaks really helped things jump forward for us bass guys by freeing up the hands and increasing our range.  Now with the addition of Minn Kota Autopilot, lightweight batteries, and electronics we're pretty set up."
"These days, when I'm out there, I'm focused completely on fishing, not navigation", added Garcia.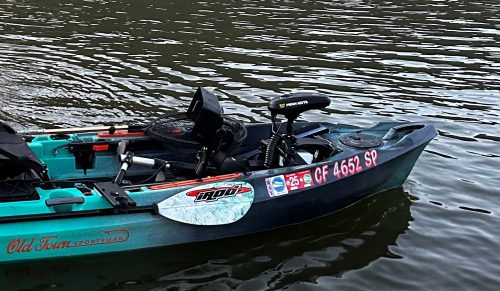 So I'm sure you're wondering, and of course I had to ask, How Fast & How Long??  According to Anthony, his Old Town Auto Pilot 136, with a "tournament load" gets about 4 mph at full speed and could run that way for a couple of hours and he could paddle to boost that speed.  "I seldom just get in and go full speed ahead, but you can cover some water.  I reserve a lot of my juice for moving around throughout the day, in both moving between spots and positioning the boat for good presentations and fishing.  In my longest tournament day, I covered about 14 miles, between fishing and moving around the lake."
14 miles kind of blew my mind; I'm not sure I cover that much water some days with electric and gas at my disposal.
The power to move comes from lithium, Anthony's is spread around, with some thought put into it.  Diving into his setup, he explained, "I do a 100 Ah (Amp/hour) lithium dedicated to my trolling motor and that's usually all I need, BUT, I run my transducers from a 54 Ah lithium that can be used for the Minn Kota if I deplete my main battery unexpectedly.  The graphs themselves are powered by a small 18 Ah that I can easily swap out."
I can see where the lithium is the way to go for kayak bass fishing, in my earlier article, Flipping the Relion Lithium Battery Switch I dropped in a Relion RB100-HP.  This is the same rating as discussed by Anthony for powering his Minn Kota, and it weighed in at 27 pounds, so that's a lot of power at minimal weight.
It was clear to me that after talking with Anthony, there are fishing kayaks and then there are FISHING kayaks.  Thinking about being able to cover MILES of backwater, some that's inaccessible to my current aluminum boat and being able to do it standing up, with electronics at my disposal has my wheels turning for sure.
In closing, special thanks to Old Town Pro, Anthony Garcia for sharing some insight I should have sought a long time ago.  If you're looking to dive a little deeper like me, the Old Town Website and their blog has some good stuff to check out.