Flipping the RELiON Lithium Battery switch – Part One: Shop Work
By: Danny Blandford
I've been in the bass tournament scene in one capacity or another for most of my adult life.  I've worked with major boat and motor manufacturers, boat dealers, and brands throughout most of my professional career.  With that said, at heart, I'm still just a weekend warrior who loves the competition that comes with bass fishing.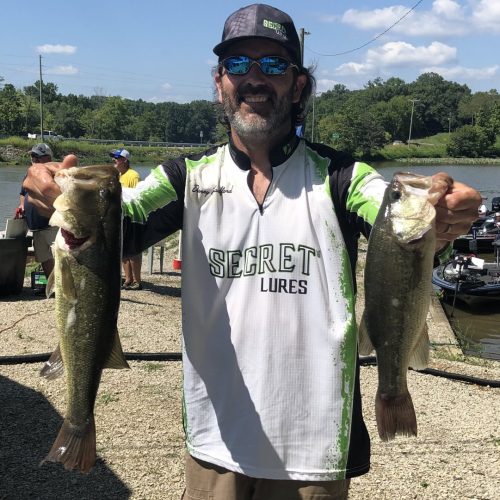 A Thursday nighter at home with our local river rats or something bigger, I do my best to show up and be in contention.  It doesn't always work out, but that is the nature of the beast we call bass fishing.
I've been fortunate over the years to win some events and most of those winnings are redeployed on more bass fishing gear, boat accessories, and electronics.  I'm kind of a "bass geek" so I play to pay for the latest and greatest…partly out of curiosity, and partly to make sure I've got any edges that may be available.  In recent years I've added a Humminbird 360, a TH Marine Hydrowave, an electric shallow water anchor, an additional forward facing sonar setup, as well as a few USB ports to keep cameras and electronics charged for "work".  What I hadn't done yet was address the old heavy lead-acid batteries in the back of my aluminum boat.  For the last year I was feeling like I was underpowered AND overweight.  I knew I could make it all better by flipping the lithium battery switch, but I was suffering from analysis paralysis, unsure of some details and if I'd be happy with the investment.
Prior to making the switch I did my charger research by visiting our partners at Pro Charging Systems, where I learned WAY more than I expected.  Having been a boat guy for years, I have seen plenty of factory rigs leaving with Dual Pro chargers and thought I was very familiar with them.  As a matter of fact, I had been running a Dual Pro Sportsman Series Charger for over 10 years without so much of a hiccup.  What I learned was I had a great charger, but not the best charger for the new lithium batteries, so a swap was in order there too.
The Dual Pro Professional Series PS3 Auto was the perfect tool for the job.  15 amps for each of three banks, the intelligence to know what "kind" of battery it was charging, AND the ability to charge lead-acid, AGM, and lithium…even if I chose to have different types in the same system.  The Autoprofile system was sharper than me for sure.  I really like the idea that if I ever end up having to replace a battery while out on the road, I'm not limited on what I can use in a pinch.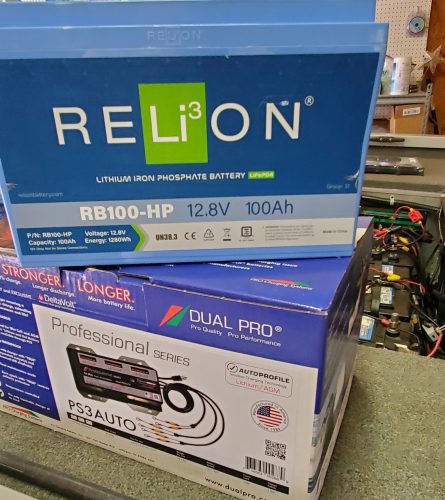 In regards to the process in the shop, any reasonable DIYer would feel very comfortable with what was required.  A couple hours in the garage, a 13 millimeter socket, and a screwdriver was all it took to repower the Angler's Channel River Rig.  Older deep cycle Group 27s were replaced with Group 31 Relion RB100s.  I also swapped a group 27 sized cranking battery, with a Relion RB100-HP.
In my case, I unhooked all my various leads from the old setup and kept them together and labeled.  Popping the latches on my TH Marine battery trays and getting the old batteries out was the most work, since they weighed in at 54 lbs each.  Prior to dropping in the Relion batteries, I ran them across the scales and the RB100s weighed in at 27 lbs each.  In total, I shaved off around 80 pounds from the transom area of the boat.  When you're talking tin rigs built for shallow water access, that's a BIG deal.
Mounting the charger was as simple as hanging a picture on the wall.  Since it was about 25% bigger than the Sportsman Series, I had to add a few new holes in the rigging plate where it was mounted, but otherwise, plug and play comes to mind.  It even included the stainless steel screws and hardware required to mount it.   I'll be adding a Dual Pro Lithium Battery Gauge to the project next, and will follow up with more details on this addition soon.
Overall, my wiring setup was already good to go, it was just the juice that was lacking.  I do have to say I love the terminals on the Relions…I know that seems like a silly thing with such sophisticated power, but they're simply better.  Instead of traditional posts, these come with studs/bolts that securely thread into the battery itself and they feature a plate to ensure solid connection, and have a lock washer to ensure they stay that way.
The RB100-HP has the added benefit of having three pairs of terminals, which I REALLY like.  In my case, Terminal Set 1 has the charger and the engine hooked up, Terminal Set 2 has all the standard 12v factory boat wiring for accessories, leaving me a third terminal to run my electronics feed exclusively with nothing else interfering.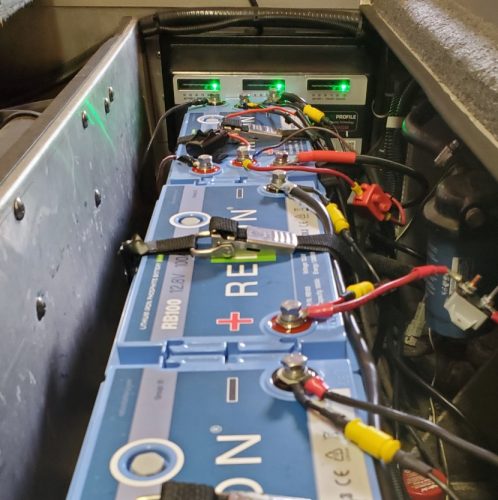 Overall, it was an easy switch and a pretty simple project.  I knocked it out quickly the night before heading out for a long tournament weekend.  I plugged everything in around 6 pm and all three batteries climbed from 50% to 100% by 10 pm and I was ready to roll.  I have some tidying up to do with some of my wires and cabling, but I plan to clean that up when I do the Gauge Project.
In the next installment, I'll report on my first 24 hours on the water with this new set-up.  Spoiler Alert: I'm JUICED!