Gamakatsu New Swivels ICAST 2020
Tacoma, Washington (July 14, 2020) – Gamakatsu is approaching terminal tackle with the same attention to detail that makes their hooks superior. Their new swivels are built to the same precision tolerances, giving anglers the high quality that they expect from Gamakatsu. Top of the line components create a swivel that provides stealth presentations, with strength far beyond its size. The initial introduction includes the all-new Superline Swivel, Superline Swivel with Duo Lock Snap and Superline Swivel with Cross Lock Snap.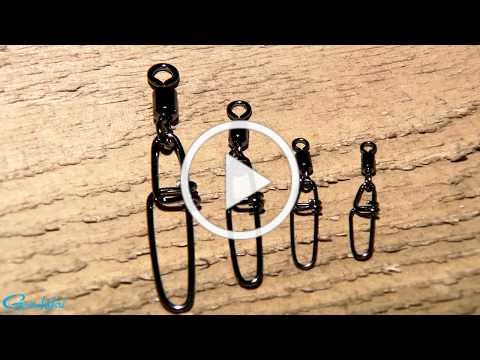 The Japanese made Superline Swivel offers a superior strength to size ratio and an NSB (nickel silver black) coating is applied for a stealthy finish that resists corrosion, in fresh or saltwater. Swivels are available in sizes 10 to 1, with break strengths of 35 to 330 pounds. Whether you chase Bluegill or Bigeye, Gamakatsu has a swivel for you.
Visit the Gamakatsu New Product Site Here!
Anglers that enjoy the quick-change nature of snap swivels can choose from duo or cross lock versions paired with Gamakatsu's new Superline Swivel. Freshwater anglers, and those employing light tackle out in the brine, will gravitate toward the lightweight duo lock snap, rated from 35- to 120-pound test, in sizes from 12 to 5. Those chasing larger quarry will appreciate the beefier construction of the cross lock snap swivel, in sizes 7 to 2, testing from 75 to 230 pounds.
Superline Swivel Features:
Superior strength to size ratio
Treated with a stealthy NSB coating
Available in size 10 (35lb), 8 (50lb), 7 (75lb), 6 (80lb), 5 (120lb), 4 (130lb), 2 (230lb), and 1
(330lb)
Made in Japan
Duo Lock Snap with Superline Swivel Features:
Duo Lock Snap for small to mid-sized baits
Superior strength to size ratio
Treated with a stealthy NSB coating
Available in size 12 (35lb), 10 (35lb), 8 (50lb), 7 (75lb) and 5 (120lb)
Made in Japan
Cross Lock Snap with Superline Swivel Features:
Cross lock snap for mid-sized to larger baits
Superior strength to size ratio
Treated with a stealthy NSB coating
Available in size 7 (75lb), 6 (80lb), 4 (130lb) and 2 (230lb)
Made in Japan