From The Front Deck – My Take On Gerald Swindle And His Angler Of The Year Win
Posted On September 23, 2016
---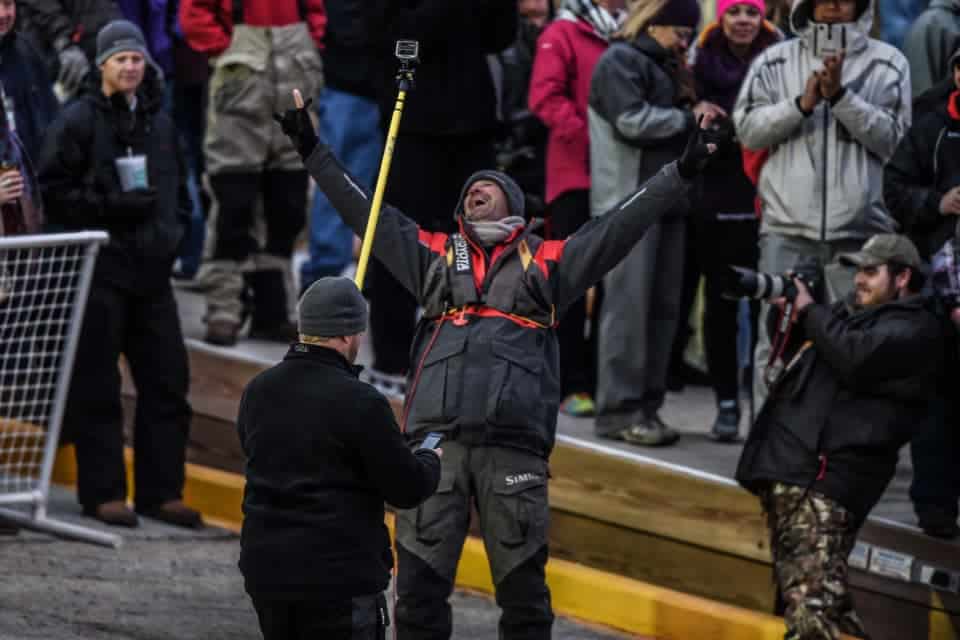 2016 BASS Angler of the Year – Gerald Swindle – One of the best in the business. 
From the Front Deck – Opinon Blog – Chris Brown
While sitting in my home office last August, A few miles from Lake Guntersville. I received a text from a good friend asking what I was up to.
"Working" I replied back.
The little "bubble thingies" rose on my phone indicating he was responding.
"Let's go Fishing. Meet me at Waterfront at Noon."
In my experience, when an FLW or Elite Series Pro says, "lets go fishing"  you take them up on the offer, especially when its Alabama Pro Gerald Swindle.
I have spent alot of time around Gerald, but never on the water. Boat yards, media events, early morning take-offs, and the occasional after tournament dinner and from that I can generally get a feel for how his day is going and if and when its appropriate to ask for an interview or a picture. Most days its cool, some mornings you just leave them all alone and let them go to work. When its a day on the water with them however, you just want to go have a good time.
When I pulled up to the ramp at Waterfront that day there was one trailer in the parking lot, and it was Geralds.
Rumor had it, that day would be the hottest day of the year in Alabama.
It was.
With 100% humidity, temps pushing 110 degrees and little to no wind, Gerald and I set out to try and coax a few ledge fish from the depths of Lake Guntersville. We fished and talked about his career, his future, sponsors, people, other fisherman, you name it, we talked about it. We both took a swim in the river as the wind died and the sun was absolutely brutal.
The silver lining to the heat though….. we caught them. Caught the absolute crap out of them and my sides hurt not from the hooksets, but from laughing so hard all day at Gerald.
Gerald and his wife Leanne, often referred to as "Lulu," are some of the best people in this industry. Sure, Gerald is one of the funniest guys on tour and one you cannot wait to cross the weigh-in stage because of his comedic interviews with emcee Dave Mercer, but there is a serious side to Gerald as well and it centers around his family and friends.
That "give you the shirt off his back" mentality is not just a persona, its a reality. Both Gerald and Lulu care not only for each other, other anglers and thier families, but also the industry as well.
On our little fishing trip that day we talked about a number of things and the health of the Bass Fishing Industry was one of them. If you dont think a guy like Gerald keeps his finger on the pulse of that stuff, you are mistaken. He's a saavy dude both on and off the water.
So whats my take on our newly crowned BASS Angler of the Year?
I could'nt be more excited!
 Not only because Gerlad is a friend, but because I know he will represent the BASS, the industry and his peers well over the next year.
When he won Sunday night, my wife and I both were trying to figure out how to get a ticket to next years Classic Banquet just so we could hear Gerald's speech, simply because we know it will be epic.
Congratulations G, from myself, my family and from all of us at AnglersChannel.com, Congrats.
We are Proud of you for perservering and never giving up throughout the year and for bringing that trophy home!
Lets go fishing! but on a cooler day next time……..
Thanks and God Bless,
CB
---