Throwback Thursday – Season at a Glance: 1970 Bass Master Trail – Part 1
By Terry Battisti – Bass Fishing Archives
Editor's note: This is part one of a two-part series on the 1970 Bass Master Trail. Part one will cover the first three events of the season while part two will cover the last four events.
The 1970 Bass Master Trail was the third full year of Bass Master tournament competition and would be the year of a number of firsts. To start off it was the year when the Bass Master Angler of the Year would begin. Although this award didn't offer much more than bragging rights and a nice piece of hardware, it's become arguably the most-cherished award on any tour.
Second, it would be the first year where a single angler would win three events in the season. For those of you that know your history, I'm sure you can figure that one out pretty easily. But for those of you who either don't remember or just don't know, I'll save it for later.
Third, and this would become pretty significant, was that Roland Martin would make his Bass Master tournament debut. Martin's debut almost didn't happen after he saw the weights posted at the Eufaula National in 1969. It took some cajoling from Ray Scott to get Martin to test the waters that year – Martin never looked back.
The 1970 Bass Master Trail would feature seven events starting in the state of Texas and finishing in Missouri. To date, it was the most tournaments held by the fledgling Bass Anglers Sportsman Society in one year. 1969 had six events and 1968 featured only four. Here's a chronological list of the tournaments:
January 29-31, 1970 – Toledo Bend Invitational, Many, LA
March 19-21, 1970 – Seminole Lunker Hunt, Bainbridge, GA
April 30 – May 2, 1970 – Rebel Invitational Ross Barnett, Jackson, MS
June 11-13, 1970 – Lake Eufaula Henshall Memorial, Florence Landing, GA
August 5-7, 1970 – Oklahoma National Lake Eufaula, Eufaula, OK
September 24-26, 1970 – Texas National Sam Rayburn Reservoir, Jasper, TX
November 12-14, 1970 – All-American Table Rock Lake, Kimberling, MO
Back in the 1970 time frame, Bassmaster Magazine was a quarterly publication.  It focused on teaching anglers to be better bass fishermen. Unfortunately, its tournament coverage doesn't provide much knowledge of the anglers other than the winners. Still, we'll give you what we know of the events from reading the reports.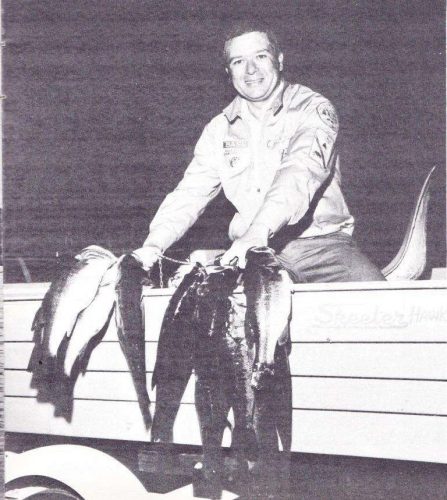 Toledo Bend Reservoir, dubbed as the "hottest bass lake in the country," would kick off the 1970 Bass Master Trail season with 79 contestants. It's reported that the weather had been cold but turned for the better with three "June in January days." This played a significant role in the outcome of the event.
Local angler Mike Bono would catch his limit all three days of the tournament (45 fish total) and take the top honors with 94-04. Bono, not only knew the fish at Toledo Bend, he also knew the lake probably better than anyone in the derby, having walked the lake countless times prior to its being filled. He won the event fishing in 55 feet of water using silver jigging spoons and Fliptail worms.
For his efforts, Bono won $2000 worth of cash and prizes, which included a new Skeeter Hawk boat powered by an 85-hp Chrysler motor and a V.E.T. trailer.
In the second spot was rookie angler Roland Martin of Cross, SC with a total of 77-06. There are two things that stick out in that sentence. One, the word rookie and two, he hailed from South Carolina. Martin would show bass anglers that year he was far from a rookie and the next year he would move from South Carolina to Montgomery, AL. Martin would become somewhat of a nomad, living all over the United States in order to learn as much as he could about bass and their habits.
Third place went to B.A.S.S. veteran Gerald Blanchard (TN) with 72-10, Carlos Mayo (AR) took 4th-place honors with 70-15. Rounding out the top 5 was Elroy Krueger (TX) with 69-00.
Unfortunately, Bass Master Magazine didn't post the results below 20th place. At this time B.A.S.S. was giving 10 points per ounce and live fish were not worth any extra points.
Tournament totals for the Toledo Bend event were 1791 bass that weighed 2715-08. Gerald Blanchard took big fish with a 7-15 largemouth.
The top 20 for the Toledo Bend Invitational are shown in the table below.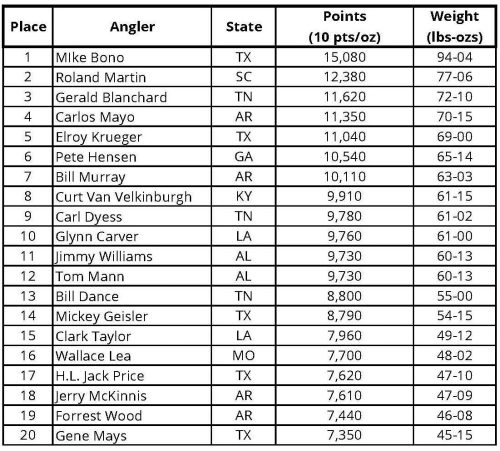 SEMINOLE LUNKER HUNT – WHO ELSE?
The title of the Spring issue of Bass Master Magazine's Tournament Trail report says it all. "Roland Martin Bright New Star On BASS Horizon." In his second event, Roland Martin would become B.A.S.S.'s new star. He followed up his second-place finish at Toledo Bend with a win at Seminole against 115 other pros from 19 states.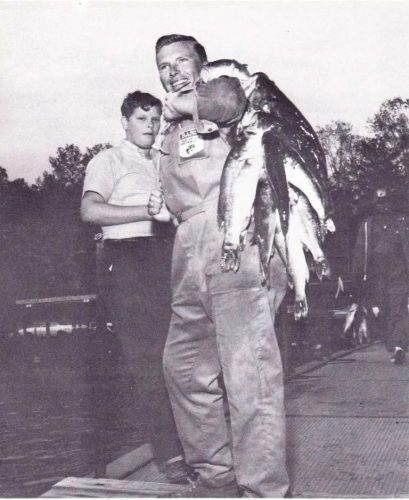 Roland Martin didn't do it wire-to-wire by no means, though. He wasn't even in the top 20 on the first day of the event. But on the second day, he caught the tournament's only 15-fish limit and propelled himself into the number-1 spot. On the last day, he brought 13 bass to the scales and took top honors by over 3-1/2 pounds.
After the dust had settled, Martin weighed 32 fish for 53-14. He reported catching spawning fish in water 18 inches or less on black Mann's Jelly worms and a local topwater bait known as a Diamond Eye Rattler made by Capt. Jim Strader. He won $2000 in cash along with Motor Guide foot-controlled trolling motor.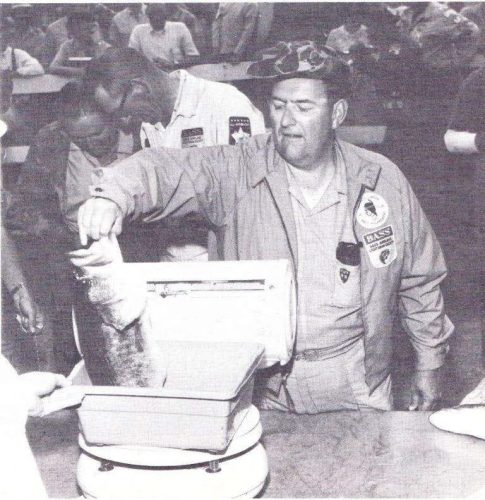 Second place went to R. C. Billingsley (AR) with 50-03 and third place went Howard Holmes (MO) with 48-10. In the fourth spot was veteran Bill Dance with 47-14 and the fifth spot was taken by Mac B. Greer (AL). Greer also caught big fish each day of the event, a first at the time and may still be. His big fish were 6-13, 8-05 and 8-05.
Overall, there were 1109 fish weighed for a total of 1956-02. The top 20 anglers from the Seminole Lunker Hunt are presented below.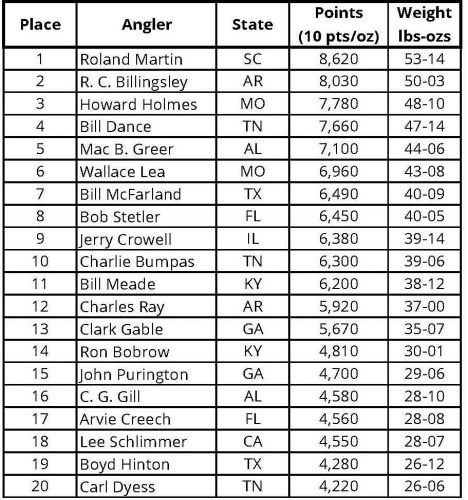 REBEL INVITATIONAL ROSS BARNETT – DANCE ON TOP AGAIN
In 1970, AOY standings were not even a consideration. But this would change at the end of the year with what has become a bit of a controversy. If one were tracking AOY at this time, by the start of the third tournament, rookie Roland Martin leading by nearly 5000 points over 2nd-place angler Bill Dance. But Dance wouldn't be a pushover this year. He would make Martin work for his acclaim on the trail.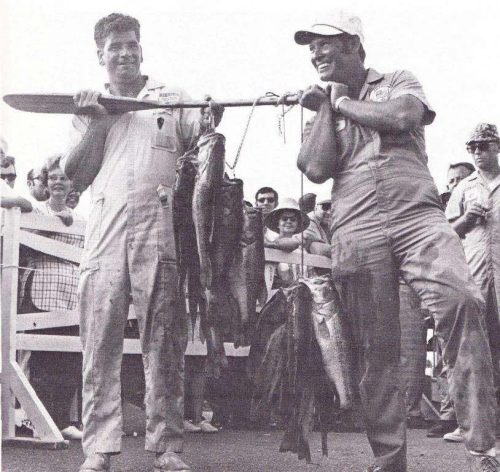 The Ross Barnett tournament featured a new twist to bass tournaments with a non-professional division. From the "letters to the editor" in the 1969 and '70 Bass Master Magazines, anglers had been complaining that the pro entry fees were too high for the weekend angler and B.A.S.S. complied by making another division. There is no mention of what the cost was for the non-pro entry or whether or not the non-pros fished with pros. Maybe someone out there knows and can clear that up for us.
The tournament report about the first two days of the event provided little information other than Bill Dance was in a "disappointing 11th place" at the start of day 3. It also mentions he had weighed "almost limits" (15 fish) the two prior days.
The last day featured nasty weather, which kept many of the anglers off the areas they'd fished the prior two days. But Dance had an ace up his sleeve. He'd located fish on both ends of the lake and on the last day caught his limit within sight of the tournament launch. His 15-fish limit that day went 33-12 and gave him a 2-03 lead over the second-place angler, New Orleans Saints Football player, Harold Hays (TX).
In all, Dance weighed 43 fish for a total of 75-12. He caught his fish on a blue plastic worm fished with the "weedless slip-sinker rig in a ditch located with his depthfinder." It was his 5th Bass Master win at the time.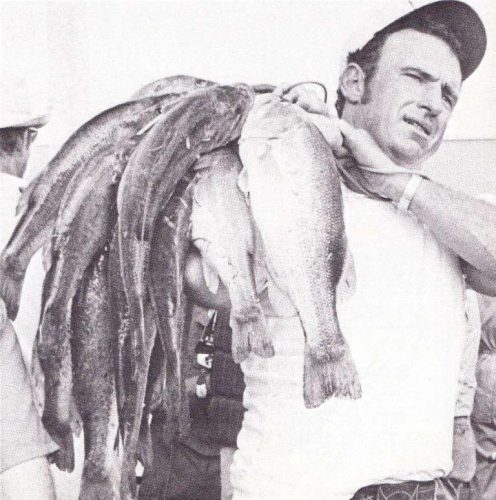 As stated previously, Harold Hays took the 2nd-place honors with 73-09 and local favorite Bob Ponds, Pete Ponds' father) took third with 72-09. Fourth place went to Ralph Polly with 65-00 and Emmett Chiles rounded out the top 5 for the pros with 63-14.
Pete Henson (GA) won big bass with a 7-09 largemouth. He won $75 and a "Herschede Clock Company (Motor Guide) foot-controlled electric trolling motor."
In the non-professional category, Jess Farmer (IL) took top honors with 26-15. He beat out Ron Johnson who weighed 23-03 for second. Third place went to John Stacey (OH) with 22-00 and Earl Williamson (OH) took 4th place with 21-13. The fifth spot was taken by Fred Looper (TN) 19-15. For his win, Farmer earned a 4-day trip to Dick Malloy's Club de Pasca Novillo in Mexico along with a Lowrance Fish Lo-K-Tor, Fishthometer, a lifetime membership to B.A.S.S. and the $125 entry into the next professional tournament.
By the end of the Ross Barnett event, Dance had racked up $16,025 in B.A.S.S. winnings. The highest winnings of anyone on the Trail. He was also the first repeat champion on the same lake – he'd also won the 1968 tournament on Ross Barnett.
After the event, Dance announced that he'd be leaving the Creme Worm Company. He moved on with Charles Spence as a partner with the Strike King Lure Company.
Overall results for the event showed 129 anglers (pros and non-pros) from 18 states weighed 1617 bass for 2787-14. There were only 18 limits weighed throughout the event.
It was also stated in the tournament report that by now the public had started complaining that professional tournaments were hurting the fish populations at lakes. B.A.S.S. stated that "To further protect against the loss of young fish, the BASS tournament rules have been strengthened to 'issue penalty points' for any undersized fish checked in. The Society imposes a special 12-inch minimum limit on all tournament bass."
The top 20 for the Ross Barnett event are shown in the table below. Also shown are the AOY standings through the third event of the season as far as we could figure out.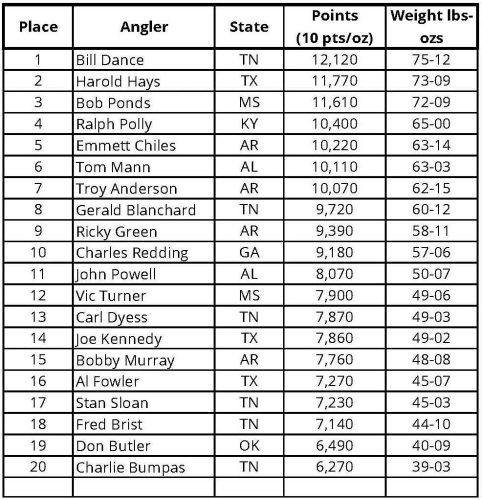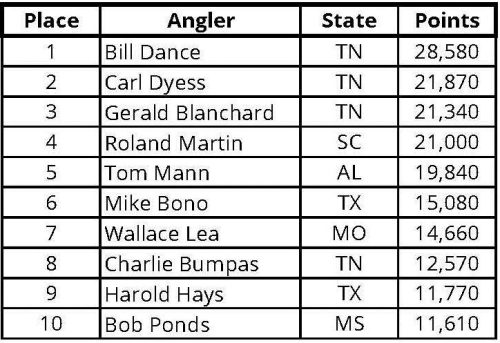 In Part Two of the Season at a Glance: 1970 Bass Master Trail we'll talk about the second half of the season, which included the events held at Eufaula, GA, Lake Eufaula, OK, Sam Rayburn, TX and Table Rock, AR.