FLW Cup Day 2 Report – "Always Listen to the Voices in your head"
Posted On August 12, 2018
---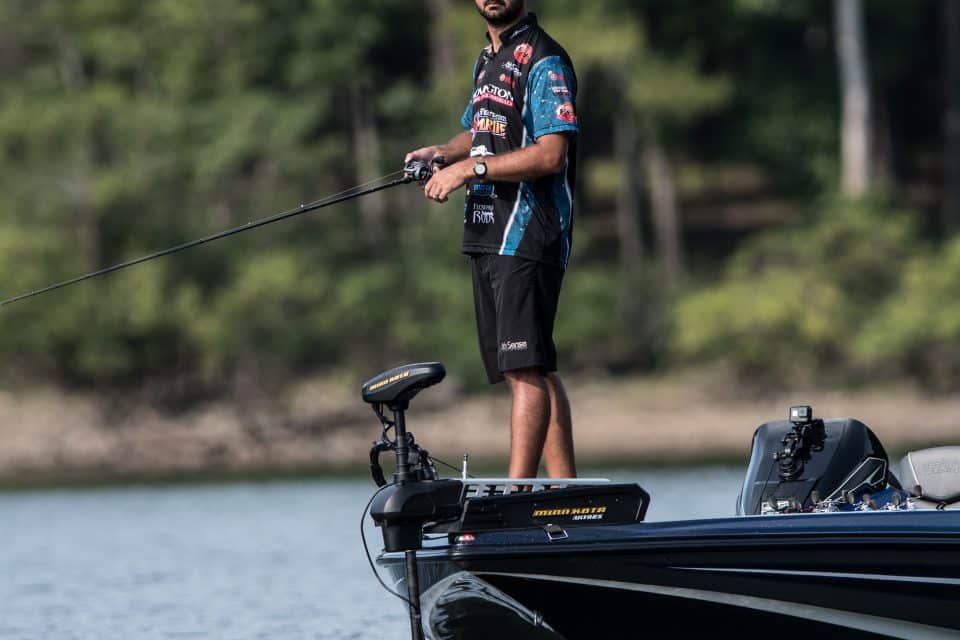 Vance McCullough
Always listen to the voice in your head.
It's there, just below the surface. And it is seldom wrong.
"Something just told me to get in the rod box, get my frog rod out, cut the frog off and tie on a Whopper Plopper," said Nick LeBrun. "I'm like 'why did I do that?'. I kept fishing for a minute or two and then that five-pounder came up chasing. I fired over there and she smoked it.
"That was just a sign from God.
"He wanted me to be ready when that fish came up and I was ready. It was one of the most amazing moments of my career.
"It's all about decisions."
That decision moved LeBrun into 2ndplace, a pound and two ounces behind the new leader, Wes Logan, heading into Championship Sunday. All this even though LeBrun only weighed 3 of a possible 5 fish today. He had only 4 bites.
That's how tough the bite is on Lake Ouachita whose beauty is exceeded only by her stinginess this week.
With one life-changing day left to fish, Logan has figured out the bite better than anybody else. He has cobbled together a 2-day total weight of 23 pounds, 13 ounces.
"I had a pretty good day, caught about 10 or 12 fish and, like yesterday, the bite turned on about 1 o'clock," noted Logan. "I just made my little milk run, got a few bites here and a few bites there. I'm fishing offshore, not necessarily brush – some of them are drops, some of them are hard spots, there's a little brush involved, but it's mainly just offshore."
Spectator crowd management is always a concern at big tournaments. The young pro understand how to compensate. "I had a crowd follow me today and I realized I had to stop really short of where I wanted to go and idle in to fish.
"I'm going to go fishing tomorrow and see what happens."
The first competition day brought fog and low clouds that hung in for hours. The shallow bite dominated. Day 2 gave way to clearing skies and bright sunshine early in the morning. Consequently, the guys who were dialed into the deep bite made up some valuable ground. The bank-beaters reported that their topwater fish were often less enthusiastic. And the topwater bite is a major component of most shallow game plans this week.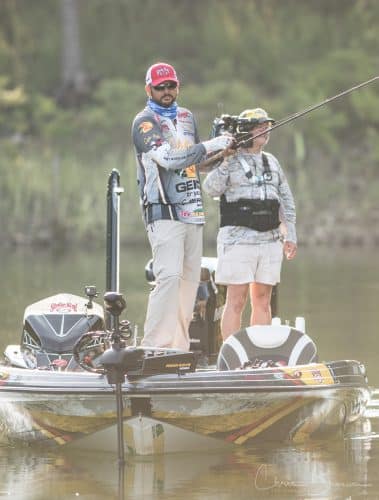 James Niggemeyer made the most of the shallow bite. With just 4 fish today he placed 3rdon the current leaderboard with a total weight of 20-14. "You make the championship, you've got to do something that you're confident doing. There was a deep bite and a shallow bite. I went for the shallow bite because when you're pushing through hours of not getting a bite you need to be doing something you can stay confident in, even though you're not catching any fish, so shallow is where I needed to go. I'm power fishing real shallow.
"Tomorrow I will hit them as hard as I can with both barrels because there's only tomorrow. I'll hit them as hard as I can."
Zack Birge caught half his first day weight. It was enough to secure a berth into Sunday's championship round. He's 4thwith 20-6. "It was a grind all day. My schooling fish didn't school this morning."
When his secondary pattern failed to produce, Birge made a move. "I ran all the way across the lake to another area where I knew there was a bunch of keepers. I stayed in there an hour-and-a-half and I never got a bite.
"As I was running back down the lake I thought 'I need to go hit new water – new stuff that looks good to me'. I hit like, 15 new pockets and the first 4 I pulled into I caught a keeper."
Birge says he will fish all new water again on Sunday.
Jason lambert is 5thwith back-to-back limits of bass that weigh a combined 20-3.
John Cox was another pro who made the cut without a pair of limits. His 4-fish, 8 pound, 11 ounce effort today pushed his total weight to 19-14, good for 6thplace.
Cox is a dangerous man because he is on bigger than average bass. He knows, because he sees them wolf-packing in the shallows. "The first day, a lot of the bigger fish would hit, even though they'd come off, but today the smaller fish would get it.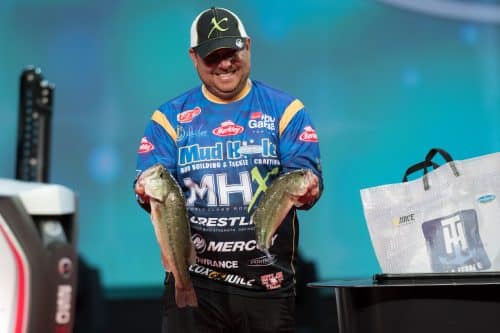 "I'm just taking the Crestliner down the bank at 100 miles per hour and I'm throwing all the new Berkley topwaters. I've been throwing the J-Walker and covering tons of water.
"You lose confidence in something because you go hours without a bite and then you run into some and then you catch them."
Stay tuned because, as Cox summed up, "anybody in the Top 10 can win tomorrow!"
---