Wilbur Westbrook & Mike Lanier Win The Collins Bass For Cash Series On Gaston With 22.87-Full Results And Pics Here!
Teaser image:
Big win on Gaston for these guys as they beat out 60 other teams at the 2nd Collins Bass for Cash Series event of the year. Pics and full story-results below: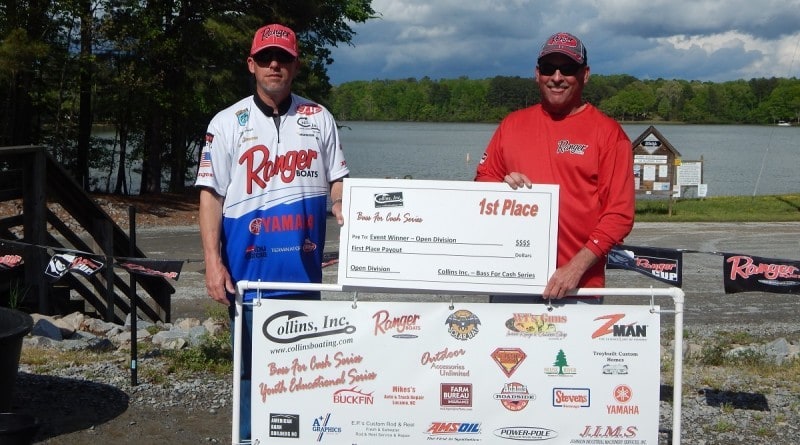 Westbrook & Lanier Win Bass For Cash Series Event On Gaston
Sixty teams converged onto Lake Gaston for event number two of the Collins Inc. – Bass For Cash Series.  Wilbur Westbrook & Mike Lanier took the top spot with a five fish limit weighing in at 22.87 lbs, granting the duo a $1282.00 pay day.  As a registered member of the Ranger Cup program, Westbrook earns another $500 from Ranger Boats.  Also, by meeting the Collins Cup program guidelines, Westbrook & Lanier have earned a pre-paid entry into a future BFCS event of their choice.  The pair only had six total bites for the entire day, but it was obviously the quality bites that they were looking for.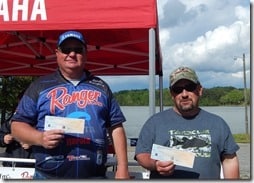 Randy Broughman & Bobby Kinsey secured the second position with their five fish limit that weighed 21.76 lbs and handed the tandem a $765.00 pay check.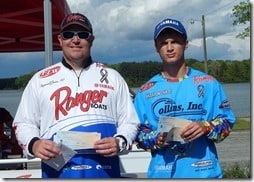 Raymond Jones and Braxton Chase filled the third position with their catch of 18.67 lbs, earning the duo $608.00 for their efforts.  Jones also netted another $300.00 check and a $100 Outdoor Accessories Unlimited Gift Card for landing the event lunker weighing in at 6.73 lbs.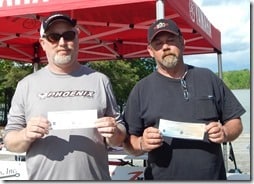 Coming home in the fourth position was the team of Buster Seabolt and Scott Mooneyham with a catch of 16.86 lbs, earning the tandem $495.00 for the day.
Filling the fifth position was pairing of Joey Dawson & Bo Grosvenor with their catch of 16.60 lbs worth $427.00.
Ron and Ronnie Clark settled in the sixth position with 15.35 lbs and gained $315.00 while Danny Moss earned $248.00 for his catch of 15.24 lbs, landing him in the seventh spot.
Rounding out the final two check earning positions for the day was the eighth place team of Gene Griffin and Mike Whitehurst with their catch of 15.09 lbs worth $225.00 and the ninth place team of Chuck Murray & Randy Groves with 15.07 lbs, giving the duo $135.00 for the day.
http://bassforcash.com/wp-content/uploads/2016/04/Tournament-Entry-Results-V3_5-Lake-Gaston-4-23-16-BFCS-Results-With-Points.pdf