Wheeler Takes the Lead, Zaldain and MDJ Hot on His Heels
A State of Mind
Getting anglers to divulge specifics about their tactics, techniques and strategies during a major tournament . . . you might as well ask them for their eye tooth.
When that tournament is the most major of all, say, the Bassmaster Classic, you can forget about it.
Even when talking about something as seemingly innocuous as their emotions going into the final day, some are guarded are deceptive.
However, our top group of pros today was fairly open about how they feel as they prepare to do something tomorrow that will change one of their lives forever.
Jacob Wheeler is excited about his chances, but he's happy for a couple of friends too. "No matter what, we're going to have a party tomorrow. I'm pretty good friends with Ott DeFoe and Mark Daniels, Jr so if I had to shoot it out with a couple of guys, I'd want it to be them."
Jacob Powroznik has been comfortably consistent for two days. He said yesterday he would like to sneak into the final round in 7thor 8th place and "fish relaxed" while the guys at the top draw all the spectator attention and pressure.
Looks like Powroznik got his wish. He said today, just before weighing-in, "I feel confident going into tomorrow. I admit, I got a little excited for a few minutes today when I caught a good one, but I settled back down. I'm going to do what I can tomorrow and they're just going to have to bite."
Mark Daniels Jr was all smiles as he hopped out of his truck before riding into the arena and taking the stage in front of thousands of bassheads. He is looking forward to the final day. And if you need to know how excited is, just check out the footage of his big bass catch from today on Bassmaster.com.
Ott DeFoe recognizes the pressure of performing in front of the home crowd. Maybe he will be a little more relaxed fishing from behind the lead instead of having a proverbial target on his back tomorrow.
Mike Iaconelli has been here before. And won. Yet, he is excited.
Chris Zaldain is excited for Ike. Zaldain caught what may stand as the biggest bag of the tournament (21 pounds, 12 ounces) to vault from back in the pack to near the top of the leaderboard. "I like Ike," said Zaldain as we watched Iaconelli rock the crowd with 19-7. "I look forward to fishing with him tomorrow."
Mental control is part of the job for professional anglers, but the biggest stage of all can rattle anyone's nerves. We'll find out tomorrow who can master the fish, the competition, and themselves.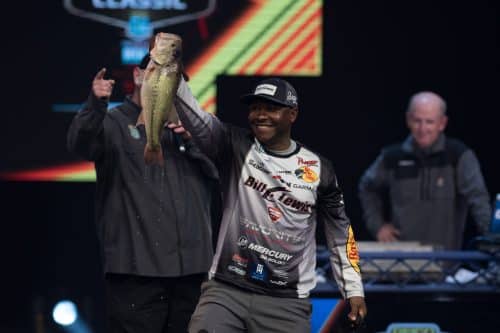 Mark Daniels Jr – 17.6 for two day total of 31.14 pounds – Currently in 2nd place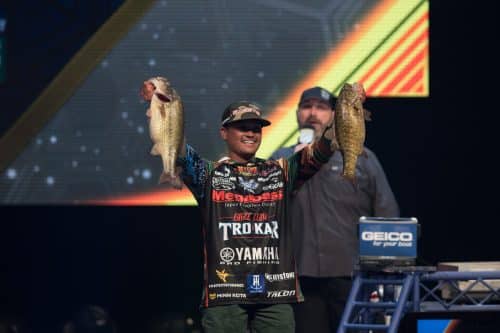 Chris Zaldain – 21.12 pounds for two day total of 30.12 pounds – Currently in 3rd Place.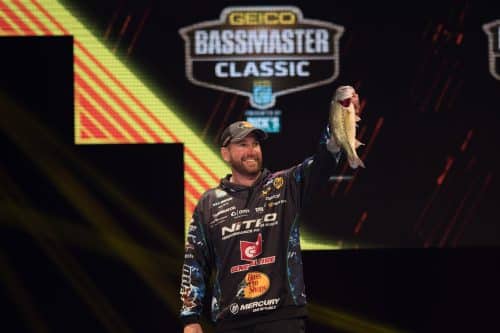 Ott Defoe – 10.5 for Two Day Total of 30.5 pounds – Currently in 4th Place.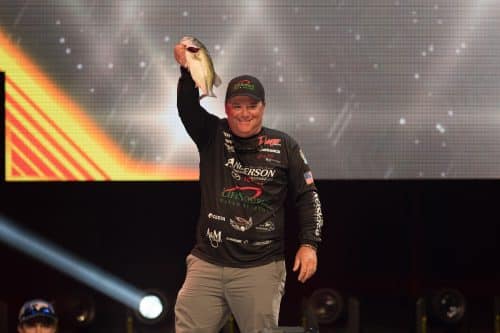 Roy Hawk – 9.15 Pounds – Two Day Total of 27.10 Pounds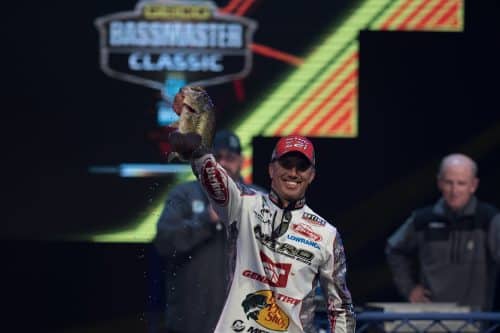 Edwin Evers – 16.0 Pounds – Two Day Total of 24.12 Pounds
Standings Day 2
Angler                   Hometown              No./lbs-oz  Pts   Total $$$
1.  Jacob Wheeler          Harrison, TN            10  32-06    0   $2,500.00
Day 1: 5   14-11     Day 2: 5   17-11
2.  Mark Daniels Jr.       Tuskegee, AL            10  31-14    0
Day 1: 5   14-08     Day 2: 5   17-06
3.  Chris Zaldain          Laughlin, NV             9  30-12    0
Day 1: 4   09-00     Day 2: 5   21-12
4.  Ott DeFoe              Blaine, TN              10  30-05    0   $2,500.00
Day 1: 5   20-00     Day 2: 5   10-05
5.  Michael Iaconelli      Pitts Grove, NJ         10  28-09    0
Day 1: 5   09-02     Day 2: 5   19-07
6.  Wesley Strader         Spring City, TN         10  28-00    0
Day 1: 5   10-14     Day 2: 5   17-02
7.  Roy Hawk               Lk Havasu Cty, AZ       10  27-10    0
Day 1: 5   17-11     Day 2: 5   09-15
8.  Justin Lucas           Guntersville, AL        10  27-00    0
Day 1: 5   16-07     Day 2: 5   10-09
9.  Jesse Wiggins          Cullman, AL             10  26-10    0
Day 1: 5   10-11     Day 2: 5   15-15
10. Jacob Powroznik        North Prince George, VA 10  26-07    0
Day 1: 5   13-04     Day 2: 5   13-03
11. Clifford Pirch         Payson, AZ               8  25-14    0
Day 1: 5   16-11     Day 2: 3   09-03
12. Edwin Evers            Talala, OK              10  24-12    0
Day 1: 5   08-12     Day 2: 5   16-00
13. Adrian Avena           Vineland, NJ            10  24-04    0
Day 1: 5   12-15     Day 2: 5   11-05
14. Brent Chapman          Lake Quivira, KS        10  24-02    0
Day 1: 5   14-08     Day 2: 5   09-10
15. Kyle Dorsett           Odenville, AL            9  24-02    0
Day 1: 4   12-03     Day 2: 5   11-15
16. Bobby Lane Jr.         Lakeland, FL            10  23-09    0
Day 1: 5   13-04     Day 2: 5   10-05
17. James Elam             Tulsa, OK               10  23-08    0
Day 1: 5   12-09     Day 2: 5   10-15
18. Dean Rojas             Lake Havasu City, AZ    10  23-05    0
Day 1: 5   09-04     Day 2: 5   14-01
19. Skeet Reese            Auburn, CA              10  22-15    0
Day 1: 5   12-01     Day 2: 5   10-14
20. Seth Feider            New Market, MN           9  22-01    0
Day 1: 4   08-10     Day 2: 5   13-07
21. Brandon Lester         Fayetteville, TN        10  21-11    0
Day 1: 5   09-11     Day 2: 5   12-00
22. Kevin VanDam           Kalamazoo, MI           10  21-06    0
Day 1: 5   10-02     Day 2: 5   11-04
23. Cliff Pace             Petal, MS               10  21-04    0
Day 1: 5   10-14     Day 2: 5   10-06
24. Brandon Palaniuk       Rathdrum, ID             8  20-09    0
Day 1: 3   08-03     Day 2: 5   12-06
25. Todd Faircloth         Jasper, TX               8  20-01    0
Day 1: 5   13-09     Day 2: 3   06-08
26. Frank Talley           Temple, TX               9  19-14    0  $10,000.00
Day 1: 4   09-05     Day 2: 5   10-09
27. Jared Lintner          Arroyo Grande, CA        6  18-13    0  $10,000.00
Day 1: 1   04-01     Day 2: 5   14-12
28. Josh Bertrand          San Tan Valley, AZ       9  18-13    0  $10,000.00
Day 1: 5   11-05     Day 2: 4   07-08
29. Casey Ashley           Donalds, SC             10  18-05    0  $10,000.00
Day 1: 5   10-01     Day 2: 5   08-04
30. Chris Lane             Guntersville, AL        10  18-02    0  $10,000.00
Day 1: 5   09-09     Day 2: 5   08-09
31. Jake Whitaker          Fairview, NC            10  18-01    0  $10,000.00
Day 1: 5   08-15     Day 2: 5   09-02
32. Drew Benton            Panama City, FL         10  17-07    0  $10,000.00
Day 1: 5   07-06     Day 2: 5   10-01
33. Derek Hudnall          Baton Rouge, LA          9  17-05    0  $10,000.00
Day 1: 4   07-00     Day 2: 5   10-05
34. Brett Hite             Phoenix, AZ              8  17-01    0  $10,000.00
Day 1: 4   07-14     Day 2: 4   09-03
35. Gerald Swindle         Guntersville, AL         7  16-09    0  $10,000.00
Day 1: 5   11-15     Day 2: 2   04-10
36. Keith Poche            Pike Road, AL            7  15-06    0  $10,000.00
Day 1: 2   03-03     Day 2: 5   12-03
37. Garrett Paquette       Canton, MI               7  15-03    0  $10,000.00
Day 1: 4   08-04     Day 2: 3   06-15
38. Randall Tharp          Port St. Joe, FL         7  14-15    0  $10,000.00
Day 1: 3   06-06     Day 2: 4   08-09
39. Andy Montgomery        Blacksburg, SC          10  14-14    0  $10,000.00
Day 1: 5   09-02     Day 2: 5   05-12
40. Jason Christie         Park Hill, OK            6  14-07    0  $10,000.00
Day 1: 3   08-01     Day 2: 3   06-06
41. Nick Ratliff           Vine Grove, KY           7  14-05    0  $10,000.00
Day 1: 4   06-10     Day 2: 3   07-11
42. Jordan Lee             Cullman, AL              8  13-10    0  $10,000.00
Day 1: 5   08-06     Day 2: 3   05-04
43. Brent Ehrler           Redlands, CA             6  12-14    0  $10,000.00
Day 1: 3   08-04     Day 2: 3   04-10
44. Gerald Spohrer         Gonzales, LA             7  12-12    0  $10,000.00
Day 1: 4   07-06     Day 2: 3   05-06
45. Brad Whatley           Bivins, TX               6  12-02    0  $10,000.00
Day 1: 2   03-12     Day 2: 4   08-06
46. Micah Frazier          Newnan, GA               7  11-10    0  $10,000.00
Day 1: 5   08-12     Day 2: 2   02-14
47. Matthew Robertson      Kuttawa, KY              4  09-08    0  $10,000.00
Day 1: 2   03-05     Day 2: 2   06-03
48. Alton Jones Jr.        Lorena, TX               3  09-01    0  $10,000.00
Day 1: 2   07-07     Day 2: 1   01-10
49. Jacopo Gallelli        Firenze ITALY            5  08-13    0  $10,000.00
Day 1: 0   00-00     Day 2: 5   08-13
50. Bradley Roy            Lancaster, KY            4  06-15    0  $10,000.00
Day 1: 4   06-15     Day 2: 0   00-00
51. Aaron Martens          Leeds, AL                4  06-05    0  $10,000.00
Day 1: 4   06-05     Day 2: 0   00-00
52. Randy Pierson          Oakdale, CA              3  04-07    0  $10,000.00
Day 1: 2   02-14     Day 2: 1   01-09