Travel to El Salto to Dial in Your Crankbait Bite
By Pete Robbins – Half Past First Cast
We just returned from our annual May-June trip to Mexico's Lake El Salto. I've only missed this tradition twice since 2013 – first in 2019 when I had a conflicting trip to Alaska, and second in 2020 when COVID hit. We made up for that latter missed opportunity that November by returning for two full weeks, but I hope to never miss the summertime bite again as long as I live.
That's because it gives me the opportunity to do something I don't get to do at home: Deep cranking. I'd guess that well over 90% of the tournaments on my home waters of the Potomac River are won in less than 6 feet of water, many of them in less than 4, and some in less than 1. By the time each new boat is a month old, I've banged up the bottom of my trolling motor and worn the paint off the outboard skeg. Shallow water is my comfort zone. That's why it's a treat to go and do something that's out of my wheelhouse.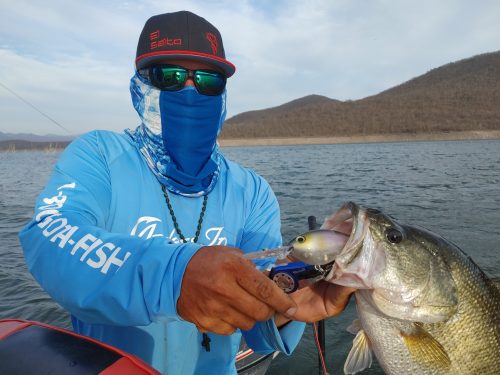 We actually started going before there was a crankbait that went deep enough for some of the schools. For years, the Fat Free Shad was the gold standard down there – anything deeper and you had to use a jig or a Carolina Rig or a Texas Rig. Then came the 10XD and my mind was officially blown. You'll need specialized gear to crank it comfortably all day (and bring some Advil), but it fires up fish like nothing else. It produced my El Salto PB in 2017, and I look forward to cranking it every year. Cranking hasn't always been the dominant ticket for our summer trips, but it's usually a big part of the show.
The great part of going for a week (go however long you can afford to be there, but more is always better), you can get a crash course in offshore cranking. How do different colors affect the bite? The fish usually want it super-fast, but sometimes slowing down is important, or they'll eat it almost exclusively on the pause. There are times when the 6XD does the job as well as the 10XD, in the same areas, but there are times when one is clearly better than the other. There are times when a no-rattle bait works best, and times when a loud knocker is superior. By fishing shoulder-to-shoulder with another angler on one of the best fisheries on earth, you can figure all of that out much more quickly.
It's the same sort of education we've gotten at other times about the changing bite. One January the fish crushed a Chatterbait on the first day, but wouldn't react similarly in those same areas on Day Two until we switched to a swim jig. On Day Three, we had to go even more subtle, with a plain ribbed swimbait like a Keitech or Rage Swimmer.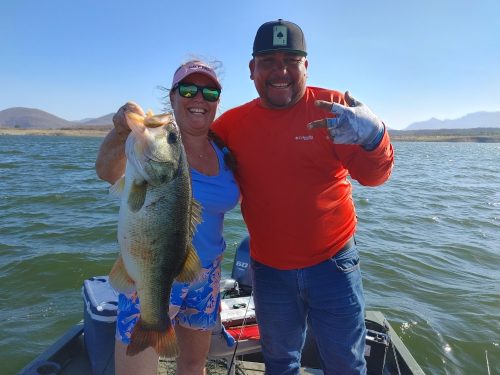 That's the beauty of going to such a fertile fishery – you can work on whatever technique or techniques you desire, or just go on a "catching" trip.
I've been South of the Border to fish in October, November, January, February, May and June, and I can say that not all months are created equally for all techniques. For example, while we've had a great plopper bite on occasion in June, on this trip I caught the grand total of one topwater fish. December would be better for that. February, too. The high water months are my favorites for a swim jig and flipping heavy brush. In fact, if you live where there's an "offseason" those are great months to fine-tune your game before local tournaments start.
If you'd like to book a trip, or inquire about the best time for a particular technique, email us. It's fishing, so there are no guarantees, but we'll steer you in the right direction — as soon as our thumbs and wrists heal from all of that fast-paced cranking. We have some spots on our trip next June, but we're happy to arrange your trip to bass fishing Disneyland at any time that suits your schedule and your preferences.