Tom Frinks and Bryan Talmadge take the win with 16.66 on Alabama River
By Jason Duran
Prattville, AL, September 18- The South Division of the Alabama Bass Trail concluded its 2021 regular season on the Alabama River at Cooter's Pond. The event was regularly scheduled for May, however, due to weather conditions and river flooding it was postponed.  The fifth and final event would be the final chance for teams to make the top 75 in points to qualify for the no entry fee ABT championship with a $50,000 first place pay out. Tom Frinks and Bryan Talmadge caught 16.66 pounds of Alabama River bass to claim first place and a $17,500 pay day.
Tom and Bryan targeted fish in 4-12 feet of water using a "shad colored, big spinner bait and a big football jig." They fished primarily the main river, and their fish were very current related. "We found the water to be stained to clear early in the morning, but as the current began to move and when the rain came, it started to muddy up some of our areas." Throughout the day they caught a good number of smaller fish but managed to boat six of what they would consider keepers allowing them to cull up once. The team shared that they did "break off a couple large fish that could have possibly helped" them a little more, but in the end, they had all they needed to collect the win and the check.
They took home the first place $10,000, a $7,000 Phoenix Boats First Flight bonus check and a $500 Garmin bonus. Tom said, he "didn't ever expect the 16.66 to be a number he would want to win with, but it sure was a great payday nonetheless."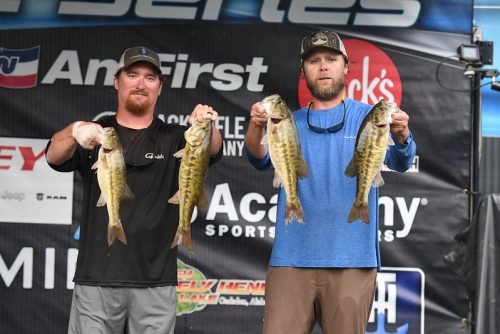 Matt Headrick and Matt Mcclung went out this morning in boat number 73 and headed upriver to target shallow main river type areas.  Early in the morning they caught fish on a spinner bait and some on a Lucky Craft square bill. Conditions started to change for them, and they noticed water started rising as the current began to moving. Then the rain set in and muddied up their areas, so they switched over to a using the ½ oz Ace Jig by Untamed Tackle with various tailers by Googan Baits in green colors. When they made the adjustment, they caught three "good ones in about an hour window" that helped them secure second place. The rest of the day was spent the working this pattern. "There were a few boats fishing in our area, but those teams stayed a little deeper, and we stayed more shallow." With 15.63 pounds, they claim second place, a $5,000 pay day and were really excited.
The team shared, "this was a great season for us," especially after the first couple events where they were in the running to make the top 9 in points and qualify to fish the B.A.S.S. Team Championship on Lake Eufaula. However, they slipped to tenth after the fourth event and made it a goal today to make the top 9 teams. This second-place finish helped them to move up in points, accomplish their goal and have a shot at making the Bassmaster Classic.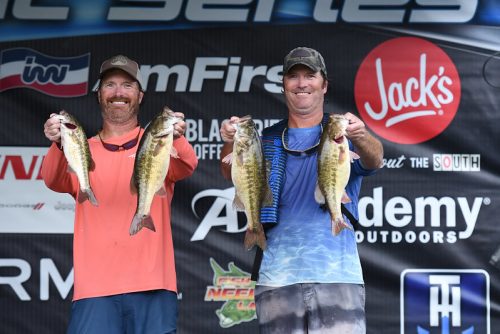 The third-place team of Brannon and Marshal Rufo said the goal for them today was to make the ABT Championship on Smith Lake. They were sitting on the bubble and needed a good finish to qualify. This week was their first time to fish this area of the Alabama River. They were hoping to make a top 40 today and went out with that goal in mind. The team headed upriver and "started out this morning throwing a buzz bait and had a really big bite that got us excited but ended up being a hybrid bass. "We continued to bounce around heading upriver and eventually put together a small limit using a med diving Fat Free Shad Square Bill and a 3/8 oz. white Chatterbait with a white craw trailer." As they moved upriver, they started to upgrade their limit. "We started to just catch a good one here and there to cull out the small ones we caught early. As we headed back to weigh-in, we just had to put out heads down and drive though that bad rainstorm to make it back." They were very excited with 15.23 pounds for the third-place finish, $4000 check and the chance to fish for $50,000 at Smith Lake in the championship. "We have never been there either, and we hope something like today can happen there as well."
Joey Davison and Tullis Lanier started this event only five points out of the lead for Anglers of the Year. The team shared, "it was a very stressful five points. We were most worried about the water levels. We are shallow water fishermen, and they will drop the bottom out of this place quick, it could very easily drop three feet over night." They practiced to win this event not just protect the points. "We fished for large-mouth all day in shallow, shallow water. Today we caught around 25 fish, and we had two 4 pound fish. We covered a lot of water running to Jones Bluff and back. On the way back we didn't run fast because we were afraid, we were going to run out of gas."
When the scales closed, they had 14.57 and not only made up the five points for South division AOY but finished the tournament in fourth place, collected a $3000 check and had enough points to surpass the AOY leaders in the North Division. This gives them the title of "Overall Angler of the Year." The team shared that was a very hard accomplishment against this field of guys. They have never won an ABT event but have been very consistent especially this year.  They have fished the ABT six Years and said they too are "really excited to qualify to fish the B.A.S.S. Teams Championship and have a good shot at making the Bassmaster Classic on a lake they know a good bit about."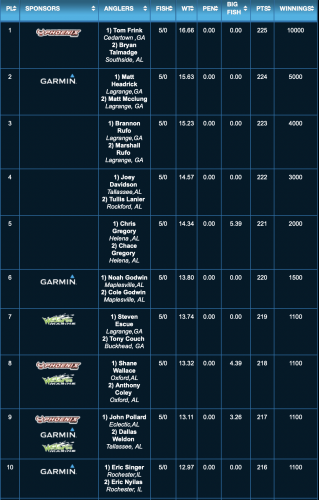 This concludes the Alabama Bass Trail regular season. The Championship will be held October 22-23 on Lewis Smith Lake in Jasper, AL.  The Top 75 teams in each division, along with each regular season winner, as well as couples and student teams will all be fishing for a $50,000 cash first place prize.
The sponsors of the 2021 Alabama Bass Trail include: Phoenix Boats, Academy Sports, Alabama Power, America's First Federal Credit Union, Berkley, Big Bite Baits, Bill Penny Automotive, Black Rife Coffee Company, Buck N' Bass, Anheuser – Bush, Inc., E3 Sports Apparel, Fish Neely Henry Lake.com, Garmin, Hydrowave, Jack's, Lew's, Mtn Dew, Alabama Mountain Lakes Tourist Association, Power-Pole, Strike King, Sweet Home Alabama, T-H Marine, Wedowee Marine, YETI Coolers.