Tennessee Native Ott Defoe Wins the 2019 Bassmaster Classic!!!
Vance McCullough
The Thompson-Bolling Arena boiled with excitement long before Ott DeFoe took the stage.
In our constantly-connected world fans were glued to their screens as Bassmaster broadcast its, as usual, excellent Live coverage of the 49thClassic. The buzz was that the hometown favorite had done well. Well enough to win.
Probably.
Maybe.
Well, you never really can tell, can you?
Not until it's over.
DeFoe had a solid bag of bass and was projected to retake the lead on the day that matters most, the final day.
DeFoe tried to shrug off some of the pressure the day before this tournament began, "Professionally, it would have meant just as much to me to win at Hartwell. I want to win every one I fish." Then he admitted, "This would be special because I'm here in front of my family and friends."
As Dave Mercer read Jacob Wheeler's insufficient weight at the scale and pronounce DeFoe the champion, DeFoe sobbed on stage.
His daughter called before it happened. This week, she chalked a message in the driveway where DeFoe parks, "The 2019 Bassmaster Classic Champion lives here."
Correct.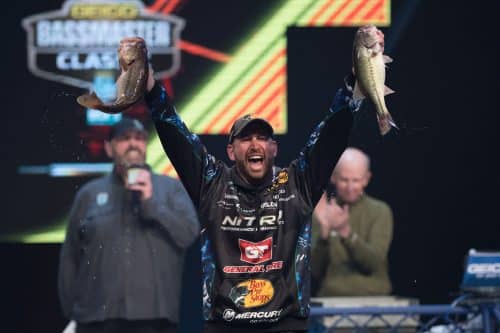 How did he do it?
He credited "A full bladder and Keith Poche" on stage when comically telling the story of his chance conversation with Poche during which Poche told him about a dock that had produced quality bites. Because Poche did not catch enough of those fish to make the cut, DeFoe made an important adjustment and changed areas on the final day.
"A lot of my fish came from around the Concord area of the lake. That's an area that I've fished forever. I've always done well in that area of the lake. My fish today, though, came from down around the dam."
A lipless crankbait, the Storm Arashi Vibe, accounted for 4 of DeFoe's Day 1 fish, 2 of his 2ndround fish on 1 fish today. The factory color is called Rusty Craw but DeFoe did a little art work to make it just right for his needs. "I took a red and a black Sharpie and made it a much prettier bait than what it already is."
DeFoe cranked the Vibe on a Bass Pro 7'6" medium heavy Crankin' Stick rod, Johnny Morris Platinum Series reel (6.8:1 gear ratio) and 17-pound Bass Pro XPS Fluorocarbon.
DeFoe used a 3/8 ounce chartreuse and white bladed jig with a fluke-style trailer to catch 3 small fish on Saturday and 4 big fish today.
He cranked the bladed jig with the same rod but a Johnny Morris Carbon Lite reel with a 7.5:1 gear ratio and the same line as above.
He caught one other fish, a Day 1 keeper, on a Rapala DT4 in the Dark Brown Craw color. Same rod, the Platinum Series reel and 14-pound Bass Pro XPS Fluorocarbon.
"I switched all my treble hooks to VMC short shank trebles" – #2 on the Vibe and #4 on the DT4.
Gear aside, DeFoe's biggest advantage – by far – was his extensive local knowledge of the fishery.
A lot of the small offshore targets are hard to find. When an angler does locate one, it's hard to tell a productive spot from a time-waster.
DeFoe's mentality was key. He focused, not on the outcome, but on the process. "It was never about the winning moment. It was always about 'how am I going to catch the next fish?'."
That mindset is a way of life for our Classic champ. "I try to take each day at a time. I get in trouble for that a lot because Jenny says I don't prepare very well. I don't think too far into the future. I just worry about the here-and-now. We'll take the rest of it as it comes."
Total
Fish / Weight
Day 1
Fish / Weight
Day 2
Fish / Weight
Day 3
Fish / Weight

1

15

/

49 – 3

5

/

20 – 0

5

/

10 – 5

5

/

18 – 14

2

15

/

45 – 5

5

/

14 – 11

5

/

17 – 11

5

/

12 – 15

3

15

/

43 – 14

5

/

10 – 11

5

/

15 – 15

5

/

17 – 4

4

15

/

42 – 9

5

/

9 – 2

5

/

19 – 7

5

/

14 – 0

5

15

/

41 – 12

5

/

14 – 8

5

/

17 – 6

5

/

9 – 14

6

15

/

40 – 5

5

/

9 – 11

5

/

12 – 0

5

/

18 – 10

7

15

/

39 – 8

5

/

10 – 14

5

/

17 – 2

5

/

11 – 8

8

15

/

39 – 7

5

/

8 – 12

5

/

16 – 0

5

/

14 – 11

9

15

/

35 – 6

5

/

9 – 4

5

/

14 – 1

5

/

12 – 1

10

12

/

34 – 15

3

/

8 – 3

5

/

12 – 6

4

/

14 – 6

11

13

/

34 – 4

5

/

17 – 11

5

/

9 – 15

3

/

6 – 10

12

11

/

34 – 0

4

/

9 – 0

5

/

21 – 12

2

/

3 – 4

13

15

/

32 – 10

5

/

12 – 15

5

/

11 – 5

5

/

8 – 6

14

15

/

32 – 9

5

/

13 – 4

5

/

10 – 5

5

/

9 – 0

15

14

/

31 – 13

4

/

8 – 10

5

/

13 – 7

5

/

9 – 12

16

11

/

31 – 10

4

/

12 – 3

5

/

11 – 15

2

/

7 – 8

17

12

/

31 – 9

5

/

16 – 7

5

/

10 – 9

2

/

4 – 9

18

12

/

31 – 8

5

/

16 – 11

3

/

9 – 3

4

/

5 – 10

19

13

/

30 – 13

5

/

14 – 8

5

/

9 – 10

3

/

6 – 11

20

15

/

30 – 1

5

/

10 – 2

5

/

11 – 4

5

/

8 – 11

21

12

/

27 – 1

5

/

12 – 1

5

/

10 – 14

2

/

4 – 2

22

10

/

26 – 7

5

/

13 – 4

5

/

13 – 3

0

23

11

/

25 – 6

5

/

12 – 9

5

/

10 – 15

1

/

1 – 14

24

10

/

25 – 3

5

/

13 – 9

3

/

6 – 8

2

/

5 – 2

25

11

/

23 – 11

5

/

10 – 14

5

/

10 – 6

1

/

2 – 7

26

9

/

19 – 14

4

/

9 – 5

5

/

10 – 9

0

27

6

/

18 – 13

1

/

4 – 1

5

/

14 – 12

0

28

9

/

18 – 13

5

/

11 – 5

4

/

7 – 8

0

29

10

/

18 – 5

5

/

10 – 1

5

/

8 – 4

0

30

10

/

18 – 2

5

/

9 – 9

5

/

8 – 9

0

31

10

/

18 – 1

5

/

8 – 15

5

/

9 – 2

0

32

10

/

17 – 7

5

/

7 – 6

5

/

10 – 1

0

33

9

/

17 – 5

4

/

7 – 0

5

/

10 – 5

0

34

8

/

17 – 1

4

/

7 – 14

4

/

9 – 3

0

35

7

/

16 – 9

5

/

11 – 15

2

/

4 – 10

0

36

7

/

15 – 6

2

/

3 – 3

5

/

12 – 3

0

37

7

/

15 – 3

4

/

8 – 4

3

/

6 – 15

0

38

7

/

14 – 15

3

/

6 – 6

4

/

8 – 9

0

39

10

/

14 – 14

5

/

9 – 2

5

/

5 – 12

0

40

6

/

14 – 7

3

/

8 – 1

3

/

6 – 6

0

41

7

/

14 – 5

4

/

6 – 10

3

/

7 – 11

0

42

8

/

13 – 10

5

/

8 – 6

3

/

5 – 4

0

43

6

/

12 – 14

3

/

8 – 4

3

/

4 – 10

0

44

7

/

12 – 12

4

/

7 – 6

3

/

5 – 6

0

45

6

/

12 – 2

2

/

3 – 12

4

/

8 – 6

0

46

7

/

11 – 10

5

/

8 – 12

2

/

2 – 14

0

47

4

/

9 – 8

2

/

3 – 5

2

/

6 – 3

0

48

3

/

9 – 1

2

/

7 – 7

1

/

1 – 10

0

49

5

/

8 – 13

0

5

/

8 – 13

0

50

4

/

6 – 15

4

/

6 – 15

0
0

51

4

/

6 – 5

4

/

6 – 5

0
0

52

3

/

4 – 7

2

/

2 – 14

1

/

1 – 9

0