Taylor Watkins takes home the final NPFL Shield of the 2022 Season with the win on Kissimmee.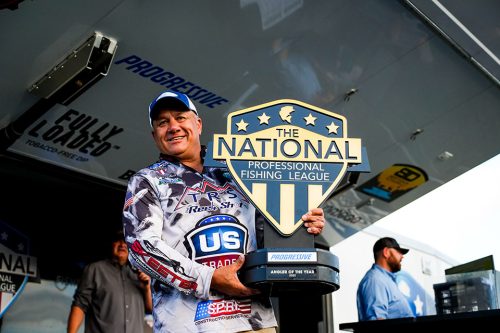 Story by Justin Brouillard | Photos by Tanner & Travis Lyons
With a 28-pound, 11-ounce giant bag on day three, Taylor Watkins becomes a three-time NPFL Champion with his win on the Kissimmee Chain of Lakes. Watkins weighed in 23-pounds, 12-ounces on day one and 17-pounds, 7-ounces on day two to go along with his Showdown Saturday bag, giving him a three-day total of 69-pounds, 14-ounces.
To salvage his day two, after the fish had moved off the sweet spot he and Ron Johnson were sharing, Watkins remained calm and kept searching. Two key bites late in the day helped determine the day three game plan which saw him put together the winning bag in short order.
"After I relocated the group of fish in the afternoon of day two, I knew what I was going to do first thing in the morning. I was the first one there so I dropped my motor and scanned the whole area with Livescope and saw they had not set back up for us (on the sweet spot)."
After slipping back into the little "cut through" ditch where he had seen them the day before, Watkins got into position before his graph lit up. He went to work with the worm setup he dialed in throughout the event and put together the winning bag.
"I turned to my camera man and told him to get ready, the fish were there and it was going down. Based on the afternoon prior, I knew I was going to catch them good and it all worked out for me. I upped my Texas rig weight to ½ oz and was dragging the Berkley Power Worm through that little stretch super slow and I could see every fish on Livescope."
Watkins has to give credit to Bass Boat Electronics for the install and rigging work on all his electronics, and his Pro Guide Batteries for holding up to abuse. Spending his entire event in one spot, he hardly ever had to crank his big motor to charge the system. The batteries kept everything juiced and he was able to work back and forth on his 100-yard stretch looking for bass.
Michael Yoder
With 16-pounds, 9-ounces on day one, 20-pounds, 4-ounces on day two, and his biggest bag of the tournament 27-pounds, 2-ounces on the final day, Michael Yoder finishes the tournament in the 2nd place spot with a total weight of 63-pounds, 15-ounces. Yoder spent his practice period locating a variety of different areas but ended up locating fish in the current from the Kissimmee Dam.
"I tried to make the hydrilla bite and the punching bite work but it never materialized throughout the tournament. The water color was coffee like where I was fishing and back home, it means it's starting to turn over. When that happens, I always go to current. On the final day of practice, I got up to the dam and was cranking a 6th Sense Lures C6 Crankbait and caught a big fish and knew what I had to do."
On the final day, he noticed the fish had moved tight to big rocks and were not willing to bite his crankbait. A small adjustment to a hand poured 8-inch worm deemed key to catching his biggest bag of the event.
"I could get bites on the c-rig but they were smaller and they didn't want the crankbait. I started dragging that worm by four key rocks and I kept going in circles making the same cast over and over to keep getting bites. I was able to catch a couple big fish on back-to-back casts with the 6th Sense crankbait before weigh in today but it was a great tournament."
Matt Massey
With a three-day total of 62-pounds, 14-ounces, Matt Massey finished the tournament in the 3rd spot. After a slow start on day one with 9-pounds, 7-ounces, Matt Massey stacked a 28-pound, 13-ounce bag on day two with a 24-pound, 10-ounce on the final day to make a big comeback in the event.
"I had another fast start this morning but then never upgraded once after 11 or so. I culled three or four times overall but it was a real struggle up there today. I stuck with my plan and had one rod in my hand all day."
Massey fished with a new hook worm hook from Trokar and had to downsize his line to get a few key bites that help bring him back from a tough day one.
"Most all of my fish came on a Strike King Shimy Stick and the new Trokar Pro V Worm hook kept all those giants pinned. One key adjustment I made was to downsize my Seaguar line from 20 to 17-pound – that was key to getting some of those bigger bites."
Massey will look back and kick himself for the decisions he made on day one, staying to fish grass near the ramp but is happy with his rebound and finishing out the season strong.
"It was a great year; I was in Florida fishing and caught big bags two days in a row, so I'll take it!"
Bryant Smith
Saving his best day for last, Bryan Smith added 21-pounds, 3-ounces to his day one bag of 19-pounds, 7-ounces and day two weight of 20-pounds, 2-ounces to finish the event in the 4th place spot. Smith weighed a three-day total of 60-pounds, 12-ounces and wrapped up a consistent season putting him in the top five in Progressive Angler of the Year Points.
"I got started this morning and had about 14-pounds off the same shell bars but I made a key adjustment to catch two of my bigger bass today. The first was a big laydown I saw all week and was able to coax a 5-pounder on a Strike King Sexy Dog and caught another 5-pounder flipping a Rage Bug on another area."
Smith was super consistent this season while fishing both the NPFL and the Bassmaster Opens where he was able to finish the season in the top five in points for each, and ultimately qualifying for the Bassmaster Elite Series in 2023.
"The NPFL has been and absolutely amazing experience and helped me tremendously to grow as an angler. We fished two seasons all around the country where I learned a lot of techniques that ultimately helped me in making the Elites. I want to thank all those guys for running an awesome trail."
Patrick Walters
Patrick Walters finished the tournament in the 5th place spot with a three-day total of 58-pounds, 12-ounces. Adding 22-pounds on day three, Walters began the event with 21-pounds and 15-pounds on day one and 15-pounds, 12-ounces on day two. After burning his main area down, he made move to Kissimmee to put together his biggest bag of the tournament.
"I started this morning in Toho to get a small limit and then ran down to Kissimmee for the day. I had a few hard places and grass edges to myself and had a lot of fun."
Walters rotated through a mix of reaction baits to catch his fish and is excited to end his season with a top five finish.
"It was a reaction bite tournament and it was a blast. I caught fish on a Storm Arashi Vibe, a Zoom Super Fluke in Watermelon Red and a Rapala Shadow Rap Shad."
Rest of the Best
6 – Ron Johnson
7 – John Soukup
8 – Jake Boomer
9 – Dustin Williamson
10 – Michael Catt