Strike King KVD 1.5 Hard Knock Squarebill ICAST 2020
Lexington, S.C. – July 10, 2020 – Ever since its introduction, Strike King's KVD squarebill crankbait lineup has been one of the highest performing lures in its category. Whether in the hands of weekend anglers or Kevin VanDam, the best crankbait fisherman on the planet, the KVD Squarebill crankbaits put fish in the boat.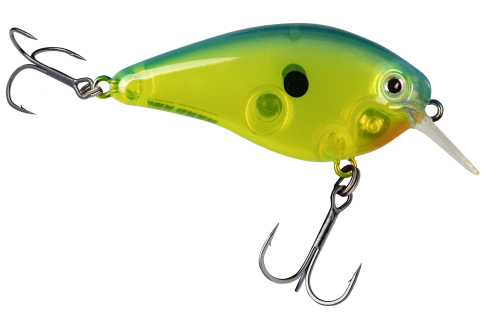 While the original silent KVD Squarebills have set the world on fire, the desire for a rattling version has become strong. So, building on the popularity of the Tungsten 2 Tap Red Eyed Shad and the Hard Knock Sexy Dog, Strike King developed the KVD 1.5 Hard Knock Squarebill.
VanDam said that the new Hard Knock series gives him versatility and another added benefit in his shallow cranking game. "The 1.5 Hard Knock has a very unique ticking sound that really helps give me an added dimension to my squarebill game," he said. "The unique ticking sound of the internal rattle gives me the component of sound in dirty water, or around grass."
However, while the sound is the main feature, VanDam said the rattle provides a secondary benefit. "The movement of the rattle inside the chamber of the KVD 1.5 Hard Knock adds to the action of the lure," he said. "The ticking of the lure will help them locate it, and the enhanced 'hunting' action will really make them strike. It is a great extension of the lineup that will allow me to switch up the sound to fire up a school again, and really help me catch more fish."
The KVD 1.5 Hard Knock Squarebill will be available in the fall of 2020.
Product Name • Size • Hook Size • Diving Depth
KVD 1.5 Hard Knock • 2.25" • 4 3-5 feet