Skeeter Boats/Yamaha Outboards and Bass Champs renew partnership through 2022, adding more guaranteed incentive bonus cash and marking 21 years with Bass Champs.
Posted On October 30, 2019
---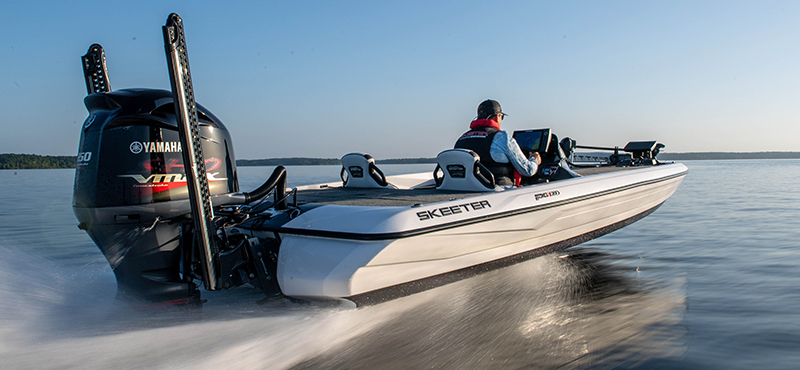 Haslet, Texas – Skeeter Boats Extends Agreement with Bass Champs another three (3) years following the release of the all new FXR boat. The continued partnership offers anglers the countries' leading team tournament trail while incentivizing the competitors that own the leading boat brand, Skeeter. The agreement includes Bass Champs Title Sponsorship exclusivity, Skeeter Owners Tournament, TV show and exclusive branding on all marketing materials.
"We have enjoyed the partnership with Bass Champs for the last 18 years and look forward to continuing for many years to come. Bass Champs continues to lead the country in providing the most popular, richest, guaranteed grass roots tournaments for the weekend angler in the United States. In doing so, we can showcase our latest and greatest as we strive to continue to build the best boat on the water. We are excited to showcase our new FXR model in 2020 and are certain that anglers will be impressed with the detail that goes into every one of our boats, but particularly this years' newest addition, paired with the Yamaha VF250LA."
Jeff Stone, Senior Vice President, Skeeter Products
Eat. Sleep. Fish. For over 70 years, Skeeter boats have focused on just that. No other brand has done it better and no one has been more revolutionary in the bass boat market. Skeeter's passion for producing an incredible boat is evident with every detail of the all-new FXR. The new 2020 Skeeter FXR was designed to create more room, promote even better fish-ability, and increase stability while including more features than ever before. Anglers will find two models including the FXR20 and FXR21 both powered by the proven Yamaha V MAX SHO 250 four-stroke outboard.
Skeeter will offer a new bonus program at every Bass Champs regular season event in 2020. The 3 highest finishing teams in a qualified Skeeter boat will win Skeeter bonus cash!  The first highest finisher in a qualified Skeeter will win $2000, the second will win $1500 and the third will win $500. To win, anglers must be fishing in a Qualified Skeeter boat combined with a Yamaha motor with an original purchase date within the last 3 years.   If that isn't awesome enough, make sure to carry a signed business card from any Skeeter dealer and the first team to weigh in an exact even weight will win a $250 bonus!
"Skeeter/Yamaha have been incredible partners for many years. We are thrilled to extend that relationship and we can't wait to showcase this new FXR! Skeeter continues to WOW us each year with the attention to detail they put into every boat and we couldn't be more excited to see these new boats on the water competing this coming year. In addition, they are offering an unprecedented bonus program for the top 3 qualified finishers at Bass Champs events".
-Chad Potts, President of Bass Champs
Skeeter Bass Champs continues to over-deliver year after year with the best payouts, incentives and most professionally run events for amateur anglers. There is no better tournament trail to fish with the chance at some serious cash! Again in 2020, Skeeter Bass Champs is offering a guaranteed 1st place of $20,000 cash at every regular season event along with the opportunity to make additional cash with the Skeeter bonus program as well as many other incentives.  Bass Champs will again be hosting the "Richest Guaranteed Open Team Tournament in the World," the Techron TX Shootout on Lake Sam Rayburn with a top prize of $50,000 Cash along with a $10,000 bonus if the winner is in a qualified Skeeter! The Skeeter Owners Tournament and the Big bass events will be even bigger and better in 2020.
Skeeter Bass Champs is the number one team tournament trail in the nation awarding the largest paybacks in the country, over $2.5 Million.  Providing a safe, honest and enjoyable place for anglers of all levels to compete for huge payouts, Bass Champs has been THE trail to fish in Texas for over 20 years.
For more information on Skeeter Boats, visit SkeeterBoats.com.
For more information on Yamaha Motors, visit yamahaoutboards.com
For More information on Bass Champs or to register for tournaments, visit BassChamps.com or call (817) 439-3274.
Bass Champs paying out millions to weekend anglers in 2020!
2020 Skeeter Bass Champs schedule of events:
January 11, Sam Rayburn – $20,000 Guaranteed for 1st Place
January 18, Falcon  – $20,000 Guaranteed for 1st Place
February 15, Toledo Bend  – $20,000 Guaranteed for 1st Place
February 22, Amistad  – $20,000 Guaranteed for 1st Place
February 29, Fork  – $20,000 Guaranteed for 1st Place
March 7, Rayburn  – $20,000 Guaranteed for 1st Place
March 14, LBJ  – $20,000 Guaranteed for 1st Place
March 10, Rayburn  – $20,000 Guaranteed for 1st Place
March 22, (Sunday) Mega Bass on Lake Fork – $20,000 Guaranteed EVERY HOUR + Skeeter Boat
March 28, Falcon  – $20,000 Guaranteed for 1st Place
April 4, Cedar Creek  – $20,000 Guaranteed for 1st Place
April 18, Travis  – $20,000 Guaranteed for 1st Place
April 25, Amistad  – $20,000 Guaranteed for 1st Place
May 2, Texoma  – $20,000 Guaranteed for 1st Place
May 9, Toledo Bend  – $20,000 Guaranteed for 1st Place
May 16, LBJ  – $20,000 Guaranteed for 1st Place
June 6, Ray Roberts  – $20,000 Guaranteed for 1st Place
June 12-14, Skeeter Owners – Fork
June 28, (Sunday) TX Shootout – Sam Rayburn  – $50,000 Guaranteed for 1st Place
October 10-11, Team Championship – T.B.A. – Over $200,000 Guaranteed
October 17-18, Berkley Big Bass – Fork  – Win 2 Skeeter Boats
Payback details, rules, and additional information is available on basschamps.com
---