Shook And Tolbert Win Abt North Division Finale, Wiggins Brothers Claim Aoy Title!
Brian Shook and Randy Tolbert Jr. win Alabama Bass Trail Weiss Lake
Jesse and Jordan Wiggins Claim North Division AOY
Leesburg, Ala. June 18, 2016 – Known as the "Crappie Capital of Alabama," Weiss Lake, in Leesburg and Centre, Ala. showcased itself as perhaps one of the true hidden bass fishing gems in the state when the Alabama Bass Trail wrapped up its 2016 Northern Division schedule Saturday.
The sprawling, 30,200 surface acre Coosa River impoundment produced impressive stringers for anglers seeking to crest the leaderboard, qualify for the 2016 ABT Championship, win the division's AOY Title or qualify for the Bassmaster Team Championship.
The team that found its way to the pinnacle of the day, was the Weiss Lake local team of Brian Shook and Randy Tolbert Jr., who cross the border from Georgia to compete in the Alabama Bass Trail, and consider Weiss Lake their home waters.  The pair produced an impressive 23.25-pound stringer to take the victory.
They said this day was on their minds for nearly a year.  "When we saw this lake on the schedule, we got pretty excited about it," they said.  "We knew this was going to be a golden opportunity for us to have a chance at a win, and show what Weiss Lake is capable of; we couldn't be happier with the result."
The pair reported catching as many as 20 bass offshore on a pair of jigs; a Dr. Dave's Bass Candy Black Angel Lures jig and a second, homemade version; both tipped with green pumpkin Strike King Rage Craws on offshore ledge spots.  "It took a little while for things to really get going, but the fish really started biting at 10:30 this morning," they said.  "We caught our big one at 1:00, and culled a couple more times after; it was really one of those days you dream about."
Their winning bag was anchored by a 7.31-pound largemouth that earned the Mountain Dew Big Bass of the tournament, which brought their total earnings for the event to $10,500.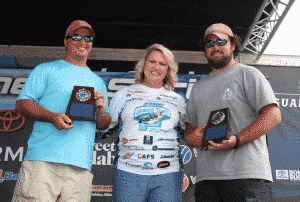 The team of Logan Johnson and Jeremy Christian also found themselves focusing on Weiss Lakes offshore features.  The pair targeted brushpiles that intersected with the channel edges.  "We did a whole lot of scanning with our electronics and found fish in the brush," they reported.  "Once we did, we fished with Texas rigged plum colored Zoom Ole' Monster worms, and caught fish throughout the day.  This is our first tournament on the lake, so we're thrilled with the result, and couldn't be happier for Brian and Randy."   Their 21.80-pound limit earned them the $5,000 prize for second place.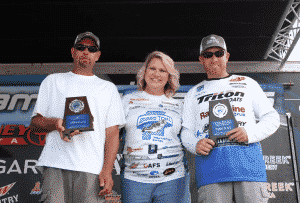 The team of Bradley Jones and Andy Kilgore finished the event in third place, and took home $4,000 for their efforts.
The top 10 in the standings are below – the complete standings can be found at:http://www.alabamabasstrail.org/tournament-series/wel-results/
| | | | | |
| --- | --- | --- | --- | --- |
| Place | Name | Weight | Big Fish | Winnings |
| 1 | Brian Shook/Randy Tolbert Jr | 23.25 | 7.31 | $10,000 |
| 2 | Logan Johnson/Jeremy Christian | 21.80 | 4.77 | $5,000 |
| 3 | Bradley Jones/Andy Kilgore | 21.14 | 5.76 | $4,000 |
| 4 | Damien Willis/Mark Steward | 19.79 | | $3,000 |
| 5 | Lanny Guthrie/Bobby Brown | 18.83 | | $2,000 |
| 6 | Jesse Wiggins/Jordan Wiggins | 18.66 | 4.20 | $1,000 |
| 7 | Jeff Cannon/Shawn Brock | 18.23 | | $900 |
| 8 | Dalton Bobo/Lonnie O'Neal | 18.00 | 5.04 | $800 |
| 9 | Barry Vest/Dustin McDaniel | 17.84 | | $700 |
| 10 | Eddie Jewell/Shane Jewell | 17.82 | 4.89 | $600 |
The team of Jesse and Jordan Wiggins produced an 18.66-pound limit at the Weiss Lake event; which earned them a sixth place finish; it was also enough to claim the title of 2016 Alabama Bass Trail Northern Division Anglers of the Year.  They will lead the six Northern Division teams heading to the Bassmaster Team Championship at Kentucky Lake in November
That concludes the season for the 2016 Alabama Bass Trail Northern Division. The next event for the division qualifiers will be the 2016 Alabama Bass Trail Championship at Lake Eufaula October 7 – 8, 2016.  For complete South Division standings, see them here – http://www.alabamabasstrail.org/tournament-series/north-division-standings/
The sponsors of the 2016 Alabama Bass Trail include; Bill Penney Toyota, Phoenix Bass Boats, Garmin, Academy Sports & Outdoors, Wind Creek Hospitality – Wetumpka, Wind Creek Hospitality – Montgomery, Alabama Tourism Department, SCA Performance, Mt. Dew, Boat US, T-H Marine Supplies, AllState, TVA, Alabama Power, Fish Neely Henry Lake.com, Lew's Fishing, Frogg Toggs, Crossed Industries, Alabama Foundation Specialist, Costa, YETI, Leer, E3 Apparel.
For information about Alabama Bass Trail and for complete tournament standings visit www.alabamabasstrail.org.