Robotic Swimbaits, X Ray Glasses and an $11,000 Kayak: 
Vance McCullough
Welcome to ICAST 2021
Growing up, I thought we'd have flying cars by now. But in a week that saw Jeff Bezos blast off to space in a private craft, nowhere is creativity displayed more brightly than at the ICAST show in Orlando, Fla.
One example is the Animated Lure, which according to the packaging, is "Bringing Fishing to Life". The multi-segmented hard-bodied swimbaits begin swimming in random circular and figure eight patterns when dropped in water. They are USB rechargeable and run for about 45 minutes-to-an-hour, so smart anglers are buying them in pairs to use one while the other recharges. Hate to run out of battery when the bite suddenly turns hot.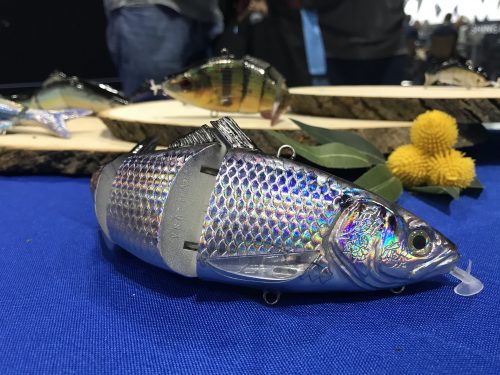 Available in three sizes, the Animated Lure prices range from twenty-some-odd bucks to over seventy, with the most practical size, The Classic, retailing for about $32.
X ray glasses were all the rage in the 1950's. Popularity waned as women started wearing clothes that left nothing to the imagination in the first place. Fish, however, are shyer and if you want to see the drop-offs and underwater where they hide, look no further than the ClearWater.AR system, an electronics bundle featuring a pair of glasses through which you view your smartphone as it scans the water to reveal, right on the phone screen, all the hidden topography.
The ClearWater.AR (AR stands for augmented reality) will even populate the screen with golf hole style flags to hint at the places where you might want to cast. It is said to show navigational channels, marker buoys at twilight and in heavy fog and could be a useful tool if it lives up to its promised potential.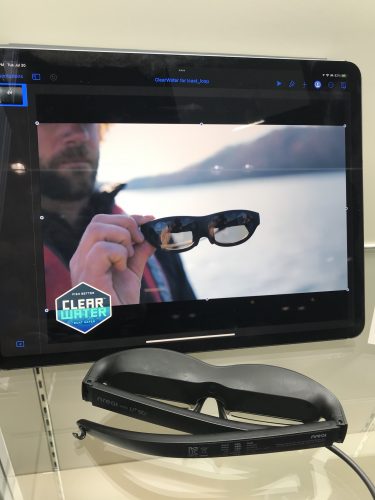 ClearWater.AR uses imagery provided by Strikelines, a company worth checking out as their charts can be purchased independently from the ClearWater.AR system which itself will set you back $1,199 plus the requisite annual subscription to the associated smartphone app at $99 per year.
We've previewed Apex Watercraft before on AnglersChannel.com but company owner, Eric Jackson notes that the nascent venture suffered all the common setbacks during 2020 and is just now hitting its stride. "We will have inventory to dealers this fall," said Jackson who added that prospective customers can place an order direct with the company.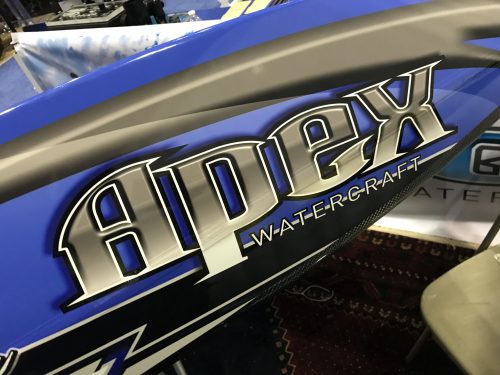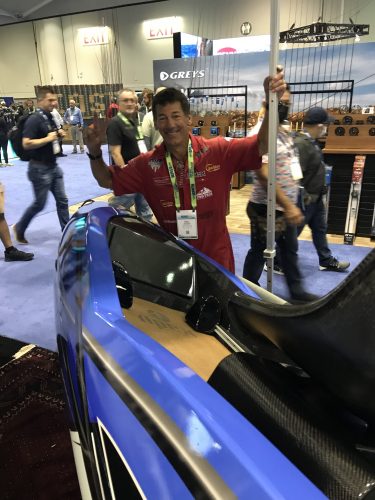 The Apex may be the must futuristic thing at ICAST. The craft weighs about 40 pounds, Jackson lifted off its display stand with one finger under the nose. The graphics reveal sections of the carbon fiber construction that lends both, exceptional strength and tremendous weight savings along with a clean, technical look similar to that of a high-end fishing rod. The kayak shares another trait with high-end rods – a high-end price tag.
$11,000.
Features are too numerous for the scope of this story, but you need to take a look at the Apex online. Jackson has posted a handful of videos on YouTube, for example. After checking it out you may not buy one, but you will want one. Jackson flatly states, "They're not for everybody, just those who want the very best."
Sometimes the best doesn't cost more. I hung out with Bassmaster Elite Series Pro Matt 'On 'Em' Robertson today. Having finished his first season on Tour, Robertson said one the biggest lessons he learned is that "you don't need a $400 rod to compete, not even on the Elite Series. I caught fish all over the country on my Ugly Stick Carbon rods which retail for $80 and come in all the lengths and actions you need."
The Carbon models have been around just long enough to prove that, like Robertson who qualified for another Bassmaster Classic, they belong on Tour – and in your hands.
Affordable quality, now that's a technological marvel that's out of this world.