RELiON® Battery Debuts a New 36V Lithium Battery
This is the first 36V marine battery in the brand's product line
Menomonee Falls, Wis.  (July 11, 2023) – RELiON® Battery, a global leader in the development of lithium batteries, today announced the launch of the new RB36V40, a durable, long-lasting 36V 40Ah marine lithium battery. 
"With more than 20 years of experience in the industry and a comprehensive product portfolio, RELiON continues to provide the latest and greatest in lithium battery technology," said Eric Lindquist, VP and General Manager, Power Systems at Navico Group. "Product development is a key priority, and our team of experts is dedicated to delivering innovation with unmatched power and performance. We are thrilled to round out our voltage offering with the new 36V battery and provide users with peace of mind and more time on the water."  
The new RB36V40 provides maximum capacity, 20% more than its series equivalent*, with minimum hassle thanks to its parallel design. The improved connectors and small Group 31 footprint make onboard installation simple, and weighing 70% less than the lead-acid equivalent, speed through the water doesn't need to be sacrificed. Additionally, the parallel set-up allows for quicker, easier charging and more power in the tank when needed.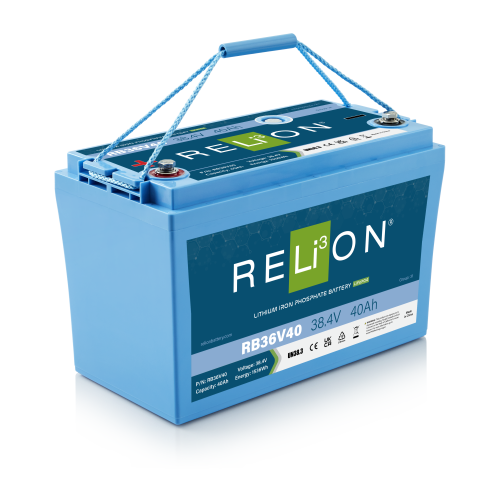 Built for the marine environment, the 36V battery includes an IP67-rated case, which completely repels dust and resists water ingress for up to 30 minutes submerged at 1 meter. It also features a new glue channel and screw-latched enclosure to protect against airborne contaminants, as well as an internal Battery Management System (BMS) to monitor battery health and protect against short circuits and over-charging.
Key features of the RB36V40 lithium battery
Easy installation with a small footprint – Group 31 (13" x 6.8" x 8.4")
Parallel set-up allows for greater capacity with fewer batteries in standard applications
Fast recharging

 

IP67 waterproof rating

 

1536-Watt hours
For information about RELiON Battery and its lithium battery options, visit https://relionbattery.com/.