Nolen Spencer and Jonathon Reese win 2018 Alabama Bass Trail Weiss Lake
by Dan O'Sullivan
May 12, 2018 – Leesburg, Ala. – Then it was all over – but the shouting.
The reason was, the team of Nolen Spencer and Jonathon Reese had put more than 27 pounds of Weiss Lake largemouth in their livewells, and came to the Alabama Bass Trail scales at Leesburg Landing the moment they opened at one o'clock.  Their 26.84-pound limit following an expired fish penalty was more than enough to claim the victory, and the $10,000 winner's purse.
Despite the fact that they had hours more to fish, they decided to protect the health of their fish, the Northern Division team from Tennessee had quit fishing at 11:00AM and moved to the shade of a marina slip to care for their catch.  They simply had to wait as nearly 220 other teams crossed stage to take their bow.
They said they did not expect that kind of weight, nor did they expect to catch largemouth.  "We found an offshore spot downlake that we thought we could catch 18 pounds of spotted bass on," they reported.  "But, after catching our first limit, we looked around, saw some bigger arches off the edge of the cover; they turned out to be big largemouth, and by 11:00 we had culled out everything else we had caught; it was an unbelievable day."
They reported catching their fish on a pair of swimbaits and a big worm on a jighead.  "We threw Keitech and Big Hammer swimbaits on 1/2 to 3/4-ounce jigheads and a Watermelon Red Magnum Trick Worm on a 1/2-ounce Shaky Head," they said.  "We had planned on fishing for spots, and caught big largemouth, so we just think it was our time.  We came to ABT to fish new lakes and challenge ourselves, and are thrilled to be standing here holding these trophies."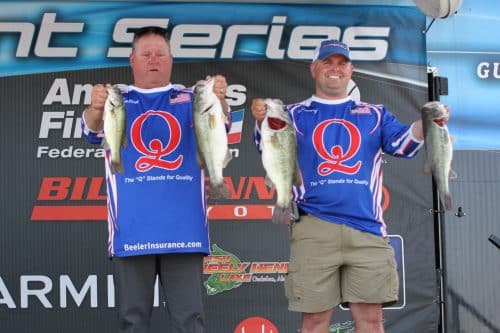 Jerry Hartline and Jason Hogue; a local team from Cedartown, Ga., posted an 18.06-pound limit to finish the day in second place on their home lake.  The pair reported making a treacherous run way up the Chattooga River to catch largemouth in one area around shallow grass with Teckel Sprinkler Frogs and Stanley Top Toad.  "We got a total of six bites, and landed five," they said.  "We found our fish on Thursday and made the decision to live or die on that spot, and it really worked out; we had a good day, and are proud of our finish."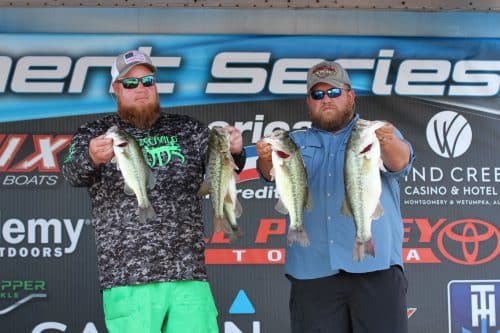 The Team of Matt Leicher and Justin Wallace finished 1/100 of a pound behind the second place team with 18.05 pounds.  However, their limit included the 6.52-pound Mountain Dew Big Bass of the tournament – a fish that earned them the $500 bonus for the day, bringing their total winnings to $4,500 for the tournament.
The rest of the Top 10 Standings are below,
| | | | | |
| --- | --- | --- | --- | --- |
| Place | Anglers | Weight | Big Fish | Winnings |
| 1 | Nolen Spencer / Jonathon Reese | 26.84 | 6.08 | $10,000 |
| 2 | Jerry Hartline / Jason Hogue | 18.06 | | $5,000 |
| 3 | Matt Leicher / Justin Wallace | 18.05 | 6.52 | $4,000 |
| 4 | Allen Hayes / Danny Bishop | 17.44 | | $3,000 |
| 5 | Grant Hopson / Wes Ward | 17.31 | | $2,000 |
| 6 | David Nixon / Delano Green | 17.16 | 5.74 | $1,500 |
| 7 | Kyle Glasgow / Luke Glasgow | 16.51 | | $1,100 |
| 8 | Paul Davis / Josh Chapple | 16.30 | 5.38 | $1,100 |
| 9 | 1) Tracy Robinson / Willie Staten | 15.98 | | $1,100 |
| 10 | Jason Whisonant / Wayne Whisonant | 15.87 | | $1,100 |
For complete standings visit: http://www.alabamabasstrail.org/tournament-series/wel-results/