Nick Wood takes the early lead in the B.A.S.S. Nation Western Regional
---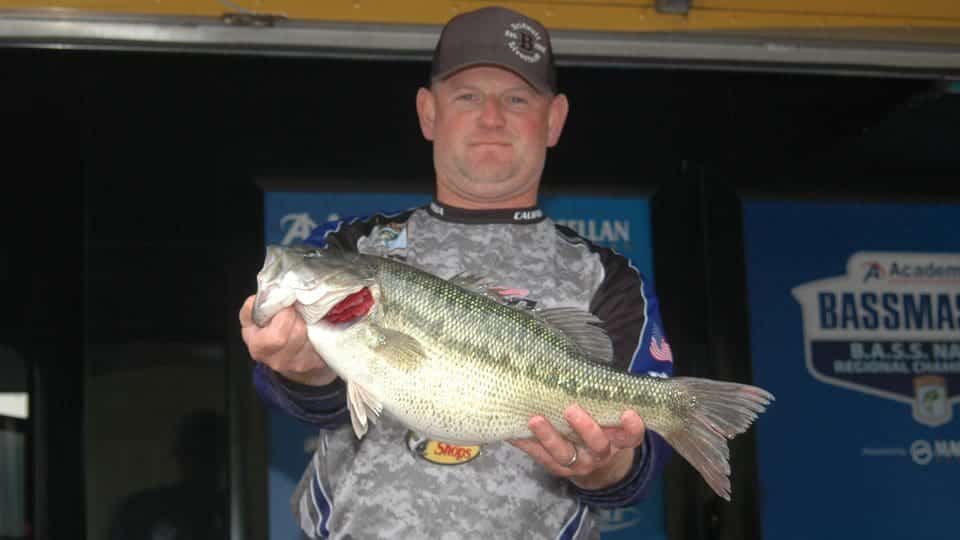 Nick Wood of Yreka, Calif., caught 13 pounds, 14 ounces to take the lead on the first day of the 2017 Academy Sports + Outdoors B.A.S.S. Nation Western Regional presented by Magellan on Lake Shasta out of Redding, Calif.
Photo by Mark Hicks/Bassmaster
FOR IMMEDIATE RELEASE

April 19, 2017

Big Spotted Bass Propel Wood Into Early Lead In B.A.S.S. Nation Western Regional

REDDING, Calif. — The talk prior to today's first round of the Academy Sports + Outdoors B.A.S.S. Nation Western Regional presented by Magellan was that five-bass limits would be easy to come by. The challenge would be catching five bass big enough to do well in the tournament. That proved to be right on target. Only three of the more than 200 anglers failed to bring in a limit today.

California team member Nick Wood of Yreka, Calif., was one of the few anglers who connected with a heavyweight bass. His 6-pound, 9-ounce, spotted bass was the biggest bass of the day, and the fish bolstered his five-bass boater limit to 13-14, making him the early leader of the three-day event.

Wood is a local angler who knows Lake Shasta well. Two weeks ago he won a tournament here with five spotted bass that weighed 20 pounds, and he has caught trophy spotted bass here in the 9-pound class.

"I'm fishing slow and targeting big bass," Wood said. "I had four big ones miss my bait today. I'm guardedly optimistic that I can catch more big ones over the next two days."

Lake Shasta is known for its excellent population of spotted bass. Smallmouth and largemouth bass also live in Shasta but in much smaller numbers. The vast majority of the bass brought in today were spots.

In second place is Utah team member Chase Colby of Heber City, Utah, with a five-bass limit weighing 12-11. He claims that he and his nonboater partner caught hundreds of spotted bass today.

"I'm getting away from everyone," Colby said. "I'm also trying to do something a little different to catch the bigger fish."

Oregon team member Jason Hooper of Salem, Ore., is in third place on the boater side of the tournament with a limit of spotted bass that weighed 11-7.

"I grew up fishing this lake, and I have confidence in a few areas," Hooper said. "One problem is all of the logs and debris from the rising water. In some places it covers the water 40 to 50 yards out from the shoreline. I can't cast where the fish are."

Heavy rainfall this year has raised Shasta's water level more than 40 feet over the past month. The rising lake level has stained the water and pulled logs and other obstructions onto the lake.

Nonboaters are paired with boaters during the tournament and they are allowed to bring three bass to the scales. Mike Powell of Midway, Utah, made the most of his opportunity with a three-bass limit that weighed 7-12. He leads the nonboater field and helped his Utah team claim the lead with a total team weight of 145-9. The winning team will be decided after the second day's weigh-in, which takes place Thursday at Bridge Bay Marina at 2:15 p.m. PST.

A warming trend may improve the catch over the remaining days of the tournament by encouraging bass to move into shallow spawning areas. When the bass move, it invariably helps some anglers and hurts others. Those who are able to adjust to the weather and the fish movements will continue to catch the bass.

So many bass were caught today that all eleven teams are still in contention to win. Less than 6 pounds separates the Top 7 teams.

2017 B.A.S.S. Nation Title Sponsor: Academy Sports + Outdoors

2017 B.A.S.S. Nation Presenting Sponsor: Magellan

2017 B.A.S.S. Nation Platinum Sponsor: Toyota

2017 B.A.S.S. Nation Premier Sponsors: Yamaha, Shell Rotella, Power-Pole, Mercury, Minn Kota, Berkley, Huk, Humminbird, Nitro Boats, Skeeter Boats, Triton Boats

2017 B.A.S.S. Nation Supporting Sponsors: Carhartt, Dick Cepek Tires & Wheels, T-H Marine, Livingston Lures, Phoenix Boats, Shimano, Advance Auto Parts, Lowrance, Nationwide

About B.A.S.S.
B.A.S.S. is the worldwide authority on bass fishing and keeper of the culture of the sport, providing cutting edge content on bass fishing whenever, wherever and however bass fishing fans want to use it. Headquartered in Birmingham, Ala., the 500,000-member organization's fully integrated media platforms include the industry's leading magazines (Bassmaster and B.A.S.S. Times), website (Bassmaster.com), television show (The Bassmasters on ESPN2), social media programs and events. For more than 45 years, B.A.S.S. has been dedicated to access, conservation and youth fishing.

The Bassmaster Tournament Trail includes the most prestigious events at each level of competition, including the Bassmaster Elite Series, Bass Pro Shops Bassmaster Open Series, Academy Sports + Outdoors B.A.S.S. Nation presented by Magellan, Carhartt Bassmaster College Series presented by Bass Pro Shops, Costa Bassmaster High School Series presented by DICK'S Sporting Goods, Toyota Bonus Bucks Bassmaster Team Championship and the ultimate celebration of competitive fishing, the GEICO Bassmaster Classic presented by DICK'S Sporting Goods.

-30-

Media Contact: JamieDay Matthews, 205-313-0945, [email protected] or Dave Precht, 205-313-0931, [email protected].
2017 Academy Sports + Outdoors B.A.S.S. Nation Western Regional presented by Magellan
4/19-4/21
Lake Shasta, Redding  CA.
(BOATER) Standings Day 1
Angler                   Hometown              No./lbs-oz  Pts   Total $$$
1.  Nick Wood              Yreka, CA (CA)          5  13-14  0
2.  Chase Colby            Heber City, UT (UT)     5  12-11  0
3.  Jason Hooper           Salem, OR (OR)          5  11-07  0
4.  Bill Brown             Grand Junction, CO (UT) 5  11-03  0
4.  Jason Crone            Kalispell, MT (MT)      5  11-03  0
6.  Mike Lavallee          Sandy, UT (UT)          5  11-01  0
7.  Tony Lind              Auburn , WA (WA)        5  10-15  0
7.  Josh Polfer            Nampa, ID (ID)          5  10-15  0
9.  Jay Evans              Corvallis, MT (MT)      5  10-14  0
10. Brian Kennemer         Bakersfield, CA (CA)    5  10-13  0
11. Curtis Spindler        Missoula, MT (MT)       5  10-12  0
12. Matt Abeyta            Albuquerque, NM (NM)    5  10-10  0
12. Steve Lund             Glendale, AZ (AZ)       5  10-10  0
14. Ray Archer             Greeley, CO (CO)        5  10-08  0
15. Ben Byrd               Moab, UT (UT)           5  10-06  0
16. Dan Jordan             Camas, WA (OR)          5  10-05  0
17. Trevor Scott           Windsor, CO (CO)        5  10-04  0
18. Brent Shores           Boise, ID (ID)          5  10-03  0
19. Mark Warren            Castle Rock, CO (CO)    5  10-01  0
20. Tim Johnston           Kalispell , MT (MT)     5  10-00  0
20. Randy Pierson          Oakdale, CA (CA)        5  10-00  0
22. William Gibbs          John Day, OR (OR)       5  09-14  0
23. Ty Faber               Pagosa Springs, CO (WY) 5  09-13  0
24. Marty Lawrence         Mesa, AZ (AZ)           5  09-11  0
24. Kevin Wiggins          Las Vegas, NV (NV)      5  09-11  0
26. David Kromm            Kennewick, WA (WA)      5  09-08  0
26. Chad Phillips          Thornton, CO (CO)       5  09-08  0
26. Doug Pingree           Apache Junction, AZ (AZ 5  09-08  0
26. Ron Rushing            Sacramento, CA (CA)     5  09-08  0
30. Larry Triplett         Castle Rock, CO (CO)    5  09-07  0
31. Kalib Lund             Glendale, AZ (AZ)       5  09-06  0
32. Jason Hemminger        Oxnard, CA (CA)         5  09-05  0
32. Don Hull               Mead, WA (ID)           5  09-05  0
32. Cole Schneider         Rathdrum, ID (ID)       5  09-05  0
35. Shane Baertsch         Lolo, MT (MT)           5  09-04  0
35. Mark Hilyer            Libby, MT (MT)          5  09-04  0
35. David Withee           Pueblo West, CO (CO)    5  09-04  0
38. Kenny Hansel           Los Alamos, NM (NM)     5  09-03  0
38. Frank Scarla           McMinnville, OR (OR)    5  09-03  0
40. Ken Day                Kennewick, WA (WA)      5  09-02  0
40. Michael Grande         Las Vegas, NV (NV)      5  09-02  0
42. Steven Hupp            Tucson, AZ (AZ)         5  09-01  0
42. Bryson Mort            Post Falls, ID (ID)     5  09-01  0
42. Bubba O'Neill          Evanston, WY (WY)       5  09-01  0
42. Brian Stangel          Albuquerque, NM (NM)    5  09-01  0
46. Jeremiah Hofstetter    Aurora, CO (CO)         5  09-00  0
46. Elli Hubbard           Las Vegas, NV (NV)      5  09-00  0
46. Ron Mace               Kennewick, WA (WA)      5  09-00  0
49. Justin Hicks           Gunnison, CO (UT)       5  08-15  0
49. Derek Phillips         Castle Rock, CO (CO)    5  08-15  0
51. Brian Bolander         Scottsdale, AZ (AZ)     5  08-14  0
51. Jason Hickey           Weiser, ID (ID)         5  08-14  0
51. Tony McCalmant         Post Falls, ID (ID)     5  08-14  0
51. Bob Yelland            Coeur D Alene, ID (ID)  5  08-14  0
55. Brad Everett           Bakersfield, CA (CA)    5  08-12  0
55. Johnny Johnson         Farmington, NM (NM)     5  08-12  0
57. Steve Wilson           Rohnert Park, CA (CA)   5  08-11  0
58. Beaude Oaks            Vernal , UT (UT)        5  08-09  0
58. Willie Reed Jr         Missoula, MT (MT)       5  08-09  0
58. Clayton Rogerson       Bakersfield, CA (CA)    5  08-09  0
61. Patrick Davis          Henderson, NV (NV)      5  08-08  0
61. Nicholas Fitzsimmons   Lyle, WA (OR)           5  08-08  0
61. Todd Herman            Gilbert, AZ (AZ)        5  08-08  0
61. Chad Kaiser            Hayden, ID (ID)         5  08-08  0
61. Jason Virgil           Hermiston, OR (OR)      5  08-08  0
61. Travis Whitney         Kennewick, WA (WA)      5  08-08  0
67. Bill Scharton          Oakdale, CA (CA)        5  08-07  0
68. Don Allphin            Provo, UT (UT)          5  08-06  0
68. Justin Campbell        Pasco, WA (WA)          5  08-06  0
70. Randy Gust             Osburn, ID (MT)         5  08-05  0
71. Rick Culver            Taylor, UT (UT)         5  08-04  0
71. Dwayne Steel           Tonto Basin, AZ (AZ)    5  08-04  0
73. Gabriel Rivera         Portales, NM (NM)       5  08-03  0
73. Tyler Wilson           Carlsbad, NM (NM)       5  08-03  0
75. Stephen Pike           Las Vegas, NV (NV)      5  08-02  0
76. Jerry Brown            Pueblo West, CO (CO)    5  08-01  0
77. Dave Lee               Mesa, AZ (AZ)           5  08-00  0
78. Joe Cole               Coalville, UT (WY)      5  07-15  0
78. Gabe Litterell         Coer D'Alene, ID (ID)   5  07-15  0
78. Jason Milligan         Cottonwood , CA (CA)    5  07-15  0
78. Ron Wiseman Jr         Pendleton, OR (OR)      5  07-15  0
82. Sidney Reeves          Ogden, UT (UT)          5  07-13  0
82. Colton Wright          Murray, UT (UT)         5  07-13  0
84. Brent James            St George, UT (NV)      5  07-12  0
84. Justin Orr             Elephant Butte, NM (NM) 5  07-12  0
84. Toby Robinson          Henderson, NV (NV)      5  07-12  0
84. Dusten Stewart         Roy, UT (WY)            5  07-12  0
88. Sean Andrachick        Marion, MT (MT)         5  07-11  0
88. Kevin Pangle           Bend, OR (OR)           5  07-11  0
90. Chris James            Tacoma, WA (WA)         5  07-10  0
91. Doug Gaskill           Las Vegas, NV (NV)      5  07-09  0
92. Cory Miller            Lebanon, OR (OR)        5  07-08  0
92. Ryland Ogle            Henderson, NV (NV)      5  07-08  0
92. Robert Peixotto        Albuquerque, NM (NM)    5  07-08  0
95. Jeff Reid              Vancouver, WA (OR)      5  07-07  0
96. Brent Daybell          West Jordan, UT (WY)    5  07-06  0
97. Nate Caldwell          Ft Collins, CO (CO)     5  07-05  0
98. Mario Carreon          Las Cruces, NM (NM)     5  07-00  0
99. Bobby Forster          Spokane  , WA (WA)      5  06-11  0
100. Herminio Romero        Henderson, NV (NV)      5  06-10  0
101. Chris Lambert          Olympia, WA (WA)        5  06-09  0
102. Randell Bell           Elephant Butte, NM (NM) 5  06-06  0
103. Mike Dominick          Alberton, MT (MT)       5  06-04  0
104. Gene Batey Jr.         Pasco, WA (WA)          5  06-02  0
105. Greg Taylor            Tucson, AZ (AZ)         4  05-03  0
———————————————————————–
———————————————————————–
Totals
Day   #Limits    #Fish      Weight
1       104      524       931-05
———————————-
104       524       931-05
TEAM STANDINGS Day 1
———————————-
State                Lbs-Oz
1 UTAH                 145-09
2 COLORADO             143-10
3 CALIFORNIA           143-06
4 OREGON               142-14
5 IDAHO                142-02
6 ARIZONA              140-06
7 MONTANA              140-04
8 WASHINGTON           133-12
9 NEW MEXICO           133-09
10 NEVADA               132-15
11 WYOMING               72-05
INDIVIDUAL STANDINGS Day 1
———————————————————————–
WASHINGTON
Angler               Hometown                   No./lbs-oz Total $$$
1 Tony Lind            Auburn , WA                 5   10-15  0
2 David Kromm          Kennewick, WA               5   09-08  0
3 Ken Day              Kennewick, WA               5   09-02  0
4 Ron Mace             Kennewick, WA               5   09-00  0
5 Travis Whitney       Kennewick, WA               5   08-08  0
6 Justin Campbell      Pasco, WA                   5   08-06  0
7 Chris James          Tacoma, WA                  5   07-10  0
8 Bobby Forster        Spokane  , WA               5   06-11  0
9 Chris Lambert        Olympia, WA                 5   06-09  0
10 Gene Batey Jr.       Pasco, WA                   5   06-02  0
IDAHO
Angler               Hometown                   No./lbs-oz Total $$$
1 Josh Polfer          Nampa, ID                   5   10-15  0
2 Brent Shores         Boise, ID                   5   10-03  0
3 Don Hull             Mead, WA                    5   09-05  0
3 Cole Schneider       Rathdrum, ID                5   09-05  0
5 Bryson Mort          Post Falls, ID              5   09-01  0
6 Jason Hickey         Weiser, ID                  5   08-14  0
6 Tony McCalmant       Post Falls, ID              5   08-14  0
6 Bob Yelland          Coeur D Alene, ID           5   08-14  0
9 Chad Kaiser          Hayden, ID                  5   08-08  0
10 Gabe Litterell       Coer D'Alene, ID            5   07-15  0
OREGON
Angler               Hometown                   No./lbs-oz Total $$$
1 Jason Hooper         Salem, OR                   5   11-07  0
2 Dan Jordan           Camas, WA                   5   10-05  0
3 William Gibbs        John Day, OR                5   09-14  0
4 Frank Scarla         McMinnville, OR             5   09-03  0
5 Nicholas Fitzsimmons Lyle, WA                    5   08-08  0
5 Jason Virgil         Hermiston, OR               5   08-08  0
7 Ron Wiseman Jr       Pendleton, OR               5   07-15  0
8 Kevin Pangle         Bend, OR                    5   07-11  0
9 Cory Miller          Lebanon, OR                 5   07-08  0
10 Jeff Reid            Vancouver, WA               5   07-07  0
ARIZONA
Angler               Hometown                   No./lbs-oz Total $$$
1 Steve Lund           Glendale, AZ                5   10-10  0
2 Marty Lawrence       Mesa, AZ                    5   09-11  0
3 Doug Pingree         Apache Junction, AZ         5   09-08  0
4 Kalib Lund           Glendale, AZ                5   09-06  0
5 Steven Hupp          Tucson, AZ                  5   09-01  0
6 Brian Bolander       Scottsdale, AZ              5   08-14  0
7 Todd Herman          Gilbert, AZ                 5   08-08  0
8 Dwayne Steel         Tonto Basin, AZ             5   08-04  0
9 Dave Lee             Mesa, AZ                    5   08-00  0
10 Greg Taylor          Tucson, AZ                  4   05-03  0
WYOMING
Angler               Hometown                   No./lbs-oz Total $$$
1 Ty Faber             Pagosa Springs, CO          5   09-13  0
2 Bubba O'Neill        Evanston, WY                5   09-01  0
3 Joe Cole             Coalville, UT               5   07-15  0
4 Dusten Stewart       Roy, UT                     5   07-12  0
5 Brent Daybell        West Jordan, UT             5   07-06  0
NEW MEXICO
Angler               Hometown                   No./lbs-oz Total $$$
1 Matt Abeyta          Albuquerque, NM             5   10-10  0
2 Kenny Hansel         Los Alamos, NM              5   09-03  0
3 Brian Stangel        Albuquerque, NM             5   09-01  0
4 Johnny Johnson       Farmington, NM              5   08-12  0
5 Gabriel Rivera       Portales, NM                5   08-03  0
5 Tyler Wilson         Carlsbad, NM                5   08-03  0
7 Justin Orr           Elephant Butte, NM          5   07-12  0
8 Robert Peixotto      Albuquerque, NM             5   07-08  0
9 Mario Carreon        Las Cruces, NM              5   07-00  0
10 Randell Bell         Elephant Butte, NM          5   06-06  0
CALIFORNIA
Angler               Hometown                   No./lbs-oz Total $$$
1 Nick Wood            Yreka, CA                   5   13-14  0
2 Brian Kennemer       Bakersfield, CA             5   10-13  0
3 Randy Pierson        Oakdale, CA                 5   10-00  0
4 Ron Rushing          Sacramento, CA              5   09-08  0
5 Jason Hemminger      Oxnard, CA                  5   09-05  0
6 Brad Everett         Bakersfield, CA             5   08-12  0
7 Steve Wilson         Rohnert Park, CA            5   08-11  0
8 Clayton Rogerson     Bakersfield, CA             5   08-09  0
9 Bill Scharton        Oakdale, CA                 5   08-07  0
10 Jason Milligan       Cottonwood , CA             5   07-15  0
MONTANA
Angler               Hometown                   No./lbs-oz Total $$$
1 Jason Crone          Kalispell, MT               5   11-03  0
2 Jay Evans            Corvallis, MT               5   10-14  0
3 Curtis Spindler      Missoula, MT                5   10-12  0
4 Tim Johnston         Kalispell , MT              5   10-00  0
5 Shane Baertsch       Lolo, MT                    5   09-04  0
5 Mark Hilyer          Libby, MT                   5   09-04  0
7 Willie Reed Jr       Missoula, MT                5   08-09  0
8 Randy Gust           Osburn, ID                  5   08-05  0
9 Sean Andrachick      Marion, MT                  5   07-11  0
10 Mike Dominick        Alberton, MT                5   06-04  0
UTAH
Angler               Hometown                   No./lbs-oz Total $$$
1 Chase Colby          Heber City, UT              5   12-11  0
2 Bill Brown           Grand Junction, CO          5   11-03  0
3 Mike Lavallee        Sandy, UT                   5   11-01  0
4 Ben Byrd             Moab, UT                    5   10-06  0
5 Justin Hicks         Gunnison, CO                5   08-15  0
6 Beaude Oaks          Vernal , UT                 5   08-09  0
7 Don Allphin          Provo, UT                   5   08-06  0
8 Rick Culver          Taylor, UT                  5   08-04  0
9 Sidney Reeves        Ogden, UT                   5   07-13  0
9 Colton Wright        Murray, UT                  5   07-13  0
COLORADO
Angler               Hometown                   No./lbs-oz Total $$$
1 Ray Archer           Greeley, CO                 5   10-08  0
2 Trevor Scott         Windsor, CO                 5   10-04  0
3 Mark Warren          Castle Rock, CO             5   10-01  0
4 Chad Phillips        Thornton, CO                5   09-08  0
5 Larry Triplett       Castle Rock, CO             5   09-07  0
6 David Withee         Pueblo West, CO             5   09-04  0
7 Jeremiah Hofstetter  Aurora, CO                  5   09-00  0
8 Derek Phillips       Castle Rock, CO             5   08-15  0
9 Jerry Brown          Pueblo West, CO             5   08-01  0
10 Nate Caldwell        Ft Collins, CO              5   07-05  0
NEVADA
Angler               Hometown                   No./lbs-oz Total $$$
1 Kevin Wiggins        Las Vegas, NV               5   09-11  0
2 Michael Grande       Las Vegas, NV               5   09-02  0
3 Elli Hubbard         Las Vegas, NV               5   09-00  0
4 Patrick Davis        Henderson, NV               5   08-08  0
5 Stephen Pike         Las Vegas, NV               5   08-02  0
6 Brent James          St George, UT               5   07-12  0
6 Toby Robinson        Henderson, NV               5   07-12  0
8 Doug Gaskill         Las Vegas, NV               5   07-09  0
9 Ryland Ogle          Henderson, NV               5   07-08  0
10 Herminio Romero      Henderson, NV               5   06-10  0
2017 Academy Sports + Outdoors B.A.S.S. Nation Western Regional presented by Magellan
4/19-4/21
Lake Shasta, Redding  CA.
(NON_BOATER) Standings Day 1
Angler                   Hometown              No./lbs-oz  Pts   Total $$$
1.  Mike Powell            Midway, UT (UT)         3  07-12  0
2.  Mark Faber             Pagosa Springs, CO (WY) 3  07-00  0
3.  Chuck Harrison         Ft Collins, CO (CO)     3  06-14  0
3.  Mike Rennie            Pioche, NV (NV)         3  06-14  0
5.  Cody Hollen            Beaverton, OR (OR)      3  06-10  0
6.  Steven Boyce           Paradise Valley , AZ (A 3  06-08  0
6.  Nathan Tumelson        Lewiston, ID (ID)       3  06-08  0
6.  Ricardo Vigil          Socorro, NM (NM)        3  06-08  0
9.  Don Evans              Canyon City, CO (CO)    3  06-03  0
9.  Scott Hausman          Las Vegas, NV (NV)      3  06-03  0
9.  John Steinhilber       Santa Barbra, CA (CA)   3  06-03  0
12. Logan DeGree           Redmond, OR (OR)        3  06-02  0
12. Damieon Dorosky        Graham, WA (WA)         3  06-02  0
12. Brian Velasquez        Yuma, AZ (AZ)           3  06-02  0
15. Frank Bianchi          Colorado Springs, CO (C 3  06-01  0
15. Tyler Stingley         Chubbuck, ID (WY)       3  06-01  0
17. Jake Morrison          Phoenix, AZ (AZ)        3  06-00  0
18. Tim Rawlings           Malad City, ID (WY)     3  05-15  0
18. Lane Robinson          Hayden, ID (ID)         3  05-15  0
20. Randy Pierson          Grand Junction, CO (UT) 3  05-14  0
21. Todd VanDorn           Lewiston, ID (ID)       3  05-13  0
22. Clif Gallagher         Eagle Mountain, UT (WY) 3  05-12  0
22. Brad Hauf              Elephant Butte, NM (NM) 3  05-12  0
22. Bill Rosenbalm         Arlington, OR (OR)      3  05-12  0
22. Scott Seros            Bend, OR (OR)           3  05-12  0
22. Bryon Smith            Salem, OR (OR)          3  05-12  0
22. Ryan Sparks            Portland, OR (OR)       3  05-12  0
28. Justin Dodd            Kennewick, WA (WA)      3  05-11  0
29. Mark Smith             tacoma, WA (WA)         3  05-10  0
29. Cory Stovall           Riverton, UT (UT)       3  05-10  0
29. David Vega             McCammon , ID (WY)      3  05-10  0
29. Mel Williams           Kennewick, WA (WA)      3  05-10  0
33. Steven Heck            Henderson, NV (NV)      3  05-09  0
33. Dan Schmidt            Queen Creek, AZ (AZ)    3  05-09  0
33. Kevin Zillig           Genola , UT (UT)        3  05-09  0
36. Dwayne Gregory         Tucson, AZ (AZ)         3  05-08  0
36. Robert Martin          Commer City, CO (CO)    3  05-08  0
36. Dan Skillings          Bend, OR (OR)           3  05-08  0
39. Adrian Murar           Elk Grove, CA (CA)      3  05-07  0
39. Derrick Sandoval       Santa Fe, NM (NM)       3  05-07  0
39. Gregory Singletary     Waddell, AZ (AZ)        3  05-07  0
39. Jake Weaver            Columbia Falls, MT (MT) 3  05-07  0
43. Chris Gilkison         Bakersfield, CA (CA)    3  05-06  0
43. Kyle Graham            Willard, UT (MT)        3  05-06  0
43. Josh Stading           Pasco, WA (WA)          3  05-06  0
46. Brian Cogburn          Oakdale, CA (CA)        3  05-05  0
46. Mike Coleman           Pinoeer, CA (CA)        3  05-05  0
46. Jon Hickey             Weiser, ID (ID)         3  05-05  0
46. Rodney Scott           Yuba City, CA (CA)      3  05-05  0
50. Skyler Keeton          Pasco, WA (WA)          3  05-04  0
51. Bob Howard             Colorado Springs, CO (C 3  05-03  0
51. Logan Meredith         Pasco, WA (WA)          3  05-03  0
51. Kelvin Ratchford       Kennwick, WA (WA)       3  05-03  0
54. Kirk Albrecht          Fort Collins, CO (CO)   3  05-01  0
54. Terry Cartwright       Carlsbad, NM (NM)       3  05-01  0
54. Denton Crofts          Meridian, ID (ID)       3  05-01  0
54. Danny Fourr            Waterflow, NM (NM)      3  05-01  0
58. Anthony Aguilera       Glendale, AZ (AZ)       3  05-00  0
58. Ben Grande             Las Vegas, NV (NV)      3  05-00  0
58. Austin Johnson         Noxon, MT (MT)          3  05-00  0
58. David Smith            Albuquerque, NM (NM)    3  05-00  0
62. Michael Liska          Espanola, NM (NM)       3  04-15  0
63. Jakob Calkin           Layton, UT (UT)         3  04-14  0
63. Zip Decker             Yacolt , WA (OR)        3  04-14  0
63. Marty Demarais         Helena, MT (MT)         3  04-14  0
63. Helo Hancock           Coeur D Alene, ID (ID)  3  04-14  0
67. Wallace Hemminger      Oxnard, CA (CA)         3  04-13  0
67. Wesley Tanner          Missoula, MT (MT)       3  04-13  0
69. Vinnie Macchirella     Las Vegas, NV (NV)      3  04-12  0
69. Jim Muck               Roseburg, OR (OR)       3  04-12  0
69. Terry Peterson         West Jordan, UT (UT)    3  04-12  0
72. Bryan Diehm            Las Vegas, NV (NV)      3  04-11  0
72. Chuck English          Las Vegas, NV (NV)      3  04-11  0
72. Tyler Evans            Corvallis, MT (MT)      3  04-11  0
72. Larry Holona II        Las Vegas, NV (NV)      3  04-11  0
76. Jake Hansen            Bozeman, MT (MT)        3  04-10  0
77. Steve Loreng           Pasco, WA (WA)          3  04-09  0
77. Stephen Roth           Kalispell, MT (MT)      3  04-09  0
79. Josh Enz               North Ogden, UT (UT)    3  04-08  0
80. Loren Bryant           Phoenix, AZ (AZ)        3  04-07  0
80. Quincy Grupenhoff      Noxon, MT (MT)          3  04-07  0
80. Angelo Messina         Sun City, AZ (AZ)       3  04-07  0
80. Jesse Ortega           Las Vegas, NV (NV)      3  04-07  0
80. Matt Peters            Las Cruces, NM (NM)     3  04-07  0
80. Larry Warren           LaVerkin, UT (NV)       3  04-07  0
80. Clay Williams          Athol, ID (ID)          3  04-07  0
87. Joseph Gamboa          Albuquerque, NM (NM)    3  04-06  0
87. Brittany Kaski         Post Falls, ID (ID)     3  04-06  0
87. Ricky-Ray Martinez Jr  Santa Fe, NM (NM)       3  04-06  0
90. Thomas Edwards         Gilbert, AZ (AZ)        3  04-05  0
90. Steve Ehrman           Littleton, CO (CO)      3  04-05  0
90. Marin Mahinov          Westminster, CO (CO)    3  04-05  0
90. Katie Tanner           Eugene, OR (MT)         3  04-05  0
94. Tate Brown             Heber, UT (UT)          3  04-04  0
95. Joshua Baker           Rathdrum, ID (ID)       3  04-03  0
95. Marty Martinez         Colorado Springs, CO (C 3  04-03  0
97. Jeff Jones             Thousand Oaks, CA (CA)  3  04-00  0
98. Stanley Beebe          San Luis obispo, CA (CA 3  03-14  0
99. Terry King             Caldwell, ID (ID)       3  03-12  0
99. Tom Nokes              Riverton, UT (UT)       3  03-12  0
101. David Kaltenbaugh      Pueblo West, CO (CO)    3  03-10  0
101. Tom McArt              Albany, OR (OR)         3  03-10  0
103. Courtney Adams         Nibley, UT (UT)         3  03-09  0
104. James Robey            Kennewick, WA (WA)      2  02-11  0
105. Jim Mclaughlin         Bakersfield, CA (CA)    1  01-14  0
———————————————————————–
———————————————————————–
Totals
Day   #Limits    #Fish      Weight
1       0        312       539-07
———————————-
0       312       539-07
TEAM STANDINGS Day 1
———————————-
State                Lbs-Oz
1 UTAH                 145-09
2 COLORADO             143-10
3 CALIFORNIA           143-06
4 OREGON               142-14
5 IDAHO                142-02
6 ARIZONA              140-06
7 MONTANA              140-04
8 WASHINGTON           133-12
9 NEW MEXICO           133-09
10 NEVADA               132-15
11 WYOMING               72-05
INDIVIDUAL STANDINGS Day 1
———————————————————————–
WASHINGTON
Angler               Hometown                   No./lbs-oz Total $$$
1 Damieon Dorosky      Graham, WA                  3   06-02  0
2 Justin Dodd          Kennewick, WA               3   05-11  0
3 Mark Smith           tacoma, WA                  3   05-10  0
3 Mel Williams         Kennewick, WA               3   05-10  0
5 Josh Stading         Pasco, WA                   3   05-06  0
6 Skyler Keeton        Pasco, WA                   3   05-04  0
7 Logan Meredith       Pasco, WA                   3   05-03  0
7 Kelvin Ratchford     Kennwick, WA                3   05-03  0
9 Steve Loreng         Pasco, WA                   3   04-09  0
10 James Robey          Kennewick, WA               2   02-11  0
IDAHO
Angler               Hometown                   No./lbs-oz Total $$$
1 Nathan Tumelson      Lewiston, ID                3   06-08  0
2 Lane Robinson        Hayden, ID                  3   05-15  0
3 Todd VanDorn         Lewiston, ID                3   05-13  0
4 Jon Hickey           Weiser, ID                  3   05-05  0
5 Denton Crofts        Meridian, ID                3   05-01  0
6 Helo Hancock         Coeur D Alene, ID           3   04-14  0
7 Clay Williams        Athol, ID                   3   04-07  0
8 Brittany Kaski       Post Falls, ID              3   04-06  0
9 Joshua Baker         Rathdrum, ID                3   04-03  0
10 Terry King           Caldwell, ID                3   03-12  0
OREGON
Angler               Hometown                   No./lbs-oz Total $$$
1 Cody Hollen          Beaverton, OR               3   06-10  0
2 Logan DeGree         Redmond, OR                 3   06-02  0
3 Bill Rosenbalm       Arlington, OR               3   05-12  0
3 Scott Seros          Bend, OR                    3   05-12  0
3 Bryon Smith          Salem, OR                   3   05-12  0
3 Ryan Sparks          Portland, OR                3   05-12  0
7 Dan Skillings        Bend, OR                    3   05-08  0
8 Zip Decker           Yacolt , WA                 3   04-14  0
9 Jim Muck             Roseburg, OR                3   04-12  0
10 Tom McArt            Albany, OR                  3   03-10  0
ARIZONA
Angler               Hometown                   No./lbs-oz Total $$$
1 Steven Boyce         Paradise Valley , AZ        3   06-08  0
2 Brian Velasquez      Yuma, AZ                    3   06-02  0
3 Jake Morrison        Phoenix, AZ                 3   06-00  0
4 Dan Schmidt          Queen Creek, AZ             3   05-09  0
5 Dwayne Gregory       Tucson, AZ                  3   05-08  0
6 Gregory Singletary   Waddell, AZ                 3   05-07  0
7 Anthony Aguilera     Glendale, AZ                3   05-00  0
8 Loren Bryant         Phoenix, AZ                 3   04-07  0
8 Angelo Messina       Sun City, AZ                3   04-07  0
10 Thomas Edwards       Gilbert, AZ                 3   04-05  0
WYOMING
Angler               Hometown                   No./lbs-oz Total $$$
1 Mark Faber           Pagosa Springs, CO          3   07-00  0
2 Tyler Stingley       Chubbuck, ID                3   06-01  0
3 Tim Rawlings         Malad City, ID              3   05-15  0
4 Clif Gallagher       Eagle Mountain, UT          3   05-12  0
5 David Vega           McCammon , ID               3   05-10  0
NEW MEXICO
Angler               Hometown                   No./lbs-oz Total $$$
1 Ricardo Vigil        Socorro, NM                 3   06-08  0
2 Brad Hauf            Elephant Butte, NM          3   05-12  0
3 Derrick Sandoval     Santa Fe, NM                3   05-07  0
4 Terry Cartwright     Carlsbad, NM                3   05-01  0
4 Danny Fourr          Waterflow, NM               3   05-01  0
6 David Smith          Albuquerque, NM             3   05-00  0
7 Michael Liska        Espanola, NM                3   04-15  0
8 Matt Peters          Las Cruces, NM              3   04-07  0
9 Joseph Gamboa        Albuquerque, NM             3   04-06  0
9 Ricky-Ray Martinez Jr Santa Fe, NM                3   04-06  0
CALIFORNIA
Angler               Hometown                   No./lbs-oz Total $$$
1 John Steinhilber     Santa Barbra, CA            3   06-03  0
2 Adrian Murar         Elk Grove, CA               3   05-07  0
3 Chris Gilkison       Bakersfield, CA             3   05-06  0
4 Brian Cogburn        Oakdale, CA                 3   05-05  0
4 Mike Coleman         Pinoeer, CA                 3   05-05  0
4 Rodney Scott         Yuba City, CA               3   05-05  0
7 Wallace Hemminger    Oxnard, CA                  3   04-13  0
8 Jeff Jones           Thousand Oaks, CA           3   04-00  0
9 Stanley Beebe        San Luis obispo, CA         3   03-14  0
10 Jim Mclaughlin       Bakersfield, CA             1   01-14  0
MONTANA
Angler               Hometown                   No./lbs-oz Total $$$
1 Jake Weaver          Columbia Falls, MT          3   05-07  0
2 Kyle Graham          Willard, UT                 3   05-06  0
3 Austin Johnson       Noxon, MT                   3   05-00  0
4 Marty Demarais       Helena, MT                  3   04-14  0
5 Wesley Tanner        Missoula, MT                3   04-13  0
6 Tyler Evans          Corvallis, MT               3   04-11  0
7 Jake Hansen          Bozeman, MT                 3   04-10  0
8 Stephen Roth         Kalispell, MT               3   04-09  0
9 Quincy Grupenhoff    Noxon, MT                   3   04-07  0
10 Katie Tanner         Eugene, OR                  3   04-05  0
UTAH
Angler               Hometown                   No./lbs-oz Total $$$
1 Mike Powell          Midway, UT                  3   07-12  0
2 Randy Pierson        Grand Junction, CO          3   05-14  0
3 Cory Stovall         Riverton, UT                3   05-10  0
4 Kevin Zillig         Genola , UT                 3   05-09  0
5 Jakob Calkin         Layton, UT                  3   04-14  0
6 Terry Peterson       West Jordan, UT             3   04-12  0
7 Josh Enz             North Ogden, UT             3   04-08  0
8 Tate Brown           Heber, UT                   3   04-04  0
9 Tom Nokes            Riverton, UT                3   03-12  0
10 Courtney Adams       Nibley, UT                  3   03-09  0
COLORADO
Angler               Hometown                   No./lbs-oz Total $$$
1 Chuck Harrison       Ft Collins, CO              3   06-14  0
2 Don Evans            Canyon City, CO             3   06-03  0
3 Frank Bianchi        Colorado Springs, CO        3   06-01  0
4 Robert Martin        Commer City, CO             3   05-08  0
5 Bob Howard           Colorado Springs, CO        3   05-03  0
6 Kirk Albrecht        Fort Collins, CO            3   05-01  0
7 Steve Ehrman         Littleton, CO               3   04-05  0
7 Marin Mahinov        Westminster, CO             3   04-05  0
9 Marty Martinez       Colorado Springs, CO        3   04-03  0
10 David Kaltenbaugh    Pueblo West, CO             3   03-10  0
NEVADA
Angler               Hometown                   No./lbs-oz Total $$$
1 Mike Rennie          Pioche, NV                  3   06-14  0
2 Scott Hausman        Las Vegas, NV               3   06-03  0
3 Steven Heck          Henderson, NV               3   05-09  0
4 Ben Grande           Las Vegas, NV               3   05-00  0
5 Vinnie Macchirella   Las Vegas, NV               3   04-12  0
6 Bryan Diehm          Las Vegas, NV               3   04-11  0
6 Chuck English        Las Vegas, NV               3   04-11  0
6 Larry Holona II      Las Vegas, NV               3   04-11  0
9 Jesse Ortega         Las Vegas, NV               3   04-07  0
9 Larry Warren         LaVerkin, UT                3   04-07  0
---