MonsterBass Mad Max Popper Review
Courtesy of Vance McCullough
Attitude is everything. The new Mad Max popper from MonsterBass sits with an extreme tail-down disposition when paused. This posture promotes solid hookups. BKK trebles keep bass buttoned all the way to the boat.
BKK hooks hits American shores at the recent ICAST show in Orlando this summer with an impressive array of bass-appropriate hooks. Their trebles are tack sharp and strong. This writer has already put them, and the Mad Max, to the test.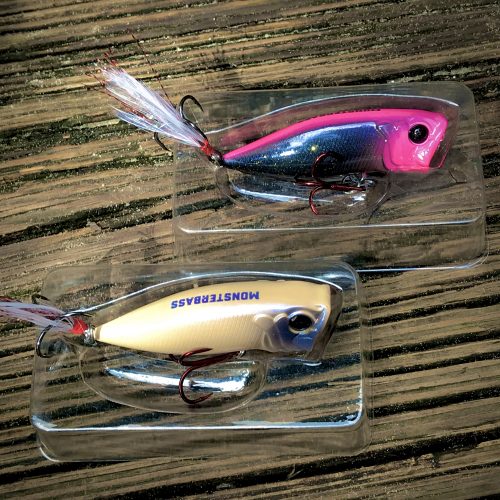 On a slick, sunny afternoon I pulled a nice fish from beneath a dock with a pop and a pause under the dog day heat of August in Florida. I had hardly been casting for 10 minutes. The lethargic bass barely broke the surface but because the Mad Max offers itself to the fish so well, both sets of hooks sank in. And held. I let the fish jump repeatedly just for fun. She wasn't getting loose.
If I have one critique of the Mad Max it might be that it has almost too much action, at least on lighter line. This is a nice problem to have, but I recommend upsizing to 20-pound mono or 50-to-65-pound braid to keep the hooks from fouling the line because, while it's labeled a 'popper' this dog doesn't just walk, it runs, a result of the squared off bottom lip. The corners of the mouth will dig in with each snap of the rod tip.
This brings me to the subject of upcoming fall fishing patterns and how I plan to use the Mad Max. In lakes that boast an abundance of grass, surface mats will begin to thin out. This creates an opportunity to pitch treble hooked lures in places where bass have only seen frogs for months. The aforementioned braided line comes into play here. Pick a bluegill color, Feeder Gill is ideal for gin clear water while Money Gill has a slightly dirtier look with an orange throat that will work everywhere. Toss to holes and edges, points and pockets then let the lure rest between deliberate pops. Such a slow cadence will make Mad Max sound like a big bluegill busting the surface. This will draw curious bass out of what's left of the mats and shallow grass.
Otherwise, look for open water schooling fish and those traveling along creek channels from main lake points to the backs of pockets or anywhere in between. The Mad Max will let you search quickly for these moving fish. In fact, that's the best way to fish it when imitating the shad that these fish are hunting – quickly. Given the position of the line tie, if you keep the lure moving it will spit more than pop and that has long been known to be a key feature of the best shad-imitating poppers, you know, the ones costing $20 or more.
Which brings me to another great feature of this newest signature bait from MonsterBass. The 2 ½ inch, 1/3-ounce Mad Max comes with a MSRP of just $8.99, a nice surprise given the aggressive styling, beautiful cosmetics and premium hooks.
The versatile Mad Max looks and handles like a sportscar. It'll help you run down some bass this fall.