Lee has lunch and a lucky penny
Posted On August 22, 2019
---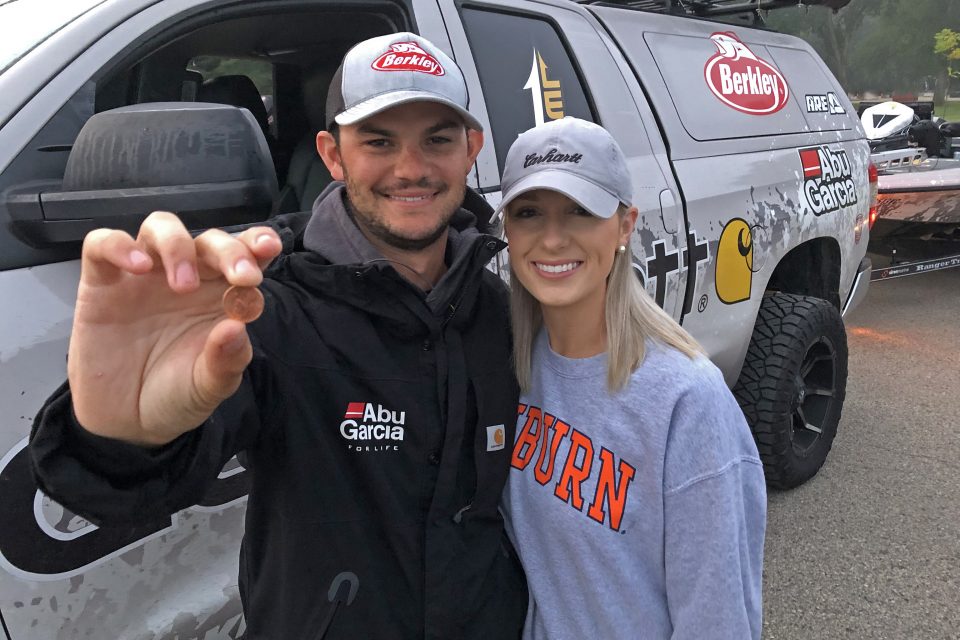 Alan McGuckin – Dynamic Sponsorships
Carhartt pro Jordan Lee didn't have the day he was hoping for Wednesday in the opening round of the MLF REDCREST Championship on the Upper Mississippi River. He sat 25thout of 30 at days end, but makes no excuses, including the fact he forgot his lunch yesterday.
In reality, the former Auburn college bass fishing champ rarely eats during a tournament anyhow. Plus, his ride along MLF official was kind enough to grab Jordan some jerky and trail mix yesterday to make sure nobody went hungry.
Lee says he munched on the supplementary lunch supplied by his official, but the 13 bass he scored were only good enough for 23 pounds, and a place near the bottom of the leaderboard.
Today is a new day, and Lee's armed with two strawberry Smucker's Uncrustables and a pair of protein bars packed by his bride Kristen. But she's not overly hopeful her lunch will mean much to his catching success.
"The kid won't eat," grinned Kristen, beneath her Carhartt hat in the foggy 58-degree air just before takeoff.
That said, she tossed a lucky penny into the chest pocket of his jacket that she found lying heads-up in the Target parking lot yesterday.
"Maybe the penny will help, maybe it won't," says her always un-rattled husband. "I knew what I found in practice wasn't great, but I have no regrets about how I fished yesterday either."
Lee says he plans to lean a little more on Texas rigged soft plastics today, and will mix-in a drop shot and a Chatterbait too. Mostly, he'll fish today like a brand new day in nonchalant and carefree fashion – that's the essence of the mega talented "Jo Lee."
And hey, if peanut butter and strawberry jam don't do the trick for a much better place on the leaderboard, maybe Abe Lincoln will.
---