Lawson Tilghman Blog – "Crazy Time of Year for Me & the Bass!"
---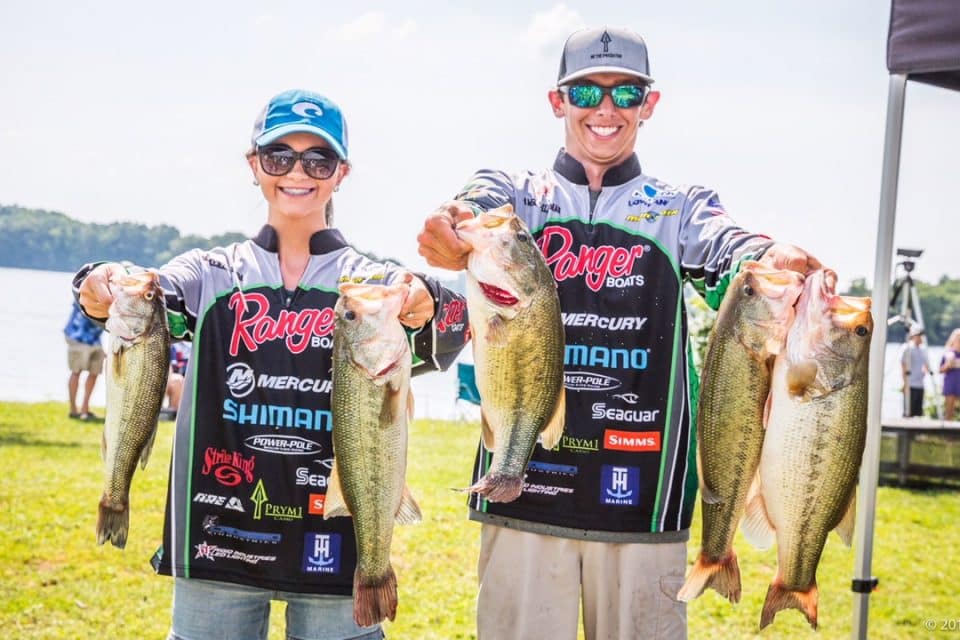 Lawson Tilghman
This blog will be published while I am on the water fishing the High School World Finals on Pickwick out of Florence, AL.
I have really been looking forward to this event for a couple of months now. I am fishing with Cort Walker and we are representing Tennessee Hardin County High School. Lance Walker is our boat captain, and we are hoping to have a great tournament.
This last month has been a month full of fishing.
I recently returned from Lake El Salto, Mexico filming with Joe Thomas and the Outdoor Channel. We had a great time and caught a lot of fish. I'm looking forward to seeing how that show turns out.
I fished the BFL on Kentucky Lake and finished 17thwith 11-14. That was a really great tournament for me.
Shimano has some great new products coming out in a couple week at ICAST. Earlier this month I spent some time filming with some of the new products in Georgia. I can't say too much, but let's just say, high school anglers- there is something coming for you.
Another highlight for me was the FLW Costa on Lake Barkley. During practice I thought it could be won on just one spot. There were close to 300 boats, and I realized how tight it was going to be trying to fish the ledges and fight for a spot.  I told myself in practice, I should find an off the wall spot and fish away from everybody so I wouldn't have to worry about anyone around me or have anyone pull up on me. On the last day of practice, I made a run way down the lake and spent some time fishing. It was like a ghost town down there- just a couple crappie fishermen and some carp fishermen. I searched around, looked over and said to myself, I'm gonna go graph this point over here and see if I can find anything. Up to that time, I didn't have any spots with really good fish. I felt like I could catch a limit, but it wasn't really a big limit. It was late in the day when I pulled up on the point just before I was about to go in. I saw some fish, so I fished it a little. I didn't catch anything but had some good bites, so I added that spot on my list to try.
Fast forward to tournament day. I had an early boat draw. I thought this was for sure going to be a morning bite, because once the sun gets up the fish get real weird. They don't want anything moving. I knew I had to use my time wisely to catch them. I pulled up to my first spot and caught a keeper after 30 minutes, but after that catch, I couldn't get them to fire up again. I knew I had to make a move while it was still morning. So, I made the decision to head to the point where I saw fish in practice. When I got there, it was like something you see in a movie.  The fish were taking off with every cast. It was for sure a God thing. I was down there by myself all day seeing only one boat.  I was able to catch 17-2 off that spot on day one.  On day 2 I had a later boat number, so I was worried I would probably only have an hour to make it happen. I went straight to the spot and started fishing. I fished for 2 hours and caught three. I moved around a little and spent about an hour trying other stuff but I just had to go back to the spot because I thought maybe they would be pulled up a little more on the spot. I ran over it with my graph and saw three, but I didn't think I could get them to bite. About that time a barge headed down the river. I made my cast out and my line hit the bottom. While the barge was going by, my line took off. I thought to myself, this is either current or a really big fish. I set the hook and reeled in a 4.5. On my next cast, I caught another one to get my limit of 18-13. I didn't catch any more fish that day and missed the top 10 the cut by 1lb. 3oz but finished 14th. What an exciting tournament!
Hopefully we have a great finish at the High School World Finals. After that I will be headed to ICAST to work in the new product showcase, lead some seminars and work the show.
Be sure to follow me on social media for updates from the show.
EDITORS NOTE: Lawson and Sort are leading the Tennessee Team in the World Finals High School Tournament on Pickwick Lake. All Weights are zeroed as of Today (Friday) – Top 20 fish on Saturday.
---