ICAST – A Look Back with Vance McCullough
---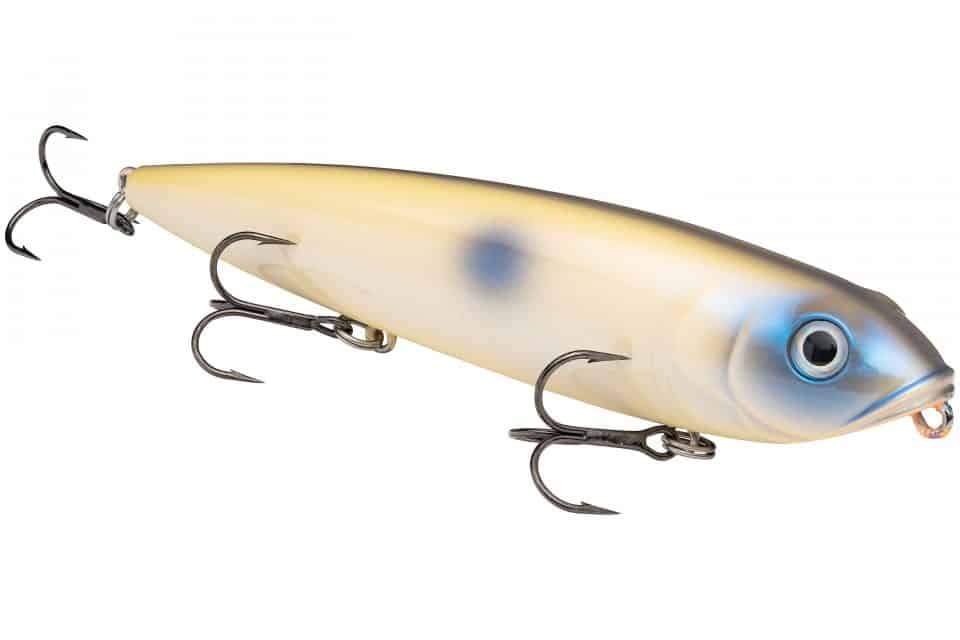 Vance McCullough
As usual, the big ICAST fishing industry trade show was interesting. From the ridiculous to the 'why didn't I think of that' practical idea or improvement, there was a lot to take in.
Much of it is on its way to retailers now. Some of it so new you can't get it yet.
If there were two main themes this year they would be: small. And BIG.
Small boats – kayaks bring a personal scale to fishing, getting many anglers off the bank at an accessible price point and putting them right down on the water, perhaps even more in touch with the environment that the fish live in.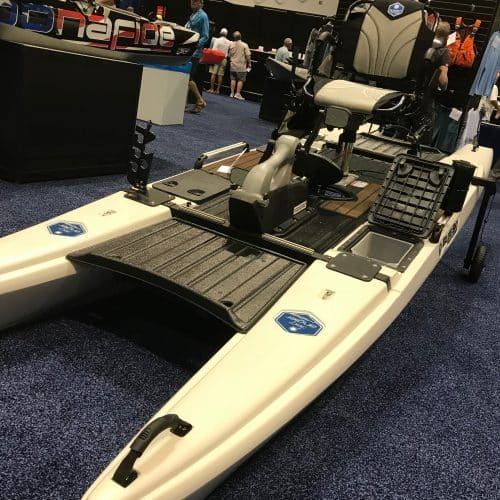 As for lures, big fish enthusiasts have plenty to be enthused about this year. Read on.
For the most part, big fiberglass boat and outboard motor companies skip ICAST, preferring to show up at boat shows or the Forrest Wood Cup or Bassmaster Classic Outdoor Expo. So small craft ruled the ICAST show floor again this year – so much so that we will bring you an article dedicated to just the kayak and SUP buzz soon.
What we can say for now is that Jackson Kayak won Best Boat and/or Watercraft of the Show with their new 360 Angler, a catamaran style craft that gives "the convenience and stability of a big boat and the exploration possibilities of a kayak or canoe," according to the folks at Jackson who further note that, "The hull system was designed specifically for tackle storage, including 4 hatches with access to the hulls for storage."
The 360 Angler is big enough to walk around on, but everything is designed to be within easy reach of the ergonomic chair, perched rather high above a pedal drive system.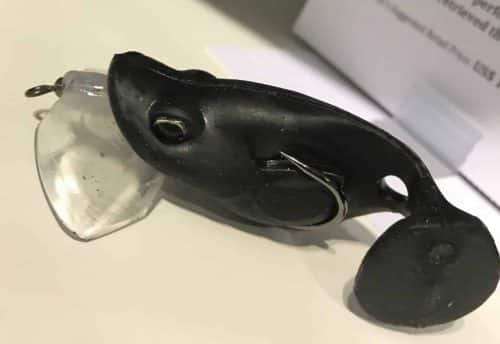 Frog lures were also a big story at ICAST. With so many mutations each year, what used to be an easily definable category now includes great variety. The current lineup of frog-like offerings resembles the bar scene in Star Wars with alien creatures alongside nearly correct facsimiles of Mother Nature's own designs.
Again, with such a wide variety, we'll have to bring you a separate report dedicated just to the frogs of ICAST in order to do justice to this lure segment.
One thing is clear – Teckle's Sprinker Frog casts a big wake and many lure makers are swimming in it, trying latch on to the insanity that surrounded a lure that wasn't ready to meet production demands when its popularity skyrocketed. Remember people buying them for $50 on eBay last year?
For this reason, more than any other, there are a lot of new frogs and similar weedless topwaters designed to be reeled straight in, relying on tail action to trigger strikes.
Teckle is staying a step ahead. They just introduced the Maracker, which they describe as a "super loud weedless wake bait". It sports what looks like a polished nickel teardrop for a tail. No word on when or where you can buy it but there are a few cool videos of it on-line.
The quirkiest trend to show up at ICAST was the emergence of mechanized lures.
The eMinnow is a "unique motorized robotic fishing lure. The harmonics generated within the core attract the curiosity of predator fish. The tail moves in a pre-programmed irregular manner in order to reproduce swimming behavior of a real baitfish," according to the eMinnow company literature.
The Animated Lure has a segmented body and is described by its creators as "a 5.25" robotic swimbait that is electronically programmed to mimic the life-like swim patterns of a real fish." The company, also called Animated Lure, further explains, "Once fully submerged under water, 12 seconds will go by before it starts to swim on its own."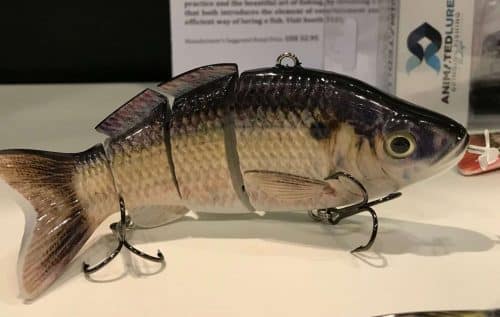 Compared to robotic baits Jenko Fishing's latest lure hack sounds tame, but the OffSpring Buzzbait is sure to drive bass wild. It features a spring protruding forward from the head so that the blade strikes it and produces "a sound unlike any other buzzbait on the market!"
Magnum walking plugs are coming into vogue.
Strike King leads the way with their new KVD Mega Dawg, a 6.5-inch version of the popular 4.5-inch KVD Sexy Dawg. I can't be sure, but I think I saw a fisherman actually drooling over the big topwater.
Another big new walking stick is the 6thSense MagDog 150. The graphics are gorgeous, as we've come to expect from 6thSense. They break it down for us: "The MagDog 150 was designed for one simple thing – catching larger fish."
6thSense must seriously want you to catch bigger bass. They have upgraded one of the best big fish baits of all time – the jig. Their Scrape Grass Jig proudly sports a stout 5/0 siwash braid-compatible hook and a screwlock trailer keeper. Leave the light tackle at home. These jigs come in 1 oz. and 1-3/8 oz. sizes because, as noted by the folks at 6thSense, they're "Built for flipping the heaviest of grass cover or structure."
For more open water duties, 6thSense offers the braid appropriate Divine Braid Swim Jig in 5/16 and 7/16 oz. weights with that siwash hook and screwlock keeper for keeping trailers pegged in the nasty stuff. You can start boat flipping bass with this swim jig when it hits the market in October.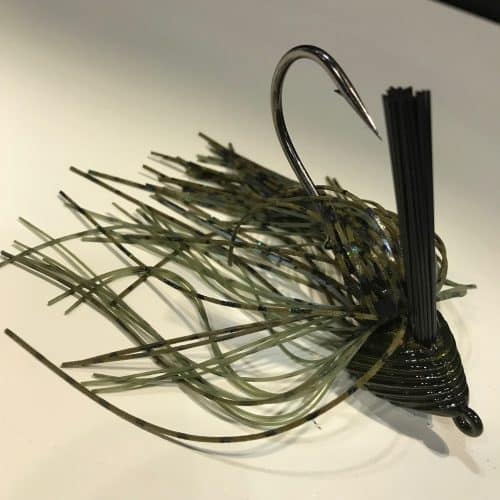 Continuing with the theme of big bass-busting jigs, Fitzgerald Fishing brings us their Tungsten Swim Jig, which is smaller in size than lead jigs of the same weight, which, in turn, helps you catch bigger bass because, not only will it slip into tighter cover, but the smaller head won't blow a fish's mouth open on the hookset the way a larger lead head may. Other reasons Fitzgerald says you should fish this jig: "high quality hook, quality skirt, great colors, eco-friendly tungsten."
If you're truly committed to chasing the biggest bass wherever they live, then you need some ledge-busting gear. Big cranks, big worms and big spoons have been all the rage in recent years. Ready to meet the next big thing in offshore, school-exciting lures? SteelShad now offers the XXL Series. Weighing in at 2 ounces, the XXL's look like large gizzard shad that swim in TVA impoundments or live wild shiners that produce trophy bass in Florida's natural lakes.
Building on a decade of solid results with their 3/8 oz. model, SteelShad rolled out, not only the XXL Series but also a ¾ oz. option – the XL Series as well as the tiny new ¼ oz. Mini Series.
An improved version of the long-trusted blade bait style of lures, SteelShad thumps out some serious vibes without the rattle of lipless vibrating plugs. This makes for a great change up in areas where fish have seen all the conventional stuff. That's often what it takes to fool bigger fish.
---