Harrell wins RAM Trucks ABA on Lake Gaston with over 20 pounds!
Ryan Harrell of Roanoke Rapids, North Carolina won the American Bass Anglers Ram Truck Open Series Virginia division tournament held 4/01/2017 on Lake Gaston.
Running out of Americamps in Bracey Virginia, Ryan caught five bass weighing 20.94 pounds including a big bass that weighed 6.87 pounds. For the Boater Division victory, Harrell took home a check for $5,000 for the win and an additional $650 for the boater big bass. Also for having the biggest bass of the tournament Harrell walked away with a new Abu Garcia Revo SX spinning reel valued at $160.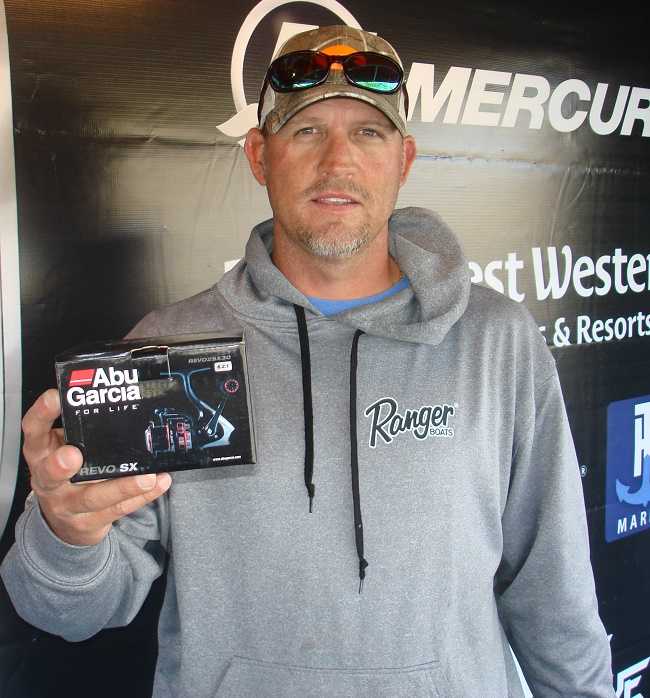 "I caught my fish off of docks with a jig," said Harrell.
In second for the boaters, Brian Calloway of Danville, Virginia landed a five bass tournament limit going 17.91 pounds. He collected $1,250 for the effort.
"I caught my fish today off of docks with a jig," said Calloway.
JT Palmore of Blackstone, Virginia took third for the boaters with five bass weighing 16.54 pounds. His limit earned him $900.
"I caught my fish today on a spinnerbait," said Palmore.
Finishing fourth, Ray Griffin of Greensboro, North Carolina landed a five bass limit for 16.07 pounds.
Bo Grosvenor of Forest, Virginia rounded out the top five with five bass weighing 15.54 pounds.
In the Co-Angler division, Derek Sewell of Forest, Virginia won with three bass weighing 10.69 pounds. He sealed his victory with a 4.08 pound kicker to pocket a check for $850.
"It was a pretty slow day. I had five bites but they were the right ones. My fish came off a jig," said Sewell.
Taking second for the co-anglers, Robert Green from Sedalia, North Carolina brought in a three-bass division limit weighing 7.24 pounds. Robert anchored his catch with a 4.12 pound bass. He collected $250 and an additional $105 for the co-angler big bass.
"I caught my fish today off a black and blue jig," said Green.
Greg Dawson of Rustburg, Virginia placed third among the co-anglers with three bass weighing 6.32 pounds. He earned $200 for his catch.
"I caught my fish today on a shakey head with a green pumpkin trick worm around docks," said Dawson.
In fourth place among the co-anglers, Tim Gardner of Greensboro, North Carolina weighed in three bass weighing 5.74 pounds.
Randy Ruffin of Norfolk, Virginia finished in fifth place with three bass at 4.78 pounds.
Slated for 4/22/2017 the next divisional tournament will be held on Kerr Lake out of Nutbush Park near Henderson North Carolina. At the end of the season, the best anglers from across the nation advance the 2018 Ray Scott Championship, slated for the Red River in Shreveport-Bossier Louisiana in April 2018.
For more information on this tournament, call Rodney Michael, tournament manager, at (256)497-0967 or ABA at 256-232-0406. On line, see www.ramopenseries.com .
About American Bass Anglers: American Bass Anglers is committed to providing low cost, close to home tournaments for the weekend angler and at the same time offer each competitor an upward path for individual angler progression. For more information about American Bass Anglers, the Ram Truck Open Series, the American Fishing Tour or the American Couples Series, visit www.americanbassanglers.com.