Gluszek Will Lead Northern Open Field Into Saturday's Championship Round On The James River
---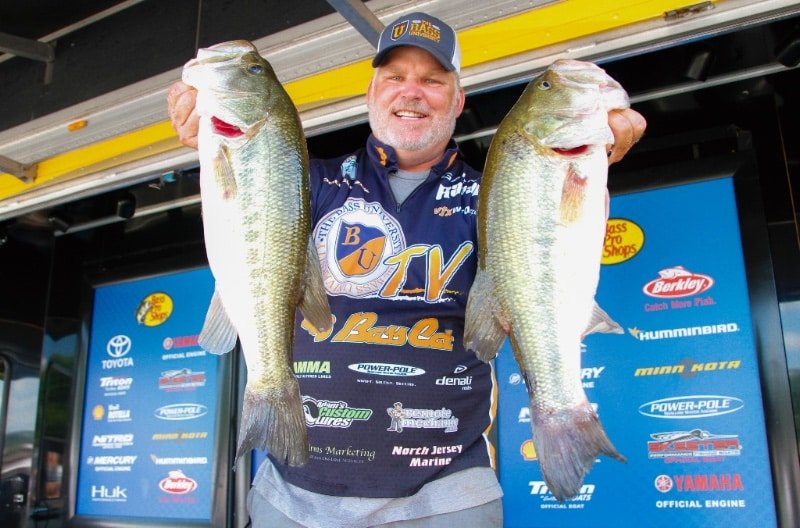 Pete Gluszek of Mount Laurel, N.J., takes the lead on the second day of the 2017 Bass Pro Shops Bassmaster Northern Open No. 2 held on the James River out of Richmond, Va., with a two-day total weight of 31 pounds.
Photo by Ronnie Moore/B.A.S.S.
August 4, 2017
RICHMOND, Va. — Armed with a lucky penny, touring pro Pete Gluszek jumped into the lead of the second Bass Pro Shops Bassmaster Northern Open Friday at the James River.
After having some engine troubles and landing in 37th place with 10-14 Thursday, the Mount Laurel, N.J., pro caught 20-2 Friday and took over the lead with a two-day total of 31 pounds. His Friday catch was the biggest single-day limit of the event so far.
The service crew worked until after dark Thursday to help Gluszek get his motor running again, and his lucky penny kicked in next.
"Before I left to come down here, my little boy Jake gave me a lucky penny," Gluszek said.
Jake rubbed the penny and told his dad to carry it with him the whole week. "And it's working," Gluszek said.
Playing a weather pattern also helped Gluszek.
"I am always looking for the developing pattern," he said. "In practice, the rain came through, and it changed things on the bay because the bay gets sweltering hot and the fish do a certain thing (in the heat). Then the rain comes (again) and cools things down, and it can scatter the fish.
"But now we are back into heat waves again, and it is grouping them back up for me. So, I caught them way better today than I did yesterday."
He has also noticed the low tide is getting better for him every day. "I think the tide is going to be better tomorrow for everybody," he said.
Second place in the pro division is a logjam with three anglers, Garrett Paquette, Matt Madlener and Greg Dipalma all weighing in with 28-11.
The 22-year-old Paquette from Canton, Mich., is a Lake St. Clair guide who missed fishing the right tide on his spots Thursday.
"Today, I went into my prime areas a little earlier and that was really the biggest adjustment," he said. "After that, I kind of got on a deal that I think not a lot of guys are doing. No one is in my area, and I am fishing with a bait that maybe only five guys in this tournament have."
During Thursday's opening round, Madlener traveled by boat from Richmond all the way to the Chickahominy River and back and ran out of gas. As a result, the Lake Villa, Ill., angler failed to complete his five-bass limit.
"I really focused on fishing a lot cleaner (Friday)," he said. "It was tough. I didn't have a 12-incher by 12 o'clock and then got down to the Chickahominy and the tide was all wrong. But, I got lucky and hit a little stretch and got three quick ones."
Then he ran back to Richmond with enough fuel to complete his limit.
Dipalma's main area tapered off throughout the day, so he went to another spot with about an hour left and caught two quality fish to improve his bag. The Millville, N.J., angler said he is fishing "South Jersey style" since the James River fishes similar to his home waters.
"We are used to fishing mud basically, in real shallow creeks — and there is a lot of that here."
First-day leader Shin Fukae of Palestine, Texas, caught a 12-pound limit today but dropped into fifth place with 28-10.
Catching an 8-9 largemouth while fishing with Bassmaster Elite Series pro Michael Iaconelli helped 49-year-old Jon Jezierski of Troy, Mich., take the lead in the co-angler division with a two-day mark of 19-3.
"Today, I had three keeper bites, and Mike helped me get all three of them into the boat," Jezierski said.
The finish carpenter said he caught the big bass at around 11 a.m. and later caught a 2-pounder to complete his three-bass limit. His big catch leads the co-angler side of the Phoenix Boats Big Bass Award.
Leading the Phoenix Boats Big Bass Award in the pro division is Rick Shannon of Woodlawn, Tenn., with a 9-3 largemouth.
Friday's launch will begin at 6 a.m. ET from the Osborne Park and Boat Landing, 9530 Osborne Turnpike in Henrico. The final day weigh-in will move to the Bass Pro Shops at 11550 Lakeridge Parkway in Ashland and will begin at 3:15 p.m.
The event is hosted by Visit Richmond.
2017 Bass Pro Shops Bassmaster Opens Series Title Sponsor: Bass Pro Shops
2017 Bass Pro Shops Bassmaster Opens Series Platinum Sponsor: Toyota
2017 Bass Pro Shops Bassmaster Opens Series Premier Sponsors: Minn Kota, Nitro Boats, Skeeter Boats, Triton Boats, Yamaha, Berkley, Huk, Humminbird, Mercury, Power-Pole, Shell Rotella
2017 Bass Pro Shops Bassmaster Opens Series Supporting Sponsors: Carhartt, Dick Cepek Tires & Wheels, Livingston Lures, Lowrance, Phoenix Boats, Shimano, T-H Marine, Advance Auto Parts
About B.A.S.S.
B.A.S.S. is the worldwide authority on bass fishing and keeper of the culture of the sport, providing cutting edge content on bass fishing whenever, wherever and however bass fishing fans want to use it. Headquartered in Birmingham, Ala., the 500,000-member organization's fully integrated media platforms include the industry's leading magazines (Bassmaster and B.A.S.S. Times), website (Bassmaster.com), television show (The Bassmasters on ESPN2), radio show (Bassmaster Radio), social media programs and events. For more than 45 years, B.A.S.S. has been dedicated to access, conservation and youth fishing.
The Bassmaster Tournament Trail includes the most prestigious events at each level of competition, including the Bassmaster Elite Series, Bass Pro Shops Bassmaster Open Series, Academy Sports + Outdoors B.A.S.S. Nation presented by Magellan Outdoors, Carhartt Bassmaster College Series presented by Bass Pro Shops, Costa Bassmaster High School Series presented by DICK'S Sporting Goods, Toyota Bonus Bucks Bassmaster Team Championship and the ultimate celebration of competitive fishing, the GEICO Bassmaster Classic presented by DICK'S Sporting Goods.
-30-
Media Contact: JamieDay Matthews, 205-313-0945, [email protected] or Dave Precht, 205-313-0931, [email protected]
2017 Bass Pro Shops Bassmaster Northern Open No. 2 8/3-8/5
James River, Richmond  VA.
(BOATER) Standings Day 2
Angler                   Hometown              No./lbs-oz  Pts   Total $$$
1.  Pete Gluszek           Mount Laurel, NJ        10  31-00  200     $250.00
Day 1: 5   10-14     Day 2: 5   20-02
2.  Garrett Paquette       Canton, MI              10  28-11  199
Day 1: 5   10-14     Day 2: 5   17-13
3.  Matt Madlener          Lake Villa, IL           9  28-11  198
Day 1: 4   15-03     Day 2: 5   13-08
4.  Greg Dipalma           Millville, NJ           10  28-11  197
Day 1: 5   15-02     Day 2: 5   13-09
5.  Shin Fukae             Palestine TX JAPAN      10  28-10  196
Day 1: 5   16-10     Day 2: 5   12-00
6.  Jefferson Hamilton     Henrico, VA             10  28-05  195
Day 1: 5   09-12     Day 2: 5   18-09
7.  Cameron Smith          Mashpee, MA             10  27-05  194
Day 1: 5   16-01     Day 2: 5   11-04
8.  Rick Morris            Lake Gaston, VA         10  27-04  193
Day 1: 5   12-07     Day 2: 5   14-13
9.  Seiji Kato             Shiga JAPAN             10  26-11  192
Day 1: 5   15-10     Day 2: 5   11-01
10. Jake Whitaker          Fairview, NC            10  26-01  191
Day 1: 5   15-10     Day 2: 5   10-07
11. Carl Jocumsen          Queensland TX AUSTRALIA 10  26-01  190
Day 1: 5   14-10     Day 2: 5   11-07
12. Cody Pike              Powhatan, VA            10  25-15  189
Day 1: 5   12-01     Day 2: 5   13-14
13. Gerald Spohrer         Gonzales, LA            10  25-14  188   $2,650.00
Day 1: 5   12-03     Day 2: 5   13-11
14. JT Kenney              Palm Bay, FL            10  25-11  187   $2,650.00
Day 1: 5   13-07     Day 2: 5   12-04
15. Steven Colgin          Lanexa, VA              10  25-09  186   $2,650.00
Day 1: 5   16-05     Day 2: 5   09-04
16. Ken Iyobe              Tokoname-Shi JAPAN      10  24-15  185   $2,650.00
Day 1: 5   16-02     Day 2: 5   08-13
17. Wesley Strader         Spring City, TN         10  24-15  184   $2,650.00
Day 1: 5   12-08     Day 2: 5   12-07
18. Ed Loughran III        Mechanicsville, VA      10  24-09  183   $2,650.00
Day 1: 5   11-11     Day 2: 5   12-14
19. Eddie Levin            Westerville, OH         10  24-04  182   $2,650.00
Day 1: 5   12-07     Day 2: 5   11-13
20. Brad Burkhart          Speedwell, TN           10  24-01  181   $2,650.00
Day 1: 5   11-10     Day 2: 5   12-07
21. Frank Poirier          North Prince George, VA 10  24-00  180   $2,650.00
Day 1: 5   11-10     Day 2: 5   12-06
22. Rob Jordan             Flowery Branch, GA      10  23-13  179   $2,650.00
Day 1: 5   12-01     Day 2: 5   11-12
23. David Dudley           Lynchburg, VA           10  23-11  178   $2,650.00
Day 1: 5   11-10     Day 2: 5   12-01
24. Matt Funk              Suffolk, VA              9  23-08  177   $2,650.00
Day 1: 4   07-09     Day 2: 5   15-15
25. Steve Miller           Mechanicsville, VA      10  23-05  176   $2,650.00
Day 1: 5   11-08     Day 2: 5   11-13
26. Brad Webb              Hampton, VA             10  23-04  175   $2,332.00
Day 1: 5   13-10     Day 2: 5   09-10
27. Jon Englund            Farwell, MN             10  23-02  174   $2,332.00
Day 1: 5   09-12     Day 2: 5   13-06
28. Kelly Pratt            Williamsburg, VA        10  22-14  173   $2,332.00
Day 1: 5   09-07     Day 2: 5   13-07
29. Austin Felix           Eden Prairie, MN        10  22-10  172   $2,332.00
Day 1: 5   12-06     Day 2: 5   10-04
30. Nicholas Bodsford      Richmond, VA            10  22-08  171   $2,332.00
Day 1: 5   12-01     Day 2: 5   10-07
31. Chad Pipkens           Lansing, MI             10  22-07  170   $2,014.00
Day 1: 5   08-14     Day 2: 5   13-09
32. Wayne Vaughan Jr       Chester, VA             10  22-07  169   $2,014.00
Day 1: 5   10-00     Day 2: 5   12-07
33. Scott Siller           Milwaukee, WI           10  22-06  168   $2,014.00
Day 1: 5   11-12     Day 2: 5   10-10
34. Matthew Sphar          North Java, NY          10  22-05  167   $2,014.00
Day 1: 5   12-03     Day 2: 5   10-02
35. David Perdue           Wirtz, VA               10  21-13  166   $2,014.00
Day 1: 5   09-00     Day 2: 5   12-13
36. Michael Iaconelli      Pitts Grove, NJ         10  21-12  165   $1,696.00
Day 1: 5   09-13     Day 2: 5   11-15
37. Richard Cooper         Clayton, NC             10  21-11  164   $1,696.00
Day 1: 5   08-10     Day 2: 5   13-01
38. Brandon Palaniuk       Hayden, ID              10  21-08  163   $1,696.00
Day 1: 5   13-06     Day 2: 5   08-02
39. Chris Ferguson         Wittensville, KY        10  21-06  162   $1,696.00
Day 1: 5   12-04     Day 2: 5   09-02
40. Tyler Ashby            Swanton, MD              9  21-04  161   $1,696.00
Day 1: 5   12-12     Day 2: 4   08-08
41. David Heavenridge      Bumpass, VA             10  21-04  160
Day 1: 5   10-07     Day 2: 5   10-13
42. Ben Nielsen            Lowell, MI               9  21-01  159
Day 1: 4   06-10     Day 2: 5   14-07
43. Zack Birge             Blanchard, OK           10  20-12  158
Day 1: 5   07-14     Day 2: 5   12-14
44. Brian Latimer          Belton, SC              10  20-08  157
Day 1: 5   09-12     Day 2: 5   10-12
45. David Gaston           Sylacauga, AL           10  20-07  156
Day 1: 5   09-00     Day 2: 5   11-07
46. Chris Groh             Spring Grove, IL        10  20-04  155
Day 1: 5   12-04     Day 2: 5   08-00
47. Destin DeMarion        Grove City, PA          10  20-04  154
Day 1: 5   12-01     Day 2: 5   08-03
48. Kyle Kempkers          Hamilton, MI            10  20-03  153
Day 1: 5   11-04     Day 2: 5   08-15
49. Fabian Rodriguez       Ocean City, MD          10  20-01  152
Day 1: 5   13-01     Day 2: 5   07-00
50. Tommy Little           Chester, VA             10  19-14  151
Day 1: 5   07-07     Day 2: 5   12-07
51. Rick Hawkins           Roanoke, VA             10  19-13  150
Day 1: 5   11-13     Day 2: 5   08-00
52. Hunter Shryock         Newcomerstown, OH       10  19-13  149
Day 1: 5   10-14     Day 2: 5   08-15
53. Patrick Walters        Summerville, SC         10  18-15  148
Day 1: 5   09-11     Day 2: 5   09-04
54. Tom  Graziano          Chester, NY              6  18-14  147
Day 1: 1   05-04     Day 2: 5   13-10
55. Drew Benton            Panama City, FL         10  18-14  146
Day 1: 5   10-05     Day 2: 5   08-09
56. Mark Tornai            Fredericksburg, VA       9  18-13  145
Day 1: 4   06-12     Day 2: 5   12-01
57. Kendall Ulsh           Schoolcraft, MI         10  18-13  144
Day 1: 5   07-03     Day 2: 5   11-10
58. Rick Shannon           Woodlawn, TN             4  18-09  143
Day 1: 2   06-03     Day 2: 2   12-06
59. Tyler Berger           Worthington, OH          8  18-07  142
Day 1: 3   04-12     Day 2: 5   13-11
60. Derek Cummings         Denver, NC              10  18-07  141
Day 1: 5   08-12     Day 2: 5   09-11
61. Scott Patton           Paris, TN                9  18-06  140
Day 1: 4   06-08     Day 2: 5   11-14
62. Micah Frazier          Newnan, GA              10  18-06  139
Day 1: 5   07-15     Day 2: 5   10-07
63. Daniel Martin          Elmhurst, IL             7  18-04  138
Day 1: 4   07-00     Day 2: 3   11-04
64. Derek Hudnall          Baton Rouge, LA         10  18-03  137
Day 1: 5   06-15     Day 2: 5   11-04
65. Jamey Caldwell         Carthage, NC             8  18-03  136
Day 1: 5   10-05     Day 2: 3   07-14
66. Al Farace Jr           Hunt Valley, MD         10  18-01  135
Day 1: 5   10-05     Day 2: 5   07-12
67. Ed Melton              Houston, TX             10  18-01  134
Day 1: 5   09-03     Day 2: 5   08-14
68. Wil Hardy              Harlem, GA              10  18-01  133
Day 1: 5   09-00     Day 2: 5   09-01
69. Woo Daves              Spring Grove, VA        10  18-00  132
Day 1: 5   09-00     Day 2: 5   09-00
70. Brent Shores           Boise, ID               10  17-14  131
Day 1: 5   07-01     Day 2: 5   10-13
71. Clay Lewis             Sandston, VA            10  17-07  130
Day 1: 5   11-01     Day 2: 5   06-06
72. John Hunter Jr         Shelbyville, KY         10  17-06  129
Day 1: 5   09-08     Day 2: 5   07-14
73. Michael Delvisco       Dandridge, TN           10  17-05  128
Day 1: 5   10-04     Day 2: 5   07-01
74. Guy Fairweather        Hayes, VA               10  17-05  127
Day 1: 5   09-04     Day 2: 5   08-01
75. Brock Mosley           Collinsville, MS        10  17-03  126
Day 1: 5   09-00     Day 2: 5   08-03
76. James Niggemeyer       Van, TX                 10  17-02  125
Day 1: 5   10-01     Day 2: 5   07-01
77. Chris Liobis           Branchburg, NJ           6  17-01  124
Day 1: 1   01-06     Day 2: 5   15-11
78. Jonathan Carter        Glenburn, ME            10  17-01  123
Day 1: 5   09-00     Day 2: 5   08-01
79. Ronnie Getz            Sunman, IN               8  16-14  122
Day 1: 4   07-04     Day 2: 4   09-10
80. Sam George             Athens, AL               9  16-13  121
Day 1: 5   11-07     Day 2: 4   05-06
81. Shane Lineberger       Lincolnton, NC           8  16-12  120
Day 1: 5   10-13     Day 2: 3   05-15
82. Shayne Berlo           Mclean, VA              10  16-12  119
Day 1: 5   06-13     Day 2: 5   09-15
83. Charlie Machek         Midlothian, VA           9  16-07  118
Day 1: 5   08-10     Day 2: 4   07-13
84. Steve York             Bronson, MI             10  16-07  117
Day 1: 5   08-03     Day 2: 5   08-04
85. Toshinari Namiki       Tokyo JAPAN              9  16-06  116
Day 1: 4   05-11     Day 2: 5   10-11
86. Stanley Sypeck Jr      Sugarloaf, PA           10  15-10  115
Day 1: 5   08-11     Day 2: 5   06-15
87. Jeff Hippert           Hamburg, NY             10  15-08  114
Day 1: 5   05-13     Day 2: 5   09-11
88. Mike Huff              Corbin, KY              10  15-07  113
Day 1: 5   06-07     Day 2: 5   09-00
89. Mark Inman             Greensboro, NC          10  15-06  112
Day 1: 5   06-07     Day 2: 5   08-15
90. Scott Pellegrin        Chippewa Falls, WI      10  15-01  111
Day 1: 5   08-08     Day 2: 5   06-09
91. John McKelvey III      Sicklerville, NJ         8  15-00  110
Day 1: 5   10-09     Day 2: 3   04-07
92. Tim Grein              Winston Salem, NC       10  14-14  109
Day 1: 5   07-02     Day 2: 5   07-12
93. Frankie Appaluccio     Franklin, NJ             9  14-13  108
Day 1: 4   07-07     Day 2: 5   07-06
94. David Williams         Newton, NC               8  14-11  107
Day 1: 5   07-11     Day 2: 3   07-00
95. Chris Dillow           Waynesboro, VA          10  14-09  106
Day 1: 5   05-02     Day 2: 5   09-07
96. Ron Johnson            Chandler, AZ             8  14-08  105
Day 1: 5   08-11     Day 2: 3   05-13
97. Zachary Whitt          Newport News, VA         9  14-04  104
Day 1: 5   08-12     Day 2: 4   05-08
98. Mike Lavallee          Sandy, UT                8  14-00  103
Day 1: 3   03-11     Day 2: 5   10-05
99. Jason Dudek            Excelsior, MN            9  13-13  102
Day 1: 4   05-04     Day 2: 5   08-09
100. James Charlesworth     Gainsville, VA          10  13-10  101
Day 1: 5   07-05     Day 2: 5   06-05
101. Kurt Dove              Del Rio, TX              8  13-09  100
Day 1: 3   05-07     Day 2: 5   08-02
102. John Murray            Spring City, TN          8  13-08   99
Day 1: 5   08-08     Day 2: 3   05-00
103. Joseph Sancho          New Windsor, NY          8  13-08   98
Day 1: 5   07-05     Day 2: 3   06-03
104. Robert Pearson         Herndon, VA              9  13-07   97
Day 1: 4   06-10     Day 2: 5   06-13
105. Rob Uzzle              Hampton, VA              8  13-06   96
Day 1: 5   08-15     Day 2: 3   04-07
106. Cole Blythe            Charlotte, NC            8  13-04   95
Day 1: 5   08-02     Day 2: 3   05-02
107. Gary Isgrigg           Mt Washington, KY        8  12-13   94
Day 1: 5   08-09     Day 2: 3   04-04
108. Craig Nelson           Mather, PA               7  12-11   93
Day 1: 5   09-08     Day 2: 2   03-03
109. Michael Murphy         Lexington, SC            6  12-10   92
Day 1: 3   04-13     Day 2: 3   07-13
110. Jeff Lugar             Cross Junction, VA       7  12-09   91
Day 1: 2   04-00     Day 2: 5   08-09
111. Mack Hicks             London, KY               6  12-04   90
Day 1: 2   02-13     Day 2: 4   09-07
112. George Yund            Albany, NY               7  12-04   89
Day 1: 2   05-03     Day 2: 5   07-01
113. Brandon Johnson        Owingsville, KY          8  12-01   88
Day 1: 4   05-09     Day 2: 4   06-08
114. Mike Cherry            Hampton, VA              8  11-14   87
Day 1: 4   06-14     Day 2: 4   05-00
115. Nick Ray               Ingleside, IL            7  11-10   86
Day 1: 3   03-13     Day 2: 4   07-13
116. Shawn Hawks            Vinton, OH               7  11-09   85
Day 1: 2   02-01     Day 2: 5   09-08
117. Regan Coffey           Richmond, VA             6  11-09   84
Day 1: 4   08-01     Day 2: 2   03-08
118. Stephen Morella        Whitehall , PA           6  11-05   83
Day 1: 5   09-13     Day 2: 1   01-08
119. Gary Clouse            La Vergne, TN            8  11-05   82
Day 1: 5   07-07     Day 2: 3   03-14
120. Charlie Ingram         Centerville, TN          7  11-00   81
Day 1: 5   08-11     Day 2: 2   02-05
121. Cody Detweiler         Orlando, FL              8  10-11   80
Day 1: 5   07-03     Day 2: 3   03-08
122. Vince Troiano          Chesterfield, NJ         5  10-10   79
Day 1: 2   02-10     Day 2: 3   08-00
123. Randy Elliott          Severn, MD               7  10-10   78
Day 1: 5   07-09     Day 2: 2   03-01
124. Josh Douglas           Mound, MN                7  10-06   77
Day 1: 5   07-04     Day 2: 2   03-02
125. Scott Bonvillain       Dequincy, LA             7  10-06   76
Day 1: 3   05-13     Day 2: 4   04-09
126. Charlie Hartley        Grove City, OH           6  10-05   75
Day 1: 1   01-09     Day 2: 5   08-12
127. Michael Dove           Brownsburg, IN           7  10-01   74
Day 1: 2   02-06     Day 2: 5   07-11
128. Alex Wetherell         Middletown, CT           7  09-15   73
Day 1: 4   04-08     Day 2: 3   05-07
129. Jeremy Strotheide      Grand Rapids, MI         6  09-12   72
Day 1: 1   01-14     Day 2: 5   07-14
130. Brian Bersik           Chesterfield, VA         5  09-10   71
Day 1: 5   09-10     Day 2: 0   00-00
131. Darold Gleason         Many, LA                 7  09-09   70
Day 1: 5   06-06     Day 2: 2   03-03
132. Blake Betz             Baton Rouge, LA          8  09-08   69
Day 1: 4   05-07     Day 2: 4   04-01
133. Tyler Ferris           Webberville, MI          6  09-05   68
Day 1: 2   03-06     Day 2: 4   05-15
134. Darryl Halbert         Enoree, SC               5  09-04   67
Day 1: 1   02-07     Day 2: 4   06-13
135. Steve Sennikoff        Forney, TX               3  09-01   66
Day 1: 3   09-01     Day 2: 0   00-00
136. Caleb Sumrall          New Iberia, LA           5  09-01   65
Day 1: 2   04-00     Day 2: 3   05-01
137. Glynn Goodwin          Marietta, OH             6  08-14   64
Day 1: 5   07-02     Day 2: 1   01-12
138. John Garrett           Union City, TN           5  08-10   63
Day 1: 5   08-10     Day 2: 0   00-00
138. Troy Morrow            Eastanollee, GA          5  08-10   63
Day 1: 5   08-10     Day 2: 0   00-00
140. Ross Rhodes            Paw Paw, MI              5  08-07   61
Day 1: 3   04-12     Day 2: 2   03-11
141. Timothy Macknair       Rices Landing, PA        6  08-02   60
Day 1: 2   03-00     Day 2: 4   05-02
142. Stephen Mui            Bartlett, IL             5  07-10   59
Day 1: 2   03-12     Day 2: 3   03-14
143. Bret Loomis            Groveland, NY            5  07-07   58
Day 1: 0   00-00     Day 2: 5   07-07
144. Randy Huffman          Charleston, WV           5  07-05   57
Day 1: 3   05-10     Day 2: 2   01-11
145. Mark Hicks             Glouster, OH             5  06-14   56
Day 1: 0   00-00     Day 2: 5   06-14
146. Trait Zaldain          Fort Worth, TX           4  06-11   55
Day 1: 3   04-03     Day 2: 1   02-08
147. Jason Young            Port St Lucie, FL        6  06-10   54
Day 1: 2   02-14     Day 2: 4   03-12
148. Sam Carris             Knoxville, TN            6  06-07   53
Day 1: 1   00-15     Day 2: 5   05-08
149. Terry Segraves         Kissimmee, FL            3  05-14   52
Day 1: 3   05-14     Day 2: 0   00-00
150. Tom Huynh              Moorehead, MN            4  05-09   51
Day 1: 2   02-01     Day 2: 2   03-08
151. Lamar Spade            La Plata, MD             2  04-10   50
Day 1: 2   04-10     Day 2: 0   00-00
152. Chris Hart             Bozeman, MT              1  04-07   49
Day 1: 1   04-07     Day 2: 0   00-00
153. Mike Sopocy            Glenview , IL            4  04-06   48
Day 1: 3   03-03     Day 2: 1   01-03
154. Lucas Bogosian         Harrington Park, NJ      3  04-01   47
Day 1: 0   00-00     Day 2: 3   04-01
155. Frank Ramsey           Spring Grove, IL         3  04-00   46
Day 1: 2   02-15     Day 2: 1   01-01
156. Andy Francis           Chester, VA              2  03-14   45
Day 1: 2   03-14     Day 2: 0   00-00
157. Edward Naydihor Jr     Kenosha, WI              3  03-13   44
Day 1: 3   03-13     Day 2: 0   00-00
158. Mike Anderson          Milford, MI              0  00-00    0
Day 1: 0   00-00     Day 2: 0   00-00
158. Lynn Nickeson          Towanda, PA              0  00-00    0
Day 1: 0   00-00     Day 2: 0   00-00
———————————————————————–
Totals
Day   #Limits    #Fish      Weight
1       102       652      1285-05
2        99       637      1288-15
———————————-
201      1289      2574-04
2017 Bass Pro Shops Bassmaster Northern Open No. 2 8/3-8/5
James River, Richmond  VA.
(NON_BOATER) Standings Day 2
Angler                   Hometown              No./lbs-oz  Pts   Total $$$
1.  Jon Jezierski          Troy, MI                 6  19-03  200
Day 1: 3   06-01     Day 2: 3   13-02
2.  Aaron Bartlett         Mechanicsville, VA       5  13-13  199
Day 1: 2   03-12     Day 2: 3   10-01
3.  Carl Hunter            Snellville, GA           5  13-10  198
Day 1: 2   02-13     Day 2: 3   10-13
4.  Bart Angradi           Dandridge, TN            6  13-07  197
Day 1: 3   06-00     Day 2: 3   07-07
5.  Lavar James            Nokesville, VA           6  13-05  196
Day 1: 3   05-06     Day 2: 3   07-15
6.  Chad Smith             Minnetonka, MN           6  13-03  195
Day 1: 3   05-14     Day 2: 3   07-05
7.  Cory Dunnavant         Colonial Heights, VA     5  13-02  194
Day 1: 3   05-14     Day 2: 2   07-04
8.  Anthony Bell           Beavercreek, OH          6  13-02  193
Day 1: 3   06-04     Day 2: 3   06-14
9.  Ej Thomas              Roanoke, VA              6  12-04  192
Day 1: 3   05-04     Day 2: 3   07-00
10. James Miller           Pittsboro, IN            6  12-02  191
Day 1: 3   06-06     Day 2: 3   05-12
11. Brian Durham           Dinwiddie, VA            6  12-02  190
Day 1: 3   06-01     Day 2: 3   06-01
12. Shane Doughtie         Roanoke Rapids, NC       5  12-00  189
Day 1: 2   02-02     Day 2: 3   09-14
13. Andrew Fryer           Grove City, OH           6  11-12  188   $1,272.00
Day 1: 3   04-13     Day 2: 3   06-15
14. Trevor Prichard        Knoxville, TN            5  11-11  187   $1,166.00
Day 1: 2   03-13     Day 2: 3   07-14
15. Cory Hartfield         Centerburg, OH           5  11-05  186   $1,060.00
Day 1: 2   05-02     Day 2: 3   06-03
16. Jason Hannah           Dingress, WV             6  11-05  185     $954.00
Day 1: 3   05-07     Day 2: 3   05-14
17. Cody Bertrand          Dyer, IN                 5  11-02  184     $742.00
Day 1: 2   04-15     Day 2: 3   06-03
18. Chaz Carrington        Virginia Beach, VA       6  10-13  183     $636.00
Day 1: 3   05-06     Day 2: 3   05-07
19. James Maupin           Stanardsville, VA        6  10-10  182     $636.00
Day 1: 3   03-12     Day 2: 3   06-14
20. Ryan Drewery           South Prince George, VA  6  10-06  181     $530.00
Day 1: 3   05-01     Day 2: 3   05-05
21. Tyler Woolcott         Port Orange, FL          4  10-04  180     $450.00
Day 1: 1   05-14     Day 2: 3   04-06
22. Cody Griffey           Smithfield, VA           6  10-03  179     $450.00
Day 1: 3   06-06     Day 2: 3   03-13
23. Brian Yates            Lanexa, VA               6  10-02  178     $450.00
Day 1: 3   03-14     Day 2: 3   06-04
24. John Barnes            Richmond, VA             6  10-02  177     $450.00
Day 1: 3   06-00     Day 2: 3   04-02
25. Jared Williams         Hampton, VA              6  09-11  176     $450.00
Day 1: 3   04-05     Day 2: 3   05-06
26. Frank Meyer            Marianna, FL             6  09-10  175     $450.00
Day 1: 3   04-01     Day 2: 3   05-09
27. Jack Dice              Lynchburg, VA            6  09-10  174     $450.00
Day 1: 3   04-06     Day 2: 3   05-04
28. Todd Walters           Summerville, SC          4  09-08  173     $450.00
Day 1: 3   05-11     Day 2: 1   03-13
29. Josh Cotier            Clinton, MA              5  09-08  172     $450.00
Day 1: 2   04-06     Day 2: 3   05-02
30. Andy Cole              Midlothia , VA           6  09-03  171     $450.00
Day 1: 3   04-06     Day 2: 3   04-13
31. Jerry Hammitt          Glen Allen, VA           5  09-02  170     $450.00
Day 1: 3   06-01     Day 2: 2   03-01
32. Chad Franklin-Buckey   Portsmouth , VA          3  09-01  169     $450.00
Day 1: 3   09-01     Day 2: 0   00-00
33. Ben Ballou             Lafayette, TN            6  09-01  168     $450.00
Day 1: 3   04-07     Day 2: 3   04-10
34. Tony Long              Moseley, VA              5  09-00  167     $450.00
Day 1: 3   06-07     Day 2: 2   02-09
35. Andy Semonco           Chester, VA              4  08-12  166     $450.00
Day 1: 3   07-13     Day 2: 1   00-15
36. Jack Pollio            Chatham, VA              6  08-11  165     $450.00
Day 1: 3   03-11     Day 2: 3   05-00
37. Marc Frazier           Newnan, GA               6  08-10  164     $450.00
Day 1: 3   03-10     Day 2: 3   05-00
38. Jonathan Hankins       North Tazewell, VA       5  08-08  163     $450.00
Day 1: 3   05-08     Day 2: 2   03-00
39. Kermit Crowder         South Chesterfield, VA   4  08-02  162     $450.00
Day 1: 1   01-05     Day 2: 3   06-13
39. Scott Stephenson III   South Prince George, VA  4  08-02  162     $450.00
Day 1: 1   01-05     Day 2: 3   06-13
41. Tyler Purcell          Townsville, NC           6  08-02  160
Day 1: 3   03-00     Day 2: 3   05-02
42. Ian Madere             Baton Rouge, LA          3  07-15  159
Day 1: 0   00-00     Day 2: 3   07-15
43. Russ Cannici           Elkton, VA               4  07-15  158
Day 1: 3   06-04     Day 2: 1   01-11
44. Francis Martin         North Chesterfield, VA   4  07-11  157
Day 1: 1   02-15     Day 2: 3   04-12
45. James Nealy            Stony Creek, VA          5  07-10  156
Day 1: 3   04-10     Day 2: 2   03-00
46. Derek Brown            Charlottesville, VA      4  07-08  155
Day 1: 3   06-06     Day 2: 1   01-02
47. Rick Jerman            Springfield, VA          5  07-08  154
Day 1: 2   02-08     Day 2: 3   05-00
48. Charles Goff           Suffolk, VA              6  07-07  153
Day 1: 3   04-03     Day 2: 3   03-04
49. David Watkins          Jamestown, TN            4  07-06  152
Day 1: 1   01-01     Day 2: 3   06-05
50. Greg Mauldin           Archdale, NC             5  07-06  151
Day 1: 2   04-00     Day 2: 3   03-06
51. Andy Simm              Piney Flats, TN          3  07-05  150
Day 1: 0   00-00     Day 2: 3   07-05
52. Jerry Britt            Barhamsville, VA         4  07-05  149
Day 1: 3   06-04     Day 2: 1   01-01
53. Chris Moore            Mechanicsville, VA       4  07-05  148
Day 1: 2   05-01     Day 2: 2   02-04
54. Rodney Tapp            Inman, SC                5  07-04  147
Day 1: 2   02-13     Day 2: 3   04-07
55. Gerald Heffler         Chester, VA              5  07-01  146
Day 1: 2   02-06     Day 2: 3   04-11
56. Bradley Sargent        Concord, NH              6  07-01  145
Day 1: 3   03-07     Day 2: 3   03-10
57. Ryan Hayes             New Philadelphia, OH     5  07-00  144
Day 1: 2   01-13     Day 2: 3   05-03
58. Burley Langford Jr.    South Chesterfield, VA   4  06-14  143
Day 1: 3   03-10     Day 2: 1   03-04
59. Rodney Manson          Upper Marlboro, MD       5  06-13  142
Day 1: 2   02-08     Day 2: 3   04-05
60. Brian Langford         South Chesterfield, VA   5  06-12  141
Day 1: 2   02-10     Day 2: 3   04-02
61. Todd Hague             Marietta, OH             4  06-11  140
Day 1: 2   02-04     Day 2: 2   04-07
62. Ike Taylor             Westerville, OH          4  06-10  139
Day 1: 1   01-08     Day 2: 3   05-02
63. Jed Dickerson          Midlothian, VA           4  06-08  138
Day 1: 3   05-04     Day 2: 1   01-04
64. Paul Propst Jr.        Kearneysville, WV        4  06-08  137
Day 1: 1   01-06     Day 2: 3   05-02
65. Bill Wiley III         Joppa, MD                3  06-06  136
Day 1: 0   00-00     Day 2: 3   06-06
66. Keith Lynch            Suffolk, VA              4  06-06  135
Day 1: 1   01-10     Day 2: 3   04-12
67. Johnnie Garrett        Union City, TN           4  06-04  134
Day 1: 1   01-06     Day 2: 3   04-14
68. Richard Rodriguez      Williamsburg, VA         5  06-03  133
Day 1: 3   03-03     Day 2: 2   03-00
69. Roger Lewis Jr         Disputana, VA            4  06-02  132
Day 1: 1   00-15     Day 2: 3   05-03
70. Jk Kutil               Nashville, TN            3  05-15  131
Day 1: 0   00-00     Day 2: 3   05-15
71. Eric Tilley            Hertford, NC             5  05-15  130
Day 1: 2   02-07     Day 2: 3   03-08
72. David Everhart         Kearneysville, WV        5  05-15  129
Day 1: 3   03-06     Day 2: 2   02-09
73. Donnie Bowman          Quinton, VA              5  05-14  128
Day 1: 2   02-07     Day 2: 3   03-07
74. Luke Elliston          Powhatan, VA             3  05-13  127
Day 1: 1   02-12     Day 2: 2   03-01
75. Peter Lerner           Philadelphia, PA         3  05-11  126
Day 1: 0   00-00     Day 2: 3   05-11
76. Calvin Landsberg       Philadelphia, PA         3  05-10  125
Day 1: 0   00-00     Day 2: 3   05-10
77. Mark Westrick          Hastings, PA             4  05-10  124
Day 1: 2   02-14     Day 2: 2   02-12
78. Darrell Hague          Marietta, OH             3  05-09  123
Day 1: 0   -01-00     Day 2: 3   06-09
79. Avery Neely            Richmond, VA             2  05-09  122
Day 1: 1   01-13     Day 2: 1   03-12
80. Tommy Hamilton         Disputanta, VA           3  05-08  121
Day 1: 0   00-00     Day 2: 3   05-08
81. Jeff Hitt              Grottoes, VA             4  05-08  120
Day 1: 1   01-09     Day 2: 3   03-15
82. Bob Bauer              China Grove, NC          2  05-07  119
Day 1: 1   03-13     Day 2: 1   01-10
83. Rodrigo Luna           Newport News, VA         4  05-06  118
Day 1: 3   04-06     Day 2: 1   01-00
84. Brian Setlock          Lancaster, PA            4  05-06  117
Day 1: 1   01-05     Day 2: 3   04-01
85. Robert Winward         Wilmington, DE           4  05-05  116
Day 1: 1   01-03     Day 2: 3   04-02
86. Charles Fochtman       Moneta, VA               3  05-04  115
Day 1: 0   00-00     Day 2: 3   05-04
87. Roger Walters Jr       Colonial Heights, VA     4  05-04  114
Day 1: 2   02-07     Day 2: 2   02-13
88. Joshua Wright          Toano, VA                4  05-02  113
Day 1: 1   01-02     Day 2: 3   04-00
89. Alan Blondino          Rustburg, VA             1  05-01  112
Day 1: 0   00-00     Day 2: 1   05-01
90. Alan Edwards           Port Washington, OH      4  05-01  111
Day 1: 1   00-15     Day 2: 3   04-02
91. Barry Brandt Jr.       Newport News, VA         3  05-00  110
Day 1: 0   00-00     Day 2: 3   05-00
92. Frank Glazier III      Carson, VA               4  05-00  109
Day 1: 2   02-11     Day 2: 2   02-05
93. Mark Ludwig            Chesterfield, VA         3  04-15  108
Day 1: 3   04-15     Day 2: 0   00-00
94. Chris Whittaker        Waverly, VA              4  04-14  107
Day 1: 3   03-10     Day 2: 1   01-04
95. Ron Strickland         Stafford, VA             3  04-13  106
Day 1: 3   04-13     Day 2: 0   00-00
96. Steven Hatala          St Clair Shores, MI      3  04-12  105
Day 1: 3   04-12     Day 2: 0   00-00
97. Jesse Paraday          Hopewell, VA             3  04-12  104
Day 1: 0   00-00     Day 2: 3   04-12
98. Richard Stewart        Chesterfield, VA         4  04-12  103
Day 1: 3   03-04     Day 2: 1   01-08
99. Tom Yi                 Vienna, VA               2  04-11  102
Day 1: 1   03-01     Day 2: 1   01-10
100. Willy Hicks            Chester, VA              4  04-11    0
Day 1: 2   01-15     Day 2: 2   02-12
101. Doug Wharton           Richmond, VA             3  04-09  100
Day 1: 1   01-04     Day 2: 2   03-05
102. Mike Barker II         Haslett, MI              3  04-08   99
Day 1: 0   00-00     Day 2: 3   04-08
103. Lynn Hoeffer           Newport News, VA         4  04-08   98
Day 1: 3   03-07     Day 2: 1   01-01
104. Lou Britos             Disputanta, VA           3  04-07   97
Day 1: 0   00-00     Day 2: 3   04-07
105. William Clements       Colonial Heights, VA     2  04-05   96
Day 1: 2   04-05     Day 2: 0   00-00
106. Robert Bruguiere       Mechanicsville, VA       3  04-03   95
Day 1: 0   00-00     Day 2: 3   04-03
107. Hampton Robinson       Gainesville, VA          2  04-02   94
Day 1: 1   02-12     Day 2: 1   01-06
108. Bobby Ramsey           Potsdam, NY              3  03-14   93
Day 1: 0   00-00     Day 2: 3   03-14
109. Ernest Mcintyre Jr     Fayetteville, NC         3  03-14   92
Day 1: 1   00-14     Day 2: 2   03-00
110. Jason Williams         Holt, MI                 2  03-12   91
Day 1: 0   00-00     Day 2: 2   03-12
111. Curtis Dillon          Advance, NC              2  03-12   90
Day 1: 0   00-00     Day 2: 2   03-12
112. Cantley Krafft         Radford, VA              3  03-11   89
Day 1: 1   01-09     Day 2: 2   02-02
113. Chancey Hatfield       Mayking, KY              2  03-07   88
Day 1: 2   03-07     Day 2: 0   00-00
114. Frank Darwicki         Smyrna, DE               3  03-07   87
Day 1: 2   02-08     Day 2: 1   00-15
115. Ron Horton             Dover, DE                2  03-06   86
Day 1: 2   03-06     Day 2: 0   00-00
116. Brent Pannill          Midlothian, VA           1  03-06   85
Day 1: 1   03-06     Day 2: 0   00-00
117. Roland Gittings        Perryville, MD           2  03-04   84
Day 1: 1   01-15     Day 2: 1   01-05
118. Jeffrey Ozmon          Rock Hill, SC            2  03-03   83
Day 1: 0   00-00     Day 2: 2   03-03
119. Mike Hedrick           Chester, VA              2  03-02   82
Day 1: 2   03-02     Day 2: 0   00-00
120. Jeremy Maye            Windsor, VA              2  02-14   81
Day 1: 1   00-12     Day 2: 1   02-02
121. Jason Holder           Powhatan, VA             2  02-12   80
Day 1: 2   02-12     Day 2: 0   00-00
122. Antuan Vincent         Hampton, VA              1  02-12   79
Day 1: 0   00-00     Day 2: 1   02-12
123. Joel Gabel             Boyertown, PA            2  02-12   78
Day 1: 1   00-14     Day 2: 1   01-14
124. Jonathan Ceaser        Glen Allen, VA           2  02-11    0
Day 1: 2   02-11     Day 2: 0   00-00
124. Sherman Moss           Barboursville, VA        2  02-11   76
Day 1: 2   02-11     Day 2: 0   00-00
126. Kevin Fore             Powhatan, VA             2  02-09   75
Day 1: 1   01-06     Day 2: 1   01-03
127. Scott Deitrich         Berrysburg, PA           2  02-08   74
Day 1: 0   00-00     Day 2: 2   02-08
128. Gregory Bottomley      Middle Island, NY        1  02-08   73
Day 1: 1   02-08     Day 2: 0   00-00
129. Kate Owczarzak         Buffalo, NY              2  02-07   72
Day 1: 2   02-07     Day 2: 0   00-00
130. Samuel Jenesky Jr      Pittsburgh, PA           2  02-06   71
Day 1: 0   00-00     Day 2: 2   02-06
131. Mark Bartosch          Clarksville, TN          1  02-06   70
Day 1: 0   00-00     Day 2: 1   02-06
131. Casey Gut              Chichester, NH           1  02-06   70
Day 1: 1   02-06     Day 2: 0   00-00
133. Jp Lopez Jr            Brooklyn, NY             2  02-04   68
Day 1: 1   01-00     Day 2: 1   01-04
134. Brian Transon          Sherrills Ford, NC       1  02-03   67
Day 1: 0   00-00     Day 2: 1   02-03
135. Matthew Wood           Mechanicsville, VA       2  02-02   66
Day 1: 1   01-00     Day 2: 1   01-02
136. Kyle Brown             Wexford, PA              2  01-15   65
Day 1: 2   01-15     Day 2: 0   00-00
137. Charles Daugherty Jr   Raleigh, NC              1  01-14   64
Day 1: 0   00-00     Day 2: 1   01-14
138. Mike Elkins            Kalamazoo, MI            2  01-13   63
Day 1: 1   00-14     Day 2: 1   00-15
139. Gus Kneidinger         Prospect, PA             1  01-12   62
Day 1: 0   00-00     Day 2: 1   01-12
140. Chris Kingree          Inverness, FL            1  01-08   61
Day 1: 1   01-08     Day 2: 0   00-00
140. Darin West             Mechanicsville, MD       1  01-08   61
Day 1: 0   00-00     Day 2: 1   01-08
142. John Watts Jr          Flushing, MI             1  01-05   59
Day 1: 0   00-00     Day 2: 1   01-05
143. Guy Maupin             Barboursville, VA        1  01-04   58
Day 1: 1   01-04     Day 2: 0   00-00
144. Chad Christensen       Alpine, UT               1  01-03   57
Day 1: 0   00-00     Day 2: 1   01-03
144. Troy Goodlow           Clarksburg, NJ           1  01-03   57
Day 1: 1   01-03     Day 2: 0   00-00
144. Andrew Patterson       Haymarket, VA            1  01-03   57
Day 1: 1   01-03     Day 2: 0   00-00
147. Randal Ferris          Fowlerville, MI          1  01-00   54
Day 1: 1   01-00     Day 2: 0   00-00
147. Thomas Sutton          Bidwell, OH              1  01-00   54
Day 1: 1   01-00     Day 2: 0   00-00
149. Larry Sifert           Scottsdale, AZ           1  00-14   52
Day 1: 1   00-14     Day 2: 0   00-00
150. Michael Baldwin Jr     South Chesterfield, VA   1  00-12   51
Day 1: 1   00-12     Day 2: 0   00-00
151. David Chamberlain      Keasbey, NJ              0  00-00    0
Day 1: 0   00-00     Day 2: 0   00-00
151. David Lewis            Townsend, DE             0  00-00    0
Day 1: 0   00-00     Day 2: 0   00-00
151. Shane Love             Crooksville, OH          0  00-00    0
Day 1: 0   00-00     Day 2: 0   00-00
151. Michael Martinez       Lanexa, VA               0  00-00    0
Day 1: 0   00-00     Day 2: 0   00-00
151. Jamie Newton           Falls Church, VA         0  00-00    0
Day 1: 0   00-00     Day 2: 0   00-00
151. Michael Oley           North Chesterfield, VA   0  00-00    0
Day 1: 0   00-00     Day 2: 0   00-00
151. Al Paliani             King George, VA          0  00-00    0
Day 1: 0   00-00     Day 2: 0   00-00
151. Tim Richardson         Willimantic, CT          0  00-00    0
Day 1: 0   00-00     Day 2: 0   00-00
151. David Wright           Ft. Meade, MD            0  00-00    0
Day 1: 0   00-00     Day 2: 0   00-00
---