Gamakatsu's New Extra Wide-Mouth G-Bags Come in the Perfect Size for Your Needs
Tacoma, Washington (XXXX) – Gamakatsu's new series of extra wide-mouth tackle bags come in various sizes so anglers can take everything they need and nothing they don't. The G-Bag EWM storage solutions open wide, giving anglers fast, easy access to tackle so anglers can rig up in a hurry and take advantage of a changing bite. 
The smallest bag in the new series, the G-Bag EWM 100, is the perfect size for holding a variety of soft plastic packs. The Extra Wide Mouth (EWM) provides easy access to the interior, and the internal wire frame keeps the top open while finding the right bait. The 8 x 4 x 6-inch size stows easily in other bags, and anglers can take as many as needed while remaining organized. Pick up a few and keep all smaller items organized and ready.
The larger 9.5 x 5 x 7-inch size of the G-Bag EWM 200 Tackle Bag stows more gear using the same innovative easy-access stay-open top. The 200 easily accommodates magnum packs of soft plastics and oversized bulk bags, so that anglers can stash their largest swimbaits or enough tubes for the season in one convenient location. In addition, there's enough space to store a wide variety of tackle and gear, so anglers can keep rigging tools and other essentials handy as well. 
Stuff up to four Gamakatsu G-Box 3600 or eight 3200 utility cases into the G-Bag EWM 300 using the innovative Extra Wide Mouth opening. The biggest size in the lineup is designed to carry a variety of tackle comfortably, thanks to the adjustable, padded removable shoulder strap. The generous 13 x 8.5 x 11-inch bag lets anglers stockpile all of their finesse baits and power fishing lures in the same place so they can be prepared for anything.
All of the bags in the G-Bag EWM series feature water-resistant TPU construction that sheds water from rainstorms or the occasional rogue wave, so contents stay protected. Plus, a see-through I.D. tag window on the 100 and 200 size, allows anglers to slide in their customized labels for easy identification, so they grab the right bags for each trip. Anglers will always find the contents easily, courtesy of the Extra Wide Mouth and stay-open design. 
G-Bag EWM 100 Tackle Bag Features:
Extra Wide Mouth (EWM) opening for easy access
Water-resistant TPU material

 

Internal wire frame keeps main compartment in open position

 

Perfect size for holding a variety of soft plastics packs
Size: 8 x 4 x 6 inches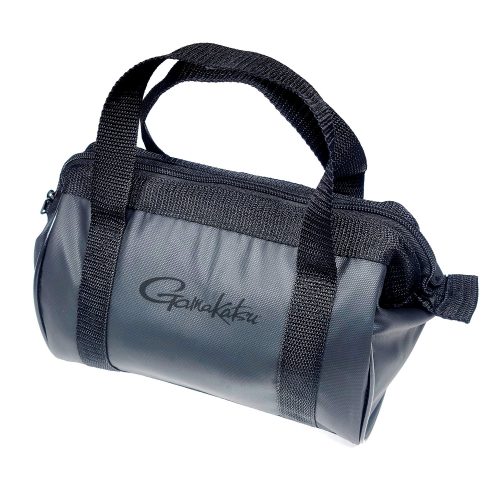 G-Bag EWM 200 Tackle Bag Features:
Extra Wide Mouth (EWM) opening for easy access
Water-resistant TPU material

 

Internal wire frame keeps main compartment in open position

 

Great size bait bag for larger magnum size packs of soft plastics and bulk packs
Holds a wide variety of tackle and gear
Size: 9.5 x 5 x 7 inches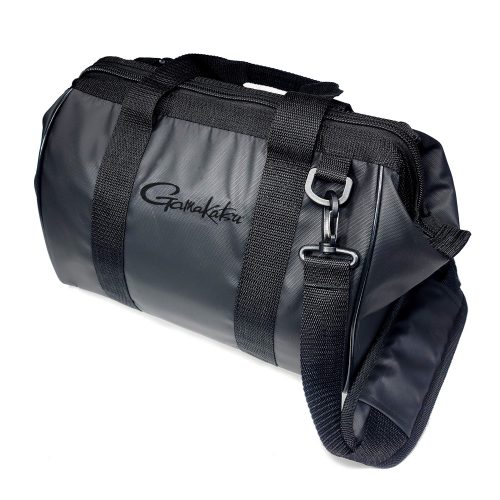 G-Bag EWM 300 Tackle Bag Features:
Extra Wide Mouth (EWM) opening for easy access
Water-resistant TPU material

 

Internal wire frame keeps main compartment in open position

 

Adjustable, padded removable shoulder strap
Holds up to 4 Gamakatsu G-Box 3600 utility cases (not included)
Holds up to 8 Gamakatsu G-Box 3200 utility cases (not included)
Size: 13 x 8.5 x 11 inches