FLW Tour Rookie Sheldon Collings Rides Wave of Support Into First Professional Season
Story By Vance McCullough
At 19 years of age Sheldon Collings doesn't have decades of high caliber tournament experience on his side.
He does however have an entire community in his corner.
"The city of Grove (Oklahoma) is my title sponsor," says Collings. "I've got 'Grove' there on the side of my boat for the Grove Convention and Tourism Bureau, which brings all the tournaments to Grand Lake, that's the biggest one.
"It makes me feel good that the whole town has come together to support me. They've put articles in the newspaper about me once or twice a month. Everyone in Grove knows me.
"I don't think I'll ever be able to move away from Grove. Being able to grow up there made me into the person I am today. Now, when I was younger I didn't really like it because there wasn't much to do and there weren't many people my age, but now that I am more mature I understand that everyone in the town – they're good people.
"I definitely couldn't do this without all of them supporting me."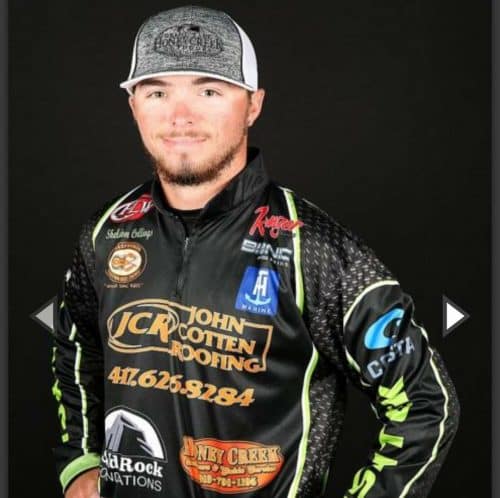 Asked to list his sponsors, the Tour rookie can name some fishing industry giants – Lowrance and Costa Del Mar among them, but then there's a long list of local supporters. Collings doesn't take any one of them for granted.
From a roofing company to a plumber to a realtor to a tire store, with lots of others in between, Collings is grateful. There is one gentleman who has been especially helpful, David Hale who owns Honey Creek Outdoors in Grove, OK. "He's one of those guys whose done anything and
everything to help me out and make it possible for me to fish the Tour. He did more work than I did, I hate to say it. I've known him for years. It started out when he worked on my bow at his archery shop.
"I also have FishTek, my family-owned business. My parents and I make and sell our own jigs. All the colors we have are my custom colors. We sell a lot to people in Texas and Oklahoma."
There is one departure from the local love. "I picked up Tail Walk, a Japanese rod and reel manufacturer."
In addition to well wishes from his neighbors, Collings will bring a wealth of lessons learned on Grand Lake of the Cherokees, his home water. The lake has been a good teacher. What techniques has he refined there? "Pretty much everything. I learned to fish grass on Grand Lake when the water floods. I've even learned to drop shot."
"I'll take all of my knowledge that I learned on Grand Lake and take it to every single one of these tournaments. Actually, here on Okeechobee, I'm doing the same thing I would at home. It's kind of crazy how you go from Oklahoma to South Florida and catch fish the same way."
Collings spoke with AnglersChannel.com after his first couple of practice days on Okeechobee heading into this week's big season opener. It was his first look at the big lake. What does he think?
"As soon as I put the boat in I said 'what did I get myself into?' Everything looks the same, there's nothing different. I had a lot of people tell me 'It's just going to blow your mind, you're going to get spun out and not know what to do.' I thought 'No, I don't get spun out and not know what to do'.
"Sure enough, about 15 minutes in I was lost."
Collings finally settled into a groove. "I think I've kind of got it figured out now – what to look for. But yeah, at first, it was a huge learning curve, I'm not going to lie. It's like nothing I've been on before in my life."
Okeechobee represents just one of the challenges that await the rookie. "The biggest challenge going into this year would be not having experience on any of the lakes except Kentucky Lake. I've been to Kentucky a handful of times and I've done pretty well there."
A positive thinker, Collings also sees his greatest challenge as enormous advantage. "I, personally do better at a lake I've never been to. I'm going to scratch Okeechobee off of that list because it's like a different world down here, but I can go to a lake, practice for 2-to-4 days, spend the first day just riding around looking, and the second day I'll pick apart an area. I fish better because I'm not fishing off of memory.
"Now Grand lake, I live there but I'd have to say that I suck at that lake because I know every pocket, every dock, what brush is beneath it so I get spun out on Grand really, really bad.
"But going to different lakes, I'll pick apart a big square like a 2-mile by 2-mile area and if I end up catching fish there I won't leave it the whole tournament just because I have nothing else to go to so it makes me fish where there are fish instead of going to find new ones."
Asked to pick a most exciting venue on this year's schedule Collings is fired up about the big smallmouth waiting at Lake Saint Claire. "I'm ready to go use my Ultrex, put the Spot Lock on and dropshot for big smallmouth, looking at my Lowrance all day. That's my kind of fishing. I like to play the video games on my graph. Just talking about that place right now is getting me pumped up and that  tourney is not until, like, July!"
As do most newcomers, Collings wants to win the Rookie of the Year title. He acknowledges the strength of the freshman class. "Just because they're 'rookies' doesn't mean they haven't fished before. There are a lot of good fishermen this year. That's my main goal is to get ROY.
"What would also be awesome is to cut a check in every event. Also, to weigh-in a limit each day that I fish. It's just weird to here myself say 'I want to win Rookie of the Year'. I never thought that at 19 I'd be on Tour saying that."
Collings says one reason he's able to compete at the Tour level at such a young age is that he was mentored by veteran pro Randy Blaukat.
"I don't have the political views that Randy has, but we're like best friends. He's the one who took me fishing when I was 15 years old. He's the one who taught me how to get all of the sponsors I have today, taught me how to approach people, how to talk on stage. He also taught me to be open-minded and versatile.
"He's helped me out tremendously. That first day he took me out fishing I never would have imagined I'd be fishing against him on Tour in less than 5 years. Pretty much the main reason I'm here – I'd have to give a lot credit to Randy Blaukat for that."
Collings has already accomplished some big things on the water. He won a 2016 BFL Regional Championship on Dardanelle. But he says qualifying for the 2017 All American is his proudest achievement to date. "Being able to fish the All American was much bigger accomplishment than winning the BFL Regional."
There is another big achievement under his belt. This one will affect the way he approaches the 2018 Tour season. "Bryan Thrift double-qualified for the Forrest Wood Cup so it opened up another spot. In the Costa championship back in November on Kentucky Lake I finished 11th. Since Thrift double-qualified I was next on the list to go to the 2018 Cup. That takes a lot of stress off my shoulders my first year on Tour. I don't have to worry about the overall points. I just have to worry about Rookie of the Year. That's all I think about."