FLW Rookie Justin Atkins Wins the 2017 FLW CUP!!
Posted On August 14, 2017
---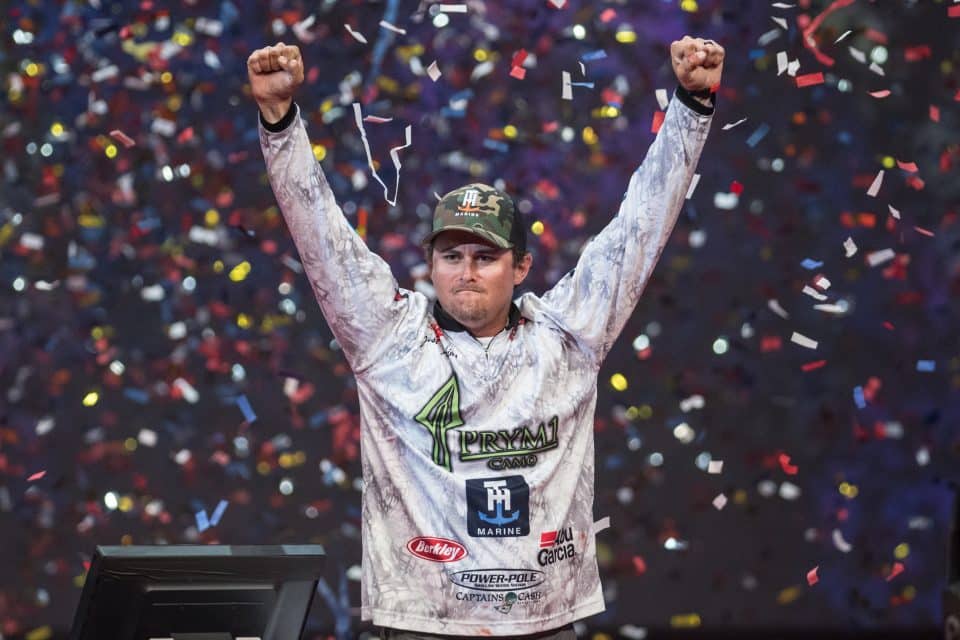 "These fish must think about blueback herring like I think about strawberry shortcake." ~Scott Suggs
Herring, not shad were the key bait on Lake Murray this week. They swam along deep points that dropped from about 20 feet in depth to perhaps a hundred or more nearby.
"Usually the herring out over that 100 foot water this time of year," said Brandon Cobb. The pattern carried the top pros so well this week doesn't usually materialize until late September.
And Cobb worked it for nearly all it was worth. Nearly. "I only have 4 fish," he revealed moments before taking the stage for the final weigh in of the 2017 Forrest Wood Cup in Columbia, SC.
That revelation set the stage for a suspenseful ending to the tourney because the 4 fish Cobb had were the right size – about 4 pounds apiece.
Anthony Gagliardi caught enough herring-eaters to make a run at a 2nd Cup title on his home lake. His effort fell short.
"I will not be the first repeat Forrest Wood Cup Champion this week," said Gags. "I only have about 14 pounds. I caught everything that I will weigh-in during the last hour of the day."
As the field of 10 was whittled down it became apparent that FLW Tour rookie Justin Atkins was the favorite. He faced fierce competition from Travis Fox.
Fox dropped 21 pounds, 11 ounces on the scale. He had one small fish in his bag. He was thankful even for it. "I just did catch 5 fish. This was the last one. Five fish weigh more than four do."
Fox's weight was impressive, but Atkins drew a roar from the packed house in the Colonial Life Arena when he weighed-in 22-1.
With a 3-day total weight of 59-4 Atkins was crowned champion.
Cobb lost a fish that may have put him over the top. He will never know. He's not beating himself up over it. Such near misses are a part of the topwater game.
Fox further explained about missed fish, "It's not like you get 6 bites to catch 6 fish. You may get 20 bites and catch 6 fish and not have done anything wrong. What do you do about it? You thank the Lord for chance and move on to the next one. I don't feel bad about it. I did the best I could."
Fox is right to be satisfied with a great effort and a runner-up finish.
For the technical details of how Atkins won, see our video on AnglersChannel.com. The short version is that he pulled quality bass to the surface with large topwater lures. "I stayed with the big plugs instead of using a fluke. I wanted to catch bigger fish even though I got fewer bites."
His fish were relating to cane piles planted in deep, open water. The bass in Lake Murray suspend around the tops of the cane and ambush blueback herring.
A young pro, Atkins has already earned the respect of the fishing community.
"Justin will be a great champion," said 2015 Cup Champ Brad Knight.
---