Fishing Alabama's Jordan Lake On A Very Cold Morning…but A Nice Sunny Day!
Teaser image: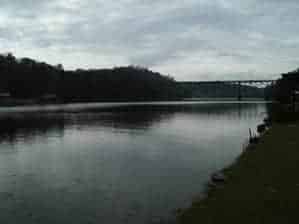 Recently I have visited lakes located all throughout north to south Alabama. My travels have taken me to Alabama's massive Guntersville Lake and Pickwick Lake, both located on the Tennessee River System in north Alabama. Lake Eufaula on the Chattahoocee River System on the Alabama Georgia state line and nearby close to the town of Alexander city, located on the Tallapoosa River System, Alabama's Lake Martin.
JORDAN LAKE – ALABAMA'S LOWER COOSA RIVER SYSTEM
By Reed Montgomery / Reeds Guide Service
Birmingham, Alabama (205) 663-1504
Website: www.fishingalabama.com
" Over 40 Years Guiding, Fishing and Exploring Every Lake in Alabama For Largemouth Bass, Smallmouth Bass, Spotted Bass and Striped Bass "
Always Call on Reeds Guide Service…first! Alabama's (and Jordan Lake's) Oldest Professional, Freshwater Fishing Guide Service!
Impounded 1928
Lake level: Full Pool
Water Temperature: Mornings 57 / Evenings 60
Water Clarity: Clear main lake, some creeks stained
Air Temperature: High 59 / Low 26
Predicted Weather: Sunny, Highs Mid-60's / Lows Mid-40's Friday, Sat. & Sun. 60-80 percent of chance of rain Monday and Tuesday
Even of the many lakes situated on the Coosa River System (six to be exact), I have taken clients of my guide service fishing for bass of all kinds including several trips to Logan Martin Lake, Lay lake and one of my favorite lakes, located on the lower Coosa River System near the state capitol of Montgomery, Jordan Lake.
But this time, after the weather man predicted some very cold weather statewide earlier this week a client (we will call John) rescheduled a pre-planned Tuesday trip. Once again tough conditions greeted us that morning, even though it was much warmer that evening near 60 degrees, the day started at 26 degrees.
I knew my work was cut out for me as I met John at the boat dock in the lake's headwaters, near upper Mitchell lake dam tailrace waters. We would attempt to catch some of those big, Coosa River breed of spotted bass, maybe a largemouth bass or striped bass, all three bass species that thrive in the lake's headwaters, feeding and constantly fattening up for the winter months ahead.
Jordan Lake has the Coosa River breed of spotted bass that range lake wide, from the lake's headwaters to the lower lake's dam. On this trip I launched in the lake's headwaters and met John who was just just looking for some of those big Jordan Lake spotted bass, some big, striped bass and the lake's really well known largemouth bass. But it had been 7 years since John had fished Jordan Lake. So, I was his guide today.
Our target that day was the spotted bass, while fishing on a cold, late-week morning launching out of Coosa River boat launch (formally called Mama Jeans), located in the upper lake, only 1/2 mile from upper reservoir, Mitchell lake dam. These spotted bass always bite better on cold winter days. As we saw, with only one largemouth bass for our hard earned efforts that day.
In all, we had about 10 bass, including one hybrid-striped bass John hooked on an old Bagley's Killer B balsa wood crankbait, looking to be about 3-4 pounds. That is, after we only got a brief look at the tackle-testing bass, before it escaped capture, coming off the hook right as I went to net it.
Some visitors to this lake are just taking a day to just relax and go fishing, often in some great weather in the low-to-mid 70's during one of December's unexpected winter warming trends. Other anglers, are here practicing or competing for either a local bass tournament, or an end-of-the year major bass tournament trail championship. Some, anglers do not mind braving the elements, like John, here on a cold, December first morning. Just looking for some big bass bites, caught on any type of lure!
Well one type of lure produced all of the bass we caught that day. As a matter of fact, we could have fished these types of lures only…on this cold, but eventually sunny
day! What type was it? Crankbaits.
The weather that morning as the dawn broke, was in the upper-20's. The long one hour drive (of close to 50 miles from Birmingham, Al.), was well worth the trip as we did find some cooperating bass, but on this day, no really big bass! Of course, as we launched the boat that morning we were all alone on the lake as well. My boat, its seats, the motor, even the entire boat's carpet was covered in a thin sheet of ice!
We began the day fishing near the dam along its boulder-strewn banks and nearby rock bluffs, including moving down the lake while fishing some small weedy cuts, standing timber, small pockets and main lake flats, mostly found in the upper lake, a few miles from where we launched.
To begin with (while unfortunantly John was picking out his first backlash of the morning) I tried a number of lures with no results. In all, I had tried up to 5 lures (just to try and entice a bass to bite), by the time John got back to fishing. I did mange to boat 2 bass on a Fat Free Shad crankbait, one largemouth bass about 2 pounds and a small keeper sized spotted bass. Hoping John's would be next, I poured myself a warm cup of coffee and readied the net.
Here's what worked best for me and John that day;
Crankbaits are only one of a dozen types of lures an angler can fish in and around Jordan Lake's grass, wood cover and rock cover. Fishing a jig combo along this cover is a big bass tactic (great lure choice around any weedy impoundment like Jordan Lake usually at full pool during the winter months), and there are loads of cover for an angler to target on this lake. But we did not get a fish on a jig combo, even after we both fished these types of lures hard all day
On this lower Coosa River reservoir jig combos are a very good "crayfish imitating lure" as waters begin to cool and the lake's bass feed and fatten up for the winter months ahead. With its often clear water, Jordan lake's largemouth bass and spotted bass can be fooled with a number of this lures while fishing the lake's weeds, wood and rock cover. But today the conditions had changed.
With cool weather and varied conditions such as no wind and lots of very evident current, a crankbait may be needed for most bass fishing situations. It also covers water fast while still fishing slow with stop-and-go presentations. Crankbaits get reaction strikes and they always fool some cooperating bass, even on cold days with water temps close to 57 degrees. On some days any bass are better than no bass at all. We were glad to even get bit.
* On Jordan Lake, even in December with the lake's winter water cooling down somewhat, there are always still some cooperating bass to target.
Water temperatures can be close to 60 degrees right now. Especially if this southern reservoir has been under a few days warming trend. By evenings, like seen just recently, water temps can rise into the low-to-mid 60's. That's over 10 degrees in one day! So by midday to late evenings, although it may be cold in the morning these feeding bass can get much more active in these much warmer waters by evening! Even on cool but sunny days, the lake's water temperature may rise 5 degrees!
If not interested in fishing the lakes headwaters near the upper Mitchell lake dam, you can always choose to fish along Jordan Lake's stump-filled flats, creek flats and main lake drop-offs, around islands, or within any type of wood cover you can fish a worm, lizard, tube bait, creature bait, or jig combo all within laying trees, tree limbs, in brush piles, around stumps and in and along Jordan's aquatic weeds and along rock bluffs.
Any point featuring wood, weed and rock cover should be fished hard with a variety of lures, in many ways. Those thicker, more matted-type aquatic weeds, like seen on Jordan Lake in the summer months, are good now for flipping or pitchin' various types of sinking, weedless type lures.
Like said, deep diving crankbaits can produce big bass that many other anglers often miss on Jordan Lake. Or you can choose to fish with lures like spinnerbaits right up in the rocks, around wood or grass cover, or try shallow-to-deep running crank baits along deep weed lines, (shad colored) and lipless lures, also plastic worms, lizards and tube baits.
During winter warning trends try topwater lures like buzz baits, zara spooks, poppers and prop baits fished in and around the lake's grass and wood cover. Frog imitations are very weedless and one of the best lures in early winter fished around the lake's grass. But few anglers try using topwater lures in winter.
On this day we had mostly spotted bass bass, around ten bass, some weighing up to 2 pounds, to be exact. But even as early as next week things will improve, mostly for the betterment of the angler that will be there fishing Jordan lake, with predicted weather in the mid-to-upper 60's! Then look for other techniques to fool these wintertime bass. Like even schooling bass!
* Jordan Lake has loads of schooling bass in the winter, seen around the dam, busting shad in open water situations, up in shallow creeks and along main lake flats that heat up fast on warm sunny days…all kinds of bass that can be fooled on a variety of lures!
Although many anglers may just choose to fish Jordan lake's headwaters and cover-filled banks for more easier to locate fish, always keep in mind to have schoolie lures like jerk baits, swim baits, crank baits, lipless lures and various types of topwater lures rigged and ready! For some very unexpected and explosive action during these early winter feeding frenzies on Jordan Lake…always good throughout the month of December!
Or you can always call on Reeds Guide Service…first! "Jordan Lake and all of Alabama's oldest, professional – bass fishing only – guide service for over 40 years."
* REEDS GUIDE SERVICE
Only one professional, Alabama fishing guide service can claim to be "Alabama's oldest professional fishing guide service." Guiding on Jordan Lake for over 40 years. Reed Montgomery, owner of Reeds Guide Service based out of Birmingham, Alabama has taken anglers from all over the globe to fish Alabama's many lakes, offering bass fishing state wide, year round. Targeting largemouth bass, spotted bass, small mouth bass and striped bass. (See: the pictures link on my website www.fishingalabama.com).
Same rates for either one or two anglers with discount rates available on two day trips, to any Alabama lake. We welcome (with several qualified guides and insured boats), corporate guided trips, family outing fishing trips, parent and child learning trips, lake residents, both the tournament angler and the novice angler. All are welcome!
Call today (205) 663-1504 or E-mail me [email protected] for more info. Or see my website www.fishingalabama.com for my guide service info, seasonal fishing tips and lake reports for all of Alabama's lakes, fishing articles, fishing links, pictures and more!
GUIDED FISHING TRIPS FOR ANGLERS FOR CHRISTMAS!
* KEEP IN MIND CHRISTMAS IS NOT FAR AWAY! A GUIDED FISHING TRIP WITH REED MONTGOMERY OF REEDS GUIDE SERVICE FOR, "THAT LOVED ONE THAT LOVES TO FISH" MAKES A GREAT GIFT FOR CHRISTMAS! E-MAIL OR CALL TODAY (205) 663-1504 TO RESERVE YOUR CHRISTMAS GIFT CERTIFICATE !
* WBRC FOX 6 T V "GOOD DAY ALABAMA" – Call in with your fishing questions (205) 741-7474 as Reed Montgomery answers with his, "Ask the Angler" question and answer session. Reed Montgomery (an Alabama native) is on this very popular morning T V show the last Tuesday of each month. Reed is on just after 8 a.m. Central time.
Reed has been on "Good Day Alabama" for over 6 years on Birmingham's WBRC Fox 6 Television (seen state wide). Mark your calendar and make plans to tune in to "Good Day Alabama" morning show! Reed's next live appearance will be on Tuesday morning just after 8 a.m. on December 27 of 2011!
* NEW! ARE YOU LOOKING FOR THE SOUTH'S BEST BARGAINS? – Check out www.bargainssouth.com A great discount website to find anything at a great low price! Order online! Christmas is not far away! Find those hard-to-find (and often very cute) gifts, for those hard-to-shop-for loved ones in your life..all at the best prices in the south! Check back often for new added items! We are working on new categories! Including. Fishing items, that will be added soon…
* HUNTING AND FISHING – Check out www.marksoutsdoors.com for all your fishing and hunting needs! Great gifts for Christmas, now on sale!
* NEW AND USED BOATS – See www.airportmarine.com for new and used boats, end-of-year boat clearance sales, great parts department and expert mechanic work!
* BASS TOURNAMENTS – See www.airportmarinetrails.com Fall/Winter buddy trail now going on!
* FISHING TIPS, LAKE REPORTS, FISHING ARTICLES, BASS GUIDE SERVICE INFO AND MORE! – See www.bamabass.com
* WORLD'S BEST BASS BOAT – See www.rangerboats.com
* COMING SOON! – THE BIRMINGHAM BOAT SHOW! – See their website www.birminghamboatshow.com for more info on this huge, annual Birmingham Boat and Sport show, held in Birmingham each winter season for over 40 years! Scheduled for January 19-22 Thursday – Sunday of 2012!
* REED MONTGOMERY'S TENTH ANNUAL (FREE!) 2012 KIDS FISHING SHOW! – To be held on Saturday, January 21, 2012 at 2 p.m. at the 2012 Birmingham Boat Show! (SEE THEIR WEBSITE FOR MORE INFO.) * Donations are welcome and donators are promoted on stage by either you, a representative of the donating company, or promoted by Reed Montgomery!
REED'S 2012 KIDS FISHING SHOW DONATIONS – WE NEED YOUR HELP!
Come help us make this the best kids fishing show to date! Donations of anything shirts, hats, decals, stickers, pens, pencils, fishing lures, line, rods, reels, tackle boxes. Anything! In January of 2011 we had over 500 kids and their parents attend this very popular kids fishing show! Bring yours…its all free and lots of nice donated prizes!
* Call (205) 663-1504 or e-mail me [email protected] with your donations!
I will commit to giving a good "promotional plug" for all donators during the 2012 Kids Fishing Show!
Thanks and Good Fishin'!
Reed Montgomery / Outdoor Writer
Owner / Reeds Guide Service
Alabaster, Alabama (205) 663-1504
E-mail: [email protected]
Website: www.fishingalabama.com
" Over 40 Years Guiding, Fishing and Exploring Every Lake in Alabama For Largemouth Bass, Smallmouth Bass, Spotted Bass and Striped Bass "
Always Call on Reeds Guide Service…first!
Alabama's Oldest Professional, Freshwater Fishing Guide Service!