Fishin' Tip Friday – Shaw Grigsby on the Swimming Worm
By Vance McCullough
"One of my favorite lures to have any time, any place is a plastic worm," declares Shaw Grigsby, member of the Bass Fishing Hall of Fame.
"You can rig it weedless. It comes through all types of cover. You catch them everywhere with a worm," continues the host of the 'One More Cast with Shaw Grigsby' TV show, brandishing a Strike King Mag Cut R Worm that features a beefy body and a sickle-shaped 'cut' tail.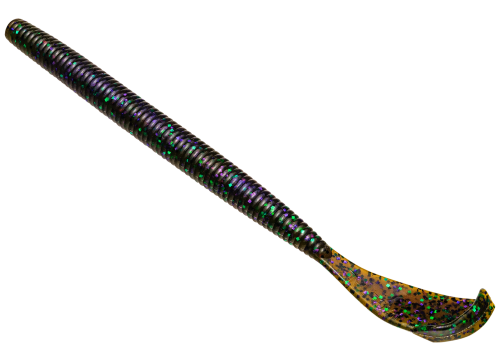 "That tail is going to paddle and wiggle. It's got a lot of kick and that makes it good for a swimming worm technique, similar to a swimming jig."
His rig is simple. "I put a little 1/16 ounce, or 1/8 ounce tungsten sinker in front, put it on 17-to-20lb fluorocarbon or maybe 30lb or 40lb braid, put a big ole TK120 hook in there (made by Trokar)."
As for the technique, "You're just going to throw it, and the cool thing about a plastic worm is you can let it sit and guess what – they eat it! You can put it on the bottom and guess what – they eat it. But where it really works with that light weights is you just swim it. Keep your rod tip at about 10 o'clock so that when one eats it you can drop your rod, reel the slack and then hammer them!
"That's the trick with a swimming worm – don't just pull into them immediately. Drop your rod, hammer them hard and you've got them!"