Bryan Thrift Wins the 2019 FLW Cup!!!!!!
Vance McCullough
"Electronics played a huge role this week," said Bryan Thrift. Make that 'Your 2019 FLW Cup Champion Bryan Thrift'.
Thrift dominated the standings each day and won by 5 pounds, 1 ounce. His total weight was 38-7. He caught 10-13 on during the final roundwhen nobody else posted a double-digit limit. Thrift's nearest competitor was Kyle Walters.
"My Huminbird 360 is worth its weight in gold," declared the new champ.
Given the price of gold, the weight of the 360 unit and Thrift's $300,000 payday, the 360 actually returned much more value than its own weight in the precious metal.
"I fish offshore the same way I fish the bank," said Thrift, minutes before taking the stage for the final weigh in. "That 360 makes it easy. It makes offshore fishing like fishing the bank. I can see every little thing down there. I can see how the points run out. I can see where the brush is. I've forgotten how to fish without it."
In a tournament where the lake's innumerable brush piles produced the top weights throughout the week, modern graphs allowed anglers to see what's below without having to idle over it as they would have the last time the Cup was held on Lake Hamilton back in 2005.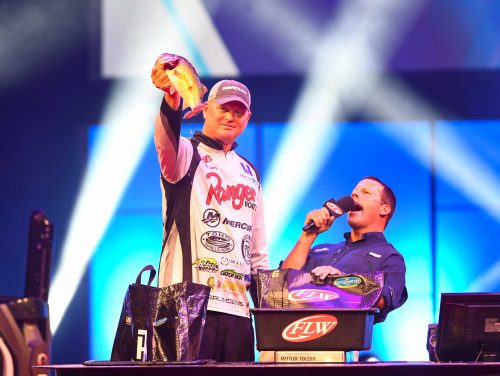 Kyle Walters emphasized the importance of this stealthy approach. "I would not have caught a fish without my Garmin. I found more piles during the tournament with that. I'd be going to the next spot, scan out 100 feet and go 'oh, there's another one'. That Live Scope was unbelievable. You had to have that, or you'd have to idle over them, throw out a buoy and mess up the pile."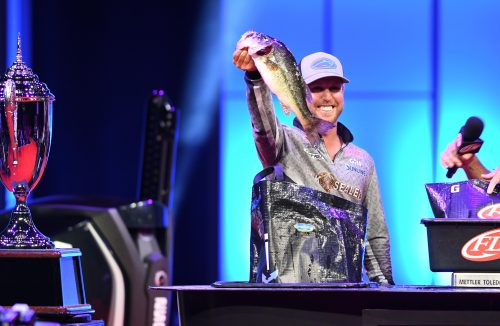 Dakota Ebare placed 3rd with 32-2. He and Scott Martin (5th with 31-2) split up the fish that the Ouachita River had to offer on the final day. They had a lot more company the first 2 days.
Sandwiched between Ebare and Martin was Jeremy Lawyer who placed 4th with 31-6.
The lake's lower end offered enough targets, and fish, to go around. And Thrift went around. And around. He covered water quickly with a ton of casts and almost as many different lures. "I think I caught 'em on, like, 15 different baits. I caught some on a buzzbait, some on a walking bait, some on a Damiki Underspin with a Damiki 4-inch Armor Shad, a drop shot, a Damiki squarebill, some on some deep-diving crankbaits. I caught some on big worms, Texas-rigged. Caught some on a frog."
Thrift said his signature series Fitzgerald Rods were critical to his success. "I never lost a fish all week. I wouldn't do a line of rods with anybody other than Fitzgerald because they are the best."
He left the dock with a pound-and-a-half lead but a key decision to leave his best brush piles early this morning set Thrift apart from all other competitors. He found fish schooling on top along a riprap causeway. He caught a limit and began to cull with the topwater walking bait. More than a few carloads of people pulled to the side of the highway to watch the show.
Walters pushed hard. His lure selection was narrower than Thrift's. "I was throwing a 10-inch worm on brush piles, and using a deep-diving Spro Little John DD. Every once in a while, I mixed-in a drop shot but today was the only day I weighed one on a drop shot. They were so hard to catch today that I had to use the drop shot. I gave everything; left nothing out there," said Walters with the smile of a man satisfied with his effort.