Blue Mountain College Freshmen Come from Outside the Top 10 to Best Talented Field
The more time an angler spends on the water, the more knowledge they gain, and in turn the greater chances one has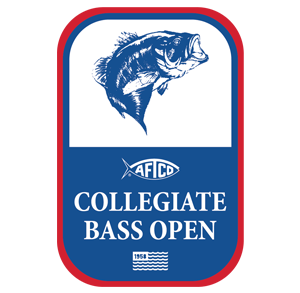 for success.  That is the common model used for anglers to be successful at any level.  At Lake Dardanelle this week, freshmen anglers dominated the field.  The AFTCO Collegiate Bass Open saw two teams of freshmen finish 1st and 2nd once the scales closed Saturday afternoon.
Finishing in the top spot is the all freshmen pairing of Rudy Worley and John David Nowlin.  Representing Blue Mountain College, the young anglers weighed in 15.12 lbs on day two to amass a total weight of 27.62 lbs. Entering this event as the 52nd ranked school in the Cabela's School of the Year presented by Abu Garcia, Worley and Nowlin had lofty expectations for their first ever college tournament.  "We wanted to do good.  Mainly our goal was top 20," said Worley.  They managed to exceed expectations by topping a field of nearly 200 boats.  The field this week at Lake Dardanelle was comprised of close to 400 of the best talent in the country.  Both of the Blue Mountain College freshmen realize the significance of this major victory.  "It's incredible, especially since it's my first.  Since we just started our team, it's big for our team and our school," added Nowlin.
The pair spent the past two days on Lake Dardanelle targeting shad.  Using a one-two punch of several specific baits, Worley and Nowlin loaded the boat with fish.  "We caught most of our fish on a rattle trap, but a lot of our bigger fish came off of a spook," noted Worley.  Around 12:30 PM a strong storm system settled over the Russellville area.  Heavy rain pelted the anglers and air temperatures dropped ever so slightly.  This sudden change in conditions had an instant impact on the bite.  "I would say it helped.  Water temp dropping a little bit more, getting them fish fired up.  For the way we fished, yes it helped I would say a lot," said Nowlin.  With the change in the weather, both Blue Mountain College freshmen capitalized on their opportunity to land the winning fish.
Weights at the top of the leaderboard were extremely close.  The top three teams were separated by only 0.28 lbs.  Finishing just 0.13 lbs behind first were Eric Lampkin and Garrett Warren from Snead State Community College.  They flipped heavy mats to total 27.49 lbs of bass.  "We're flipping a flipping stick obviously, 65 lb test braid.  We rotate a little bit between a 1 &1/4 oz weight and a 1 & 1/2 oz weight.  Flipping a beaver style bait or a craw.  Just flip it in there, they'll hit it as soon as it comes through the mat," said Lampkin.  Flipping matted grass was not a common pattern we heard on Lake Dardanelle this week, so it is likely this duo was fishing for less pressured fish.  Given that roughly 200 boats competed in this tournament, low pressured areas were very key.
By having a pattern dialed in, Snead State Community College, currently ranked 130th, was around the fish all week.  When the foul weather blew in, they too were near the fish when they decided to bite.  "Today it was a tough morning. Real slow morning, only had two fish at 11 o'clock.  Right before that front blew in we just started catching them.  Caught a four pounder, and that really changed the momentum for us," said Lampkin.  Like the 1st place team in front of them, Lampkin and Warren are both freshmen.  Being new to the college fishing scene they traveled to Lake Dardanelle both excited and confident.  "We were really looking forward to it.  We thought we had just as good as odds as anybody else.  We work just as hard.  We fish just as much, and we put in our time," explained Warren.  It's easy to get dejected when you come so close to winning but come up just short in the end.  Warren went on to state that they don't plan on letting this one loss effect the rest of their season, "It's going to happen eventually. We'll get a win here in the next couple."
Representing East Texas Baptist University, Chad Poulsen and Dustin Pearcy claimed 3rd place.  The duo weighed in 14.85 lbs of Lake Dardanelle bass on this rainy Saturday.  Combined with yesterday's weight, the Texas based anglers tallied 27.34 lbs for two days.  Bites came early and often for Poulsen and Pearcy today.  "We started out throwing reaction baits.  It was on a shad kind of deal.  We had our limit by about 8:30," explained Poulsen.  Once they managed a decent limit, the gameplan was to move towards the bank and target shallow wood with jigs.  This proved to be a critical decision.  "Once we just started hitting those laydowns, I mean, we knocked out I want to say a 4.5 yesterday, and a 3.5 today," said Pearcy. Finding ways to catch four plus pound fish was an instant path to success this week.  Numerous limits of 10 pounds came to the scales.  Catching one difference maker proved to be enough to separate a team from the rest of the pack.
Lake Dardanelle provided a true challenge the past two days.  Leading up to this event many anglers warned of the potential for these fish to be there one day and gone the next.  One look at the leaderboard shows this to be true for this tournament.  All three of the top teams from day one dropped out of the top 10.  In turn, each of the final top three moved up from 14th, 9th, and 15th respectively.  Combined with the flip flop in the leaderboard, the teams were also separated by a narrow margin.  This made for quite a suspenseful weigh-in today.
For a look at the complete results, click HERE.
This has been a great week in Russellville, AR at Lake Dardanelle.  A great turnout of close to 400 anglers helped to make the first fall event in the history of the Cabela's Collegiate Bass Fishing Series a great success.  Throughout the next week we will take a closer look at the AFTCO Collegiate Bass Open, as well as break down the impact of this event on the Cabela's School of the Year Presented by Abu Garcia. Continue to stay up to date with the latest in college bass fishing by following our various social media channels.
For more information about the Cabela's Collegiate Bass Fishing Series, please visit www.CollegiateBassChampionship.com.