It's hard to look at Stetson Blaylock as a 'rookie' but on the 2017 Bassmaster Elite Series that is what he will be.
After 8 successful seasons on the FLW Tour Blaylock joins the Elite Series which will conclude on his 30th birthday this August with a tourney on Lake St Clair. Perhaps he'll celebrate with his wife, Lindsey and their two young children who accompany him on tour.
That family support has been a huge boost, says Blaylock. "Both of my parents have been real supportive, they taught 'keep your faith, live the best life you can'. My dad, he didn't fish a whole lot, he did fish some, but it was more like 'do what you want to do, make sure you enjoy what you're doing and if you want to fish then I'm going to support you 100%' – and that goes for both of my parents."
The support is multi-generational, "It's been the whole family. I'm very fortunate to still have a set of grandparents, my wife still has a set of grandparents, all of our family lives close to us and it's a joy and a pleasure to get to enjoy everybody when we're home and have the support when we're on the road."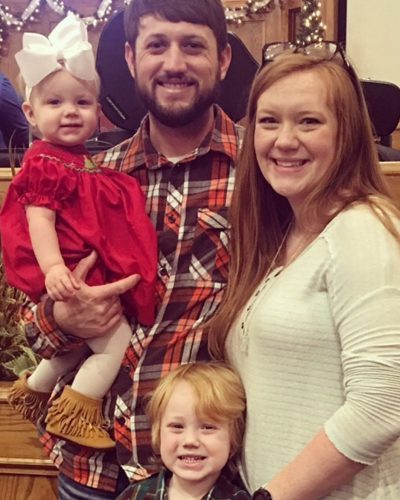 Among his family members who do fish, Blaylock mentions his uncle, Anthony, as a driving force who introduced him to the sport. "It helps to have somebody who is, not only supportive, but who knows the ropes. You have to have family that supports you even if they don't know how or what you're doing and why you're doing it but when you have those family members that actually have done it and been successful and know what it takes to make it, then that helps that much more."
Blaylock of Benton, Arkansas counts Lake Ouachita as his home water. It has been a great teacher for the versatile young pro. "Here in Central Arkansas you can do anything you want. There are rivers, highland impoundments, grass lakes, there are all kinds of lakes to fish and the fishing's tough – there are times when it's great but it's a place that, when you can learn how to catch them in Arkansas, you can do pretty good all over the country."
Blaylock qualified for the Elites through the Bassmaster Southern Opens where he finished 2nd after missing the mark in 3 previous tries on that very competitive trail.
While Blaylock once listed deep cranking as his biggest weakness, today he would say that fishing Florida's grass-filled lakes is his sore spot. "You just go forever and ever trying to find them," he says of lakes such as Okeechobee, where the Elite Series will take him this year. He has spent time on Okeechobee with the FLW Tour as it has typically started off on that fishery each season. Maybe he'll do well when the Elite Series visits the Big O.
But he will certainly be looking forward to the stop on Arkansas's Lake Dardanelle. "I only live about 2 hours from it, and that's not really the reason it will be my favorite. I just like the style of fishing that it offers and I'll have a lot of family that normally won't be able to be at these events that will get to go up there to watch. I'll have lots of friends. It's just going to be surreal to get to fish at the top of the food chain in my home state in front of a lot of people. It's going to be fun to see all of the familiar faces in the crowd and get to compete against the best in the world and try to make something of it."
The crowd will boost his spirits at Dardanelle. His equipment will boost his confidence everywhere. "Making the Elites, I felt like running a Toyota Tundra was the best decision because they're such a huge supporter of B.A.S.S. and the anglers that fish B.A.S.S. I want to show off what they have to offer.
"Dick Cepek wheels and tires is one of my partners for the year. They make a great product, wheels and tires and they look good. Crossed Industries takes care of the angler and offers discounts on products for the angler to make it a little bit more affordable where we can be able to fix our stuff up."
Speaking of fixing stuff up, Blaylock outfitted his Legend V20 boat with premium goodies. "Got that Mercury 250 Pro XS on the back. Power-Poles, my Garmin electronics . . . I feel like, when I'm out there on the water that I have the best equipment in the business. I know everybody is going to say that but it's all between your ears and when you're confident in what you have and what you're working with, there's nothing that can take that away.
"Confidence is 90% of this game."
Blaylock has the confidence. He also has respect for his peers. "I've had the opportunity to compete against a bunch of those guys, including (Kevin) VanDam, more than once and their positivity and their drive and their attitude toward the sport and just the way they work so hard, it makes you better. It makes you explore your weaknesses and want to get better at them and it makes you want to utilize what you're good at and prove to the world that you're one of the best at what you're doing."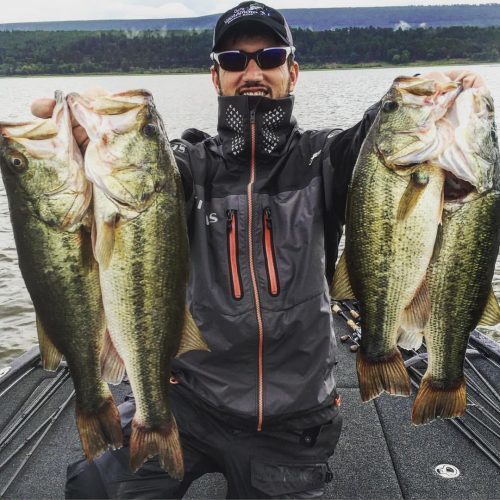 As for accomplishments past, Blaylock won an FLW Major in 2009. It came with a $200,000 pay day for the then-21-year-old. "When I won that event I was so young and it was so early in my career that I honestly didn't even know what I had done. It didn't sink in until a couple of years later that 'hey, I won a tournament on my first year out on the pro circuit'. It's hard to do. I've been doing it 8 or 9 years now and that's the only win that I've had on the pro tour. I really didn't know what I had done. It's a huge accomplishment and one that I would love to do again.
"Winning that tournament was a highlight of my career but one thing a lot of people don't think about with me is that my wife has gotten to come with me to about 80% of the tournaments that I've competed in since I started. Just having the family support there on the road and not having to leave them there at the house, that's a huge accomplishment. That's something that I really, really value and treasure in my career."
His biggest advantage going into the new trail? "I still see myself as a kid trying to make a living fishing. Not the guy that's almost 30 and been doing it 8 years and has qualified for the Elite Series. But my biggest advantage going into this is that time that I've spent fishing with so many different people, so many different quality anglers and fishing FLW for several years as pro and for 4 years as an amateur. I've learned so much."
About the upcoming challenges associated with the Elite Series, "If you compete this long (on the FLW Tour) then there's nothing that says you can't do it over there."