Bassmaster Host Davy Hite Joins The 13 Fishing Family
For Davy Hite, friends, family and fishing have always been in the same boat. Often, quite literally. So when a business merger married his Rapala friends into the 13 Fishing family, the Bassmaster TV co-host was excited to get welcomed aboard as well.
"It's just a great opportunity to take a company like Rapala, that's been a leader in our industry for many, many years and so successful, and combine them with 13 Fishing's young, enthusiastic, and very good product designers and engineers," says Hite, referencing a 2019 deal in which Rapala VMC purchased a minority stake in 13 Fishing's parent company. "I just know the future is going to be great for 13 Fishing. And I just hope I can make it even better."
A longtime star on Rapala's Pro Team – his career highlights include winning the 1999 Bassmaster Classic and 1997 and 2002 Bassmaster Angler of the Year titles – Hite is excited to "get in on the leading edge of the future of 13 Fishing." He will fish exclusively with, promote and help design 13 Fishing rods and reels, which Rapala now distributes outside the U.S. Hite's pro-team liaison at both Rapala and 13 Fishing is Dan Quinn, who wears marketing hats for both companies.
"I've had the pleasure of working with Davy for many years and know that he brings a lot to the table," Quinn says. "I mean, come on, he's literally a living legend! He brings a long list of accolades and with that comes a lot of experience, which will be invaluable in helping promotion and product development for 13 Fishing. We are beyond excited to welcome Davy to the 13 Fishing family, the future is very bright!"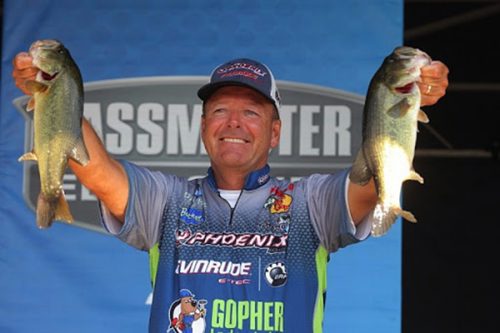 When It Comes To Hammers, He's A Sledge.
"Davy Hite is an established winner and welcome addition to the 13 Fishing stable," says 13 Fishing's marketing coordinator Reid Miller. "Like a champion thoroughbred, Hite has earned the respect of anglers far wide by proving he can lead the pack at the highest level of the sport. Davey has always been a stud, and he understands the importance of performance and reliability and with that he brings a wealth of experience to our team. We're excited to partner with him to deliver the finest equipment for fishing."
Hite's Bassmaster tournament highlights also include eight first-place finishes, 14 Classic appearances, and 45 Top 10 finishes. In 2017, he left behind competition to begin co-hosting Bassmaster's Elite Series LIVE webcasts and cable TV shows. That doesn't mean he quit fishing, however.
"I get asked a lot 'Are you still fishing?'" Hite says, laughing. "And honestly, I'm fishing as much or more as I was in all my years fishing Bassmaster."
These days, Hite enjoys fishing with one of his grown sons, Payton (the other, Parker, is an Army Captain deployed in Germany), some high school buddies "I've fished off and on with my whole life" and his brother-in-law Scott Martin, a South Carolina stick and one-time Classic competitor with whom he fished team tournaments early in his career.
Seeing 13 Fishing logos on stickers, hats and hoodies "all over the country the last few years" first caught Hite's attention. Glowing reviews from respected Bassmaster anglers then led him to try and like 13 Fishing rods and reels.
"The cool thing about my new job is all of these fishermen will share information with me now about new products, but when I was their competitor, they weren't so eager to do so," Hite says. "And that's part of how I learned about what a good company 13 Fishing is. I started talking to a few people who use their rods and reels and they all had great comments.
"I can talk with guys about products they're using, and they'll talk straight with me," Hite continues. "So if I get good reviews from them, it will spark my curiosity. So I went and played around with some 13 Fishing products and saw that for a young company they had a lot of really good stuff."
Hite praises 13 Fishing's product line for including quality rods and reels in both high-end and economical categories. "It's a well-rounded line-up, from mid-range to upper-range product," he says.