A well used hat, and an old big bass
Posted On August 11, 2017
---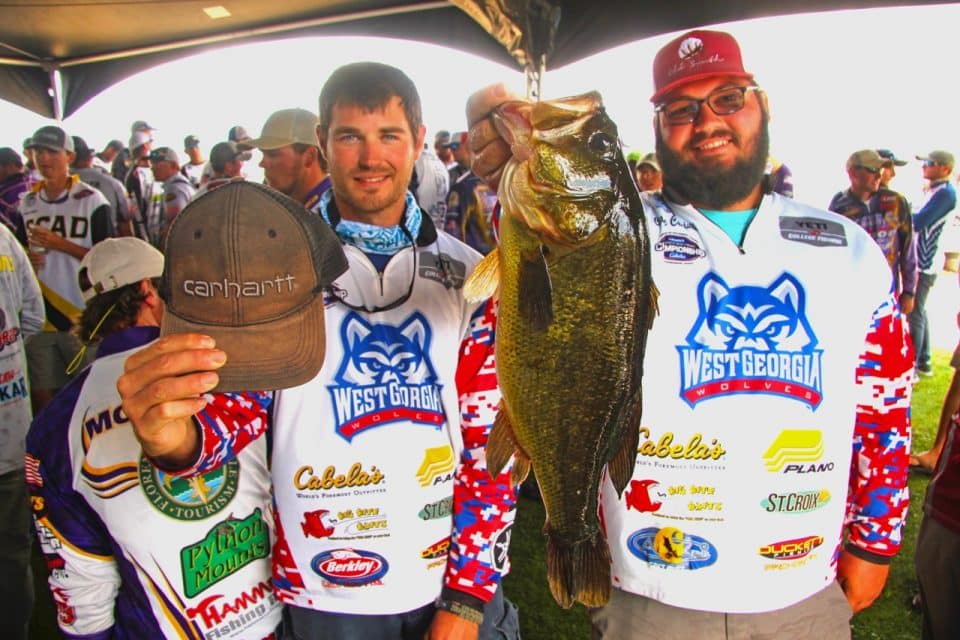 Story & Photo by Alan McGuckin / Dynamic Sponsorships
For a while Thursday at the Carhartt Bassmaster College Series Championship presented by Bass Pro Shops on Lake Bemidji, MN, it looked as though the 5 pound 14 ounce green beast West Georgia University's Chase Christie caught would win 'big bass of the day' honors.
However, eventually it was outpaced by 6 pound 6 ounce largemouth the team from Northwestern State University weighed-in.
Amazingly, it takes 12 to 14 years for a largemouth bass to grow to those proportions in Northern Minnesota according to B.A.S.S. Director of Conservation, Gene Gilliland. And a fast glance at the Carhartt hat Christie's partner Brandon Black was wearing appeared to be at least that old as well.
"I actually got this hat in early March at the Southern Conference Regional tournament on Winyah Bay, SC, and I've worn it to work and fishing nearly every day since," grinned Black, a senior geology major at West Georgia.
"That's one of the reasons I love fishing these tournaments – Carhartt's a big sponsor of college fishing, so we get to take advantage of the clothing and discounts they give us – which helps a ton in the landscape job I work hard at with my uncle," says Black.
"In the summer, I work for ResLawn Landscaping about 50 hours a week, and during the school year, I work for them about 10 hours a week. We do everything from lawn mowing, to burying drainage pipes, and setting fences, and I'm wearing Carhartt for all of it. That's why this hat is so sun-faded and worn-out," Black proudly explains.
His partner Chase Christie isn't afraid of hard work either. He may have wrangled the 5 pound 14 ounce beast today on 65-pound braided line Thursday, but during the summer, he's wrestling hot asphalt back at his Uncle John's business, Illinois Paving Company.
"I'm always wearing Carhartt because it's tough, it doesn't tear, and it holds up, no matter how hot or dirty the job is we're doing in the paving business," says Christie, a business management major at West Georgia.
These college anglers work hard in and out of the classroom, and they know how to catch big bass. Indeed, there's a lot to love and admire about the breed of young men building lifelong friendships and taking their shot at a berth to the 2018 Bassmaster Classic while in Bimidji this week.
---