Zaldain Working Towards a Win
Posted On February 7, 2020
---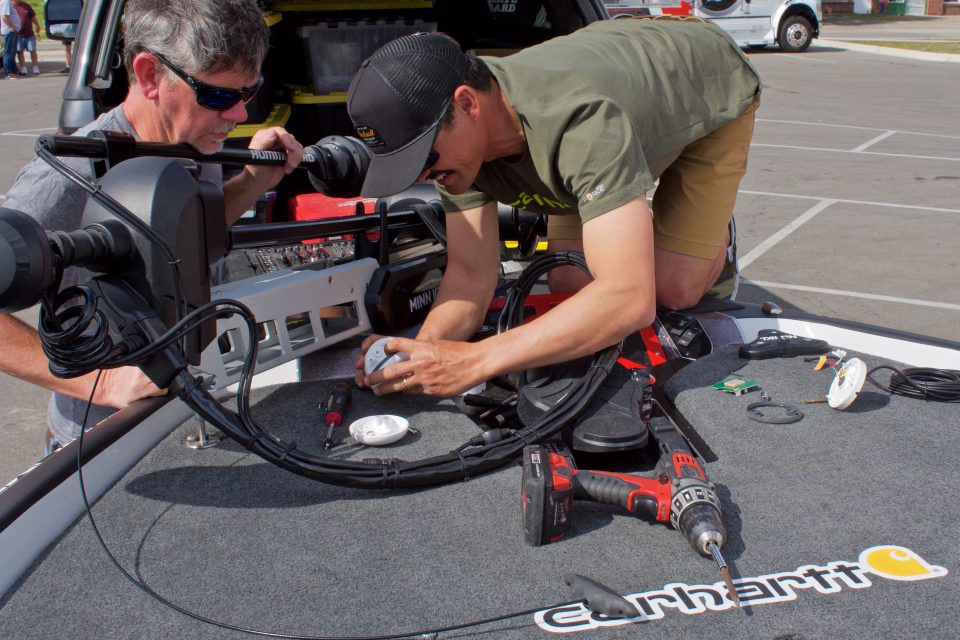 Courtesy of Luke Stoner – Dynamic Sponsorships
When day one of Bassmaster Elite Series competition on the St Johns River was called off this morning due to high and dangerous winds, most pro anglers took advantage of the "off-day" by resting. Some went fishing on non-tournament waters, others caught up on social media content, and plenty spent the day taking it easy. Not Chris Zaldain.
Around lunchtime I found last year's Angler of the Year runner-up rocking a Carhartt t-shirt and a power drill in the boat yard. Fine-tuning his Humminbird electronics with service crewmembers before heading home to meticulously work on tackle.
"After nine years as a professional angler, I know my way around a toolbox," Zaldain said with a laugh. "Equipment malfunctions are a reality of being a professional angler when you travel and push your equipment as much as we do. I've learned the best way to diagnose problems and give myself every possible minute of fishing time is to know my boat in and out; bow to stern."
After watching Zaldain tinker for a few minutes, it was obvious he wasn't embellishing. It turns out Zaldain has taken to rigging his own Skeeter Boat the past several years in order to be as knowledgeable as possible about his equipment. From his Yamaha Outboard to his Minn Kota trolling motor and every accessory in between, Zaldain is able to troubleshoot common issues so he can maximize his fishing time.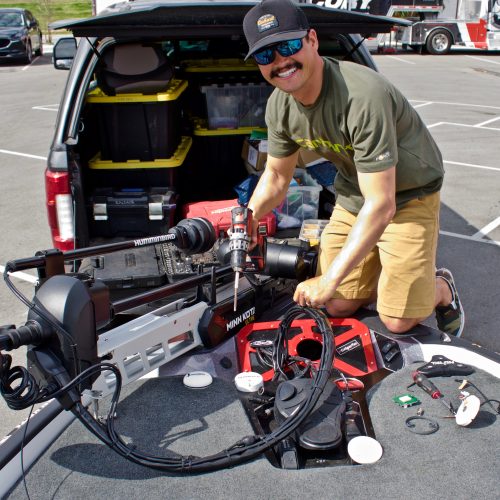 Paying attention to detail in all facets of fishing is partially what has helped Zaldain become the angler he is today. The California born pro who now resides in Texas had an absolutely red hot 2019 season. With three 2nd place Elite Series finishes, along with two more top 10s bookended by narrowly missing the Toyota Angler of the Year title.
But don't expect Zaldain to revel in his past accomplishments, the freshly signed Carhartt sponsored pro has his sights set looking forward.
"What happened in 2019 is old news," Zaldain explained. "Don't get me wrong, it was an awesome year and I am extremely grateful for it, but it is in the history books. Now I feel like I've got to work twice as hard to put myself in a similar position at the end of this season. I need to come out hungrier."
A harder working and hungrier Zaldain is a scary thought for his fellow Elite Series competitors. The trajectory of Zaldain's career the past few years has been nothing short of impressive and he shows no signs of slowing down.
"This year the goal is some hardware," Zaldain said. "I won't lie, coming in 2nd four different times last year stung. This year I want to collect some trophies! An Elite Series championship or the Angler of the Year title would be incredible, but the Classic trophy outweighs them all for me. I already can't wait for this year's 50th Bassmaster Classic in Alabama. It's going to be an awesome tournament."
Whether or not Zaldain hoists a trophy overhead throughout the season won't be due to a lack of effort. He works as hard as anyone both on and off the water, and maintains the right attitude while doing so. Tomorrow marks Zaldain's first day back on the job for the 2020 season and the first step toward his yearlong goal.
---