Courtesy of Alan McGuckin – Dynamic Sponsorships
After dropping 19-pounds of Lake Champlain smallmouth on the scales to sit in 3rd place after Day 2 at the Guaranteed Rate Bassmaster Elite, you'd never know that Chris Zaldain is fishing with a terrible ankle sprain.
Light rains in the area Wednesday night and early Thursday morning soaked boat carpets and called for anglers to dress in raingear and rubber boots on Day 1 of competition, and that made for soggy and slick conditions inside bass boats.
"I stepped down from the back deck after putting a fish in the livewell, and my foot landed right on a pair of wet pliers laying on the floor. And man, in those rubber boots that was like stepping on a greased railroad track," reflects Zaldain.
"I swear my ankle rolled to 90-degrees. My ride along Marshall said it looked horrific — he thought I broke it, it swelled immediately," he adds.
As far as he knows nothing is broken. But it's a darn good thing Zaldain's dad had the wisdom to send Chris and his siblings to Emergency Response Team school back in his hometown of San Jose, California, where he learned about CPR, and yes, taping sprained ankles.
"Thanks to Dad, I knew how to wrap a support bandage around it. And of course, I'm icing it a ton, and taking Ibuprofen," he says.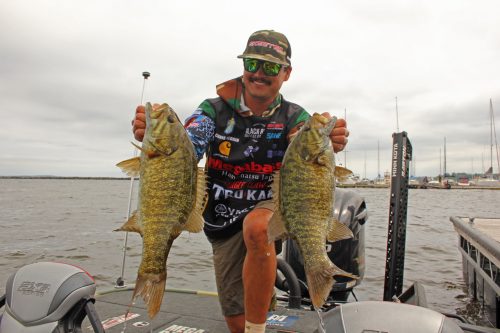 Ironically, Zaldain is staying in a rent home this week owned by a medical pathologist, trained to treat the cause and effect of disease and injuries.
So, between his own emergency medical knowledge, that of his renter, and the pain-killing adrenalin of catching fat limits of smallmouth on a flutter spoon, he'll march on in search of his first Elite Series victory battered …but far from beaten.