WILLIAMS EXTENDS LEAD TO NEAR SEVEN POUNDS AT FLW TOUR AT LEWIS SMITH LAKE PRESENTED BY T-H MARINE
---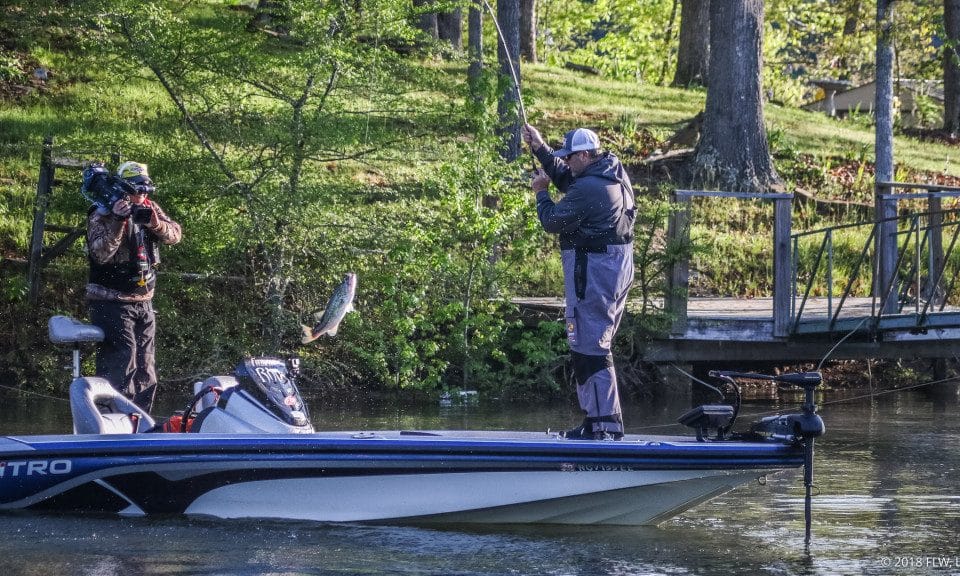 Courtesy of FLW Communications
JASPER, Ala. (April 28, 2018) – Pro David Williams of Maiden, North Carolina, weighed a five-bass limit totaling 16 pounds, 12 ounces, Saturday to continue his reign atop the leaderboard at the FLW Tour at Lewis Smith Lake presented by T-H Marine. Williams' three-day cumulative total of 50-12 gives him a commanding 6-pound, 10-ounce lead heading into the fourth and final day of competition when he will lead the final 10 pros on the water to compete for the top prize of up to $125,000.
Williams started his day by returning to his primary stretch of water and was able to catch the bulk of his weight by 9 a.m. By 10 a.m., he said he left the area alone.
"I got to the point where I was throwing back 2½ to 2¾ pounders and I'm like 'I'm wasting a lot of weight here and can't be doing this. I'll need these tomorrow'," said Williams, a former Bassmaster Elite Series pro who is fishing his sixth career FLW Tour event this week. "I wanted to stick around, but decided to move on."
Williams said he caught around 25 keepers today, noting that although he had less bites compared to the first two days of the event, the fish were heavier on average.
"I had a couple of big bites on a frog, but I lost them," said Williams. "There was one by the boat that was a 3-pounder, and one that wrapped me up in the cover that was probably a 5. Hopefully they'll still be there tomorrow and I can have another shot at them."
The North Carolina pro said he plans on making the same milk run he's made all week to finish out the tournament.
"It's a blast out there right now," said Williams. "I'm fishing exactly the way I love to fish."
The top 10 pros advancing to the final day of competition on Lewis Smith Lake are:
1st:          David Williams, Maiden, N.C., 15 bass, 50-12
2nd:         Jordan Osborne, Longview, Texas, 15 bass, 44-2
3rd:          Pennzoil Marine pro Matt Arey, Shelby, N.C., 15 bass, 43-15
4th:          Cody Meyer, Auburn, Calif., 15 bass, 43-12
5th:          John Cox, DeBary, Fla., 15 bass, 43-12
6th:          Jason Reyes, Huffman, Texas, 15 bass, 41-10
7th:          Yamamoto Baits pro Jimmy Reese, Witter Springs, Calif., 15 bass, 40-1
8th:          Matt Becker, Finleyville, Pa., 15 bass, 39-12
9th:          Todd Auten, Lake Wylie, S.C., 15 bass, 39-12
10th:        Clent Davis, Montevallo, Ala., 15 bass, 39-2
Finishing in 11th through 30th are:
11th:        Greg Bohannan, Bentonville, Ark., 15 bass, 38-6, $12,000
12th:        Andrew Upshaw, Tulsa, Okla., 15 bass, 38-6, $12,000
13th:        Joseph Webster, Winfield, Ala., 15 bass, 38-3, $12,000
14th:        Rex Huff, Corbin, Ky., 15 bass, 37-7, $12,000
15th:        Jim Moynagh, Carver, Minn., 15 bass, 37-4, $12,250
16th:        Robert Behrle, Hoover, Ala., 15 bass, 37-2, $12,000
17th:        J.T. Kenney, Palm Bay, Fla., 15 bass, 37-1, $12,000
18th:        Berkley pro Justin Atkins, Florence, Ala., 15 bass, 36-13, $12,000
19th:        Kyle Cortiana, Broken Arrow, Okla., 15 bass, 36-0, $12,000
20th:        Sheldon Collings, Grove, Okla., 15 bass, 36-0, $12,000
21st:        Cabela's pro Clark Wendlandt, Leander, Texas, 15 bass, 35-12, $10,000
22nd:       General Tire pro Mark Rose, West Memphis, Ark., 15 bass, 35-11, $10,000
23rd:        Blake Smith, Lakeland, Fla., 15 bass, 35-7, $10,500
24th:        Cody Hahner, Wausau, Wis., 15 bass, 35-1, $10,000
25th:        Billy McCaghren, Mayflower, Ark., 15 bass, 35-0, $10,000
26th:        Jeff Dobson, Bartlesville, Okla., 15 bass, 32-12, $10,250
27th:        Costa pro Russell  Cecil, Willis, Texas, 15 bass, 32-6, $10,000
28th:        Cabela's pro James Niggemeyer, Van, Texas, 15 bass, 31-13, $10,000
29th:        Jeff Gustafson, Keewatin, Ontario, Canada, 12 bass, 29-1, $10,000
30th:        Randy Haynes, Ripley, Miss., 10 bass, 24-14, $10,000
For a full list of results visit FLWFishing.com.
Overall there were 142 bass weighing 323 pounds, 13 ounces caught by 29 pros Saturday. The catch included 28 five-bass limits.
Joel Willert of Prior Lake, Minnesota, won the Co-angler Division and $20,100 Friday with a two-day total of 10 bass weighing 24 pounds, 4 ounces. After winning the Co-angler title at Lake Cumberland earlier this month, Willert became the fifth co-angler in FLW Tour history to win back-to-back events.
In FLW Tour competition, pros and co-anglers are randomly paired each day, with pros supplying the boat, controlling boat movement and competing against other pros. Co-anglers fish from the back deck against other co-anglers. The full field of anglers competed in the two-day opening round. Co-angler competition concluded following Friday's weigh-in, while the top 30 pros based on their two-day accumulated weight advanced to Saturday. Only the top 10 pros continue competition Sunday, with the winner determined by the heaviest accumulated weight from the four days of competition.
The total purse for the FLW Tour at Lewis Smith Lake presented by T-H Marine is more than $930,000. The event is hosted by the Chamber of Commerce of Walker County.
Throughout the season, anglers are also vying for valuable points in hopes of qualifying for the 2018 Forrest Wood Cup, the world championship of professional bass fishing. The 2018 Forrest Wood Cup will be on Lake Ouachita in Hot Springs, Arkansas, Aug. 10-12 and is hosted by the Arkansas Department of Parks and Tourism and Visit Hot Springs.
The final 10 anglers will take off at 6:30 a.m. CDT Sunday from the Smith Lake Dam Access, located at 7482 Smith Lake Dam Road in Jasper. Sunday's weigh-in will also be held at the Access, beginning at 4 p.m.
Prior to the weigh-in Sunday, FLW will host a free Family Fishing Expo at the Smith Lake Dam Access from noon to 4 p.m. The Expo is the perfect opportunity for fishing fans of all ages to meet their favorite anglers, enjoy interactive games, activities and giveaways provided by FLW sponsors, and learn more about the sport of fishing and other outdoor activities.
Television coverage of the FLW Tour at Lewis Smith Lake presented by T-H Marine will premiere in high-definition (HD) on NBC Sports Network (NBCSN) June 6 from Noon-1 p.m. EST. The Emmy-nominated "FLW" television show airs on NBCSN, the Pursuit Channel and the World Fishing Network and is broadcast to more than 564 million households worldwide.
For complete details and updated information visit FLWFishing.com. For regular updates, photos, tournament news and more, follow the sport's top anglers on the FLW Tour on FLW's social media outlets at Facebook, Twitter, Instagram, YouTube and Snapchat.
---