Unofficial Record Weight of 34.32 Lbs wins the CBC on Lake Wateree-Pictures and full results here!
What an amazing Tournament on Wateree Yesterday. What we believe has to be an unoffical record weight at Watereee with 34.42 LBs, take a look at the smiles on the faces of Gary Michaud and Doc McDanial after not only catching 5 hogs, but taking home $11,000 for the day!!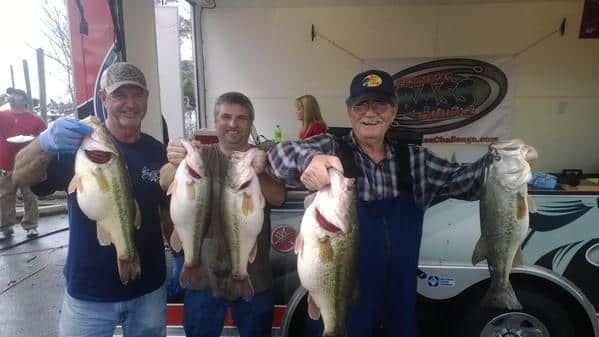 CBC Lake Wateree Champs with their 34.32 Lbs….ALL SMILES!
CBC Wateree Champs before their $11,000 Check!
1
Gary Michaud – Doc McDaniel
500027
CBC SC
128
5
5
34.32
9.93
34.32
1
34.32
$10,000
310
$1000 Big Fish
2
Donald Hinson – Jay Keith
500138
CBC SC
127
5
5
25.2
25.2
2
25.2

309
3
Beau Dixon – Andy Sease
500052
CBC SC
97
5
5
23.26
23.26
3
23.26
308
4
Daniel howell – Russell Anderson
500076
CBC SC
20
5
5
23.17
5.67
23.17
4
23.17
307
5
Chad Sinclair – Caleb Conner
500028
CBC SC
101
5
5
22.7
22.7
5
22.7
306
6
Patrick Tierney – Todd Auten
500108
CBC SC
124
5
5
22.69
22.69
6
22.69
305
7
Andy Wicker – Steve Wicker
500140
CBC SC
39
5
5
21.87
21.87
7
21.87
304
8
Shane Cantley – DJ Mcearchern
500125
CBC SC
94
5
5
21.44
21.44
8
21.44
303
9
Joey Outlaw – Ray Dowey
500139
CBC SC
30
5
5
21.37
7
21.37
9
21.37
302
10
Ronald Farrow – Roger Farrow
500002
CBC SC
143
5
5
21.21
21.21
10
21.21
301
10
Jerry Freezon – Jason Miles
500134
CBC SC
111
5
5
21.21
21.21
10
21.21
300
12
Alan Fletcher – Danny Johnson
500022
CBC SC
99
5
5
20.94
20.94
12
20.94
299
13
Jason Hadden – Norm Attaway
500068
CBC SC
142
5
5
20.87
20.87
13
20.87
298
14
Mark Healon – Tony Truett
500128
CBC SC
113
5
5
20.6
20.6
14
20.6
297
15
Ronnie McCoy – Jason McCoy
500123
CBC SC
82
5
5
20.38
7.02
20.38
15
20.38
296
16
Eddie Smith – Michael Carson
500001
CBC SC
132
5
5
20.25
20.25
16
20.25
295
17
Jeff Douglas – Bill Clowney
500129
CBC SC
34
5
5
20.13
4.91
20.13
17
20.13
294
18
Thomas Vickers – Brian Huskins
500017
CBC SC
15
5
5
19.67
19.67
18
19.67
293
19
Greg Atkinson – Ron Catoe
500132
CBC SC
137
5
5
19.49
19.49
19
19.49
292
20
Barry Holloman – Joey Bramlet
500045
CBC SC
32
5
5
19.37
19.37
20
19.37
291
21
Kenny Brice – Horace Morris
500102
CBC SC
119
5
5
19.34
19.34
21
19.34
290
22
Daniel Hill – James Bond
500075
CBC SC
80
5
5
19.33
19.33
22
19.33
289
23
Kevin Chandler – Terry James
500101
CBC SC
144
5
5
19.32
19.32
23
19.32
288
24
Wayne King – Max Terry
500008
CBC SC
27
5
5
19.05
19.05
24
19.05
287
25
Shane Lineberger – Anthony John
500116
CBC SC
88
5
5
18.81
18.81
25
18.81
286
26
Eric Grigg – Marc Grigg
500122
CBC SC
48
5
5
18.62
18.62
26
18.62
285
27
Gene Parker – Stanley Harkins
500113
CBC SC
14
4
4
18.6
6.19
18.6
27
18.6
284
28
Ken McFarland – Darryl Watson
500005
CBC SC
71
5
5
18.59
18.59
28
18.59
283
29
Mike King – Mike Traynum
500036
CBC SC
117
5
5
18.42
18.42
29
18.42
282
30
Mike Stephens – Hunter Hicks
500079
CBC SC
147
5
5
18.23
18.23
30
18.23
281
31
Kyle McElveen – Cleve Yarboroug
500010
CBC SC
81
4
4
17.62
17.62
31
17.62
280
32
Ronnie Mueller – Wayne Frierson
500100
CBC SC
58
5
5
17.59
17.59
32
17.59
279
33
Tony Jackson – Clint Jackson
500136
CBC SC
56
5
5
17.5
17.5
33
17.5
278
34
Thad Driggers – Robert Carter
500110
CBC SC
92
5
5
17.47
17.47
34
17.47
277
35
Josh McGregor – Randall Drigger
500080
CBC SC
109
5
5
16.96
16.96
35
16.96
276
36
Reggie OBrien – Pat O'Brien
500084
CBC SC
75
5
5
16.22
16.22
36
16.22
275
37
David F. Canupp – David L. Canu
500006
CBC SC
55
3
3
16.12
5.99
16.12
37
16.12
274
38
Ed Matthews – Earl Purcell
500020
CBC SC
140
4
4
16.09
16.09
38
16.09
273
39
Travis Parrish – Sean Hall
500058
CBC SC
69
5
5
16.06
16.06
39
16.06
272
40
Andy Owens –
500141
CBC SC
114
5
5
15.98
15.98
40
15.98
271
41
Roger Medlock – Todd Lawrence
500054
CBC SC
1
5
5
15.96
5.11
15.96
41
15.96
270
42
Ferris Jennings – Larry Michale
500004
CBC SC
10
5
5
15.95
6.22
15.95
42
15.95
269
43
Roger Pope – Michael Smith
500025
CBC SC
24
5
5
15.77
15.77
43
15.77
268
44
Larry Avins – Joe Avin
500051
CBC SC
108
5
5
15.69
15.69
44
15.69
267
44
John Sturkie – Calvin Hewitt
500063
CBC SC
148
5
5
15.69
15.69
44
15.69
266
46
Chris Boehme – Tom Hucks
500033
CBC SC
100
5
5
15.6
15.6
46
15.6
265
47
Nathan Burgess – Brent Riley
500057
CBC SC
138
5
5
15.59
15.59
47
15.59
264
48
Jim Wagers – Pete Sherbert
500146
CBC SC
134
4
4
15.54
15.54
48
15.54
263
49
David Williams – Gerald William
500072
CBC SC
98
5
5
15.51
15.51
49
15.51
262
50
John Paul George – Eric Weir
500130
CBC SC
54
5
5
15.41
15.41
50
15.41
261
51
Toby Keisler – Joel Watts
500135
CBC SC
95
4
4
15.29
15.29
51
15.29
260
52
Gene Webster – Mike Seawright
500106
CBC SC
51
5
5
15.23
15.23
52
15.23
259
53
Johnny Player – Robert Hall
500009
CBC SC
74
5
5
15.22
15.22
53
15.22
258
54
Pat Clark – Dillon Price
500131
CBC SC
5
3
3
15.21
5.81
15.21
54
15.21
257
55
Jimmy McFarland –
500096
CBC SC
60
4
4
15.2
5.89
15.2
55
15.2
256
56
Brian Hall – Doug Stallings
500062
CBC SC
123
4
4
15.2
15.2
56
15.2
255
57
Bobby Stanfill – Chip Grice
500115
CBC SC
35
4
4
15.01
15.01
57
15.01
254
58
Johnny Houser – Deron Donohoo
500069
CBC SC
122
5
5
14.95
14.95
58
14.95
253
59
David Kneece – Terry Thomas
500120
CBC SC
139
4
4
14.94
14.94
59
14.94
252
60
Rob Thames – Daniel O'Brien
500060
CBC SC
91
4
4
14.59
14.59
60
14.59
251
61
Mack Kitchens – Chad Gainey
500029
CBC SC
61
4
4
14.54
14.54
61
14.54
250
62
Randy Hall – David Wray
500065
CBC SC
129
4
4
14.53
14.53
62
14.53
249
63
Keith Gray – Shawn Gray
500055
CBC SC
4
5
5
14.52
14.52
63
14.52
248
64
Thomas Richmond – Artie Phillip
500037
CBC SC
93
4
4
13.86
13.86
64
13.86
247
65
Clark Gibbs – Freddie Gibbs
500064
CBC SC
23
4
4
13.63
13.63
65
13.63
246
66
Charlie Sansbury – Kevin Banks
500121
CBC SC
68
4
4
13.61
13.61
66
13.61
245
67
Jeff Reynolds – Lee Royson
500015
CBC SC
59
4
4
13.38
13.38
67
13.38
244
68
Lyn Langston – Daniel Jordan
500083
CBC SC
21
4
4
13.3
13.3
68
13.3
243
69
Tommy Williams – Thomas Hardwic
500097
CBC SC
18
4
4
13.02
6.31
13.02
69
13.02
242
70
Stan Gunter – Will Smith
500105
CBC SC
76
3
3
12.92
12.92
70
12.92
241
71
Ron Brown – Bobby Brown
500042
CBC SC
116
5
5
12.77
12.77
71
12.77
240
72
Andrew Boykin – Chris Anderson
500067
CBC SC
7
5
5
12.37
12.37
72
12.37
239
73
Tracy Hewitt – Pete Brantley
500094
CBC SC
145
3
3
12.18
12.18
73
12.18
238
74
Neil Huffstetler – Ben Lee
500050
CBC SC
38
4
4
11.71
11.71
74
11.71
237
75
Lee Sawyer – Cole Winn
500073
CBC SC
8
3
3
11.6
11.6
75
11.6
236
76
Wesley Cashwell – Shane Doughti
500114
CBC SC
87
4
4
11.45
11.45
76
11.45
235
77
Coy Watts – David Hutcherson
500021
CBC SC
25
2
2
10.78
6.49
10.78
77
10.78
234
78
Chris Wells – Mike Hatfield
500145
CBC SC
130
4
4
10.64
10.64
78
10.64
233
79
John Branstetter – Troy Buffing
500074
CBC SC
103
2
2
10.45
7.48
10.45
79
10.45
232
80
Johnny Johnson – Ron Carson
500091
CBC SC
73
2
2
9.9
9.9
80
9.9
231
81
Ryan West – Jeff Green
500030
CBC SC
6
4
4
9.42
9.42
81
9.42
230
82
William Blanton – David Blanton
500003
CBC SC
72
3
3
8.5
8.5
82
8.5
229
83
Philip Burns – Todd Burns
500032
CBC SC
79
2
2
8.46
6.8
8.46
83
8.46
228
84
Russ Padgett – Meredith Havird
500016
CBC SC
49
3
3
8.32
8.32
84
8.32
227
85
Austin Johnson – Andrew McClint
500071
CBC SC
104
2
2
8.05
8.05
85
8.05
226
86
Frederick Clements – Dusty Rhoa
500124
CBC SC
16
2
2
7.88
7.88
86
7.88
225
87
Todd Walters – Patrick Walters
500035
CBC SC
118
3
3
7.48
7.48
87
7.48
224
88
Mack Cook – Patrick Cook
500024
CBC SC
3
3
3
7.41
7.41
88
7.41
223
89
Michael Yochem – Charles Granth
500117
CBC SC
45
2
2
7.34
7.34
89
7.34
222
90
Maurice Freeze – Ricky Poplin
500142
CBC SC
22
3
3
7.33
7.33
90
7.33
221
91
John English – Victoria English
500053
CBC SC
17
2
2
7.26
7.26
91
7.26
220
92
Kevin Fulmer – Mark Richardson
500043
CBC SC
96
2
2
6.87
6.87
92
6.87
219
93
Glenn Altman – Larry Parker
500066
CBC SC
115
3
3
6.57
6.57
93
6.57
218
94
Rick McLean – Robert Ross
500014
CBC SC
28
2
2
6.25
6.25
94
6.25
217
95
Ryan Sprayberry – David Spraybe
500095
CBC SC
84
2
2
6.22
6.22
95
6.22
216
96
William Young – James Mizell
500034
CBC SC
106
2
2
5.45
5.45
96
5.45
215
96
Larry Moss – JB Wicker
500041
CBC SC
44
3
3
5.45
5.45
96
5.45
214
98
Chuck Howard – Ken Ellis
500086
CBC SC
62
2
2
4.96
4.96
98
4.96
213
99
Bradford Beavers – Dwight Beave
500077
CBC SC
65
2
2
4.39
4.39
99
4.39
212
100
Keith Porter – Jason Threatt
500040
CBC SC
63
1
1
4.31
4.31
4.31
100
4.31
211
101
Joseph Toth – Daniel Grassi
500126
CBC SC
37
1
1
3.93
3.93
3.93
101
3.93
210
102
Brad Petway – Keith Hawley
500104
CBC SC
105
1
1
3.31
3.31
3.31
102
3.31
209
103
Shane Suddeth – Fred Moore
500107
CBC SC
57
1
1
3.05
3.05
3.05
103
3.05
208
104
Kevin Rake – Terry Morris
500088
CBC SC
50
1
1
2.69
2.69
2.69
104
2.69
207
105
David Wiggins – Alex Zipperian
500092
CBC SC
70
1
1
1.61
1.61
1.61
105
1.61
206
106
Rodney Cromer –
500007
CBC SC
33
0
0
0
0
106
0
205
106
Jay Adams – Bobby Carroll
500011
CBC SC
47
0
0
0
0
106
0
205
106
David Few – Tracy Schiff
500012
CBC SC
31
0
0
0
0
106
0
205
106
Michael Murphy – Kevin Sanders
500013
CBC SC
52
0
0
0
0
106
0
205
106
John Gutierrez – Rodney Tapp
500018
CBC SC
110
0
0
0
0
106
0
205
106
Daniel Cook – Donnie Levister
500019
CBC SC
146
0
0
0
0
106
0
205
106
Bo Chappell –
500023
CBC SC
85
0
0
0
0
106
0
205
106
Darren Sigmon – Brian Huffman
500026
CBC SC
102
0
0
0
0
106
0
205
106
Glenn Gentry – Tommy Purvis
500031
CBC SC
13
0
0
0
0
106
0
205
106
Carl Williams – Eddie Williams
500038
CBC SC
135
0
0
0
0
106
0
205
106
Jim Sims – Casey Logan
500039
CBC SC
11
0
0
0
0
106
0
205
106
Derrick Compton – Dustin Compto
500044
CBC SC
42
0
0
0
0
106
0
205
106
Robert Guest – David Heatherly
500046
CBC SC
131
0
0
0
0
106
0
205
106
Thomas King – Clayton King
500047
CBC SC
41
0
0
0
0
106
0
205
106
Clay Lowder – Clayton Lowder
500048
CBC SC
141
0
0
0
0
106
0
205
106
Chris Dover – Chad Lail
500049
CBC SC
43
0
0
0
0
106
0
205
106
Randy Mathis – Jody Jones
500056
CBC SC
40
0
0
0
0
106
0
205
106
Robert Fowler – John Parker
500059
CBC SC
26
0
0
0
0
106
0
205
106
Bernie Dreher – Les Westbury
500061
CBC SC
107
0
0
0
0
106
0
205
106
Greg Rikard – Eddie Herlong
500070
CBC SC
9
0
0
0
0
106
0
205
106
Chris Langley – Greg Sigmon
500078
CBC SC
36
0
0
0
0
106
0
205
106
Brent Waynick – Rodney Jordan
500081
CBC SC
112
0
0
0
0
106
0
205
106
Dan Daugherty – Mark Inman
500082
CBC SC
133
0
0
0
0
106
0
205
106
Mark Swez – Lamar Williamson
500085
CBC SC
125
0
0
0
0
106
0
205
106
Todd Garner – Shane Hartman
500087
CBC SC
64
0
0
0
0
106
0
205
106
Amin Jaber – Brian Nichols
500089
CBC SC
89
0
0
0
0
106
0
205
106
Charles Keith – Chase Menasco
500090
CBC SC
66
0
0
0
0
106
0
205
106
Jeremy Johnson – Harry Johnson
500093
CBC SC
78
0
0
0
0
106
0
205
106
Tracy pope – Jeff Segee
500098
CBC SC
136
0
0
0
0
106
0
205
106
Johnathan Crossland – Phillip M
500099
CBC SC
12
0
0
0
0
106
0
205
106
Billy Martin – Brian Scruggs
500103
CBC SC
46
0
0
0
0
106
0
205
106
Mike Allman –
500109
CBC SC
67
0
0
0
0
106
0
205
106
Jimmy Stroud – Kirk Crump
500111
CBC SC
121
0
0
0
0
106
0
205
106
Jerry Montjoy – Brett Mitchell
500112
CBC SC
90
0
0
0
0
106
0
205
106
Perry Wycuff – Dan Lowe
500118
CBC SC
77
0
0
0
0
106
0
205
106
Joe Braxton – Robert Braxton
500119
CBC SC
83
0
0
0
0
106
0
205
106
Dane Odom – Ross Burns
500127
CBC SC
86
0
0
0
0
106
0
205
106
Miles Hair – Terry Tolar
500133
CBC SC
126
0
0
0
0
106
0
205
106
David Etheridge – Butch William
500137
CBC SC
2
0
0
0
0
106
0
205
106
David Love – Corey Love
500143
CBC SC
29
0
0
0
0
106
0
205
106
Carl Smith – Jonathan Dailey
500144
CBC SC
53
0
0
0
0
106
0
205
106
Craig Chambers – Kieth Ogden
500147
CBC SC
120
0
0
0
0
106
0
205
106
Shannon Jordan – Shawn Jordan
500148
CBC SC
19
0
0
0
0
106
0

205