Toyota expands support of Arey and Scroggins
Posted On February 25, 2020
---
Courtesy of Dynamic Sponsorships
Matt Arey, a North Carolina native, with $1 Million in prize winnings and a 2020 Bassmaster Classic qualification to his credit, had a fantastic inaugural year as part of the Toyota team in 2019. Scroggins' provided the same admirable level of sponsored athlete professionalism that he has displayed the past 14 seasons, as an original member of Toyota's professional bass angling team.
"Terry "Big Show" Scroggins is the ultimate team player," says Matt Ozawa, Engagement Marketing Manager, Toyota North America. "Not only is Terry one of the world's best bass anglers, but he's also exceptional in his constant willingness to help grow our brand with a perpetual smile and great attitude away from the water. He's a great ambassador and we're happy to have him on Team Toyota."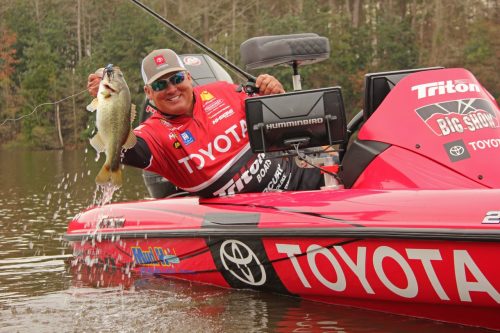 Fans who noticed Matt Arey rack-up a highly impressive six Top 20 tournament finishes during his first season as a Toyota pro last year on the Bassmaster Elite Series will notice a much larger logo presence for Toyota on his boat in 2020.
"I was absolutely honored that Toyota chose to sponsor me last year. The fact they want to increase their presence this season is really humbling to me," says Arey. "Toyota is an incredible company filled with super talented, yet very kind and respectful leadership. It means the world to my family and I to be welcomed as an official member of Team Toyota."
Arey and Scroggins represent two of the seven total anglers Toyota proudly supports in bass fishing, now entering its 15th season.
"We appreciate the relationships we've formed with the thousands of Toyota Bonus Bucks anglers who compete at all levels of tournament angling and faithfully choose to tow their boats with our vehicles," said Ozawa. "We look forward to an incredible year with Matt, Terry and the rest of our Team Toyota world-class anglers and wish everyone good luck out there on the water."
Toyota's support of Major League Fishing soundly showcases the Texas-based automotive manufacturer's heartfelt commitment to building reliable vehicles that help people enjoy an active outdoor lifestyle. However, the company's support of bass fishing is not limited to tournament organization sponsorship, but also includes the popular Toyota Bonus Bucks program, as well as their support of youth fishing.
As the official vehicle of MLF and FLW, Toyota will host interactive fan events at upcoming bass fishing tournaments throughout the 2020 season. From behind-the-scenes to live broadcasts, and angler interviews, tips and more, check out all the action at 2020 MLF Bass Pro Tour.  For more information on the league and anglers, visit MajorLeagueFishing.com and follow MLF on Twitter, Instagram and Facebook. For more information on FLW visit FLWFishing.com and follow on YouTube, Facebook, and Instagram.
---