Tiny Fastach Clip Offers HUGE Advantages
Vance McCullough
There's nothing dry about a kayak. And space is limited.
These are two of the drawbacks that make the sport of kayak fishing a great challenge, especially in cold weather.
A tiny piece of hardware answers both problems.
In winter, wet hands make it difficult to tie knots. Clips and snaps can be arduous to open and close with cold, shaky hands – and nearly impossible with gloves.
Yet, constant retying is common in kayaks where anglers can't spread 20 rods across the deck as they can in a big motorboat. That glass rod you crank with may be the same one you tie a jerkbait to when the bite slows down and you have to do so as well.
Also, many lures perform better with a clip or split ring than when tied directly to line.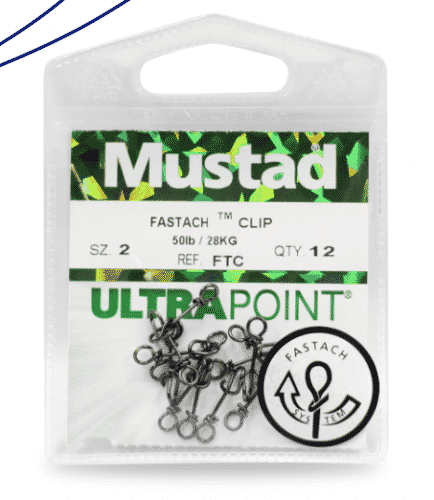 Enter the Mustad KVD Fastach Clip. A twist and a pull will remove a lure and then allow you to attach the next one as quickly.
Maybe even as quickly as Kevin VanDam.
A twist connection on one end lets you swap-out lures with the simple turn of the wrist. No retying needed. Made with the same quality as Mustad's premium hooks, the Mustad KVD Fastach Clip provides a secure connection. The increased efficiency means more time spent fishing.
This will also allow you to cut down the number of rods you need to cram into your kayak while greatly expanding your lure choices because, let's face it, no matter how many plugs you stuff into a box, if it takes too long to change one for another, you won't do it.
The Fastach Clip broadens your options.
Again, it is easy to use with cold or wet hands. Traditional clips are too small and stiff for my fingers, so I just retie – something I've become good at. I can't, however retie as fast as I can twist and pull. Cold weather lure changes are nothing to dread now. I can dial-in the best lure choice much more quickly.
That's important when winter fish are being finicky.
The Mustad KVD Fastach Clip is offered in 4 sizes and comes packaged by the dozen for about three bucks a pack.