Tim Penhollow & KC Choosakul Win Cashion Rods Team Trail Championship on Falls Lake

Out of the 34 teams that qualified, 32 showed up to try and win the Cashion FishingRods 'End of Year' Team
Tournament Bass Fishing Trail Championship at Falls Lake. The weather was great! The winds were light to 8
mph, the air temps ranged from 44 to 72 and the water level was about 254′ . Surface water temps averaged 64
degrees! It was absolutely a beautiful day and the water was in the bushes which our anglers love!! All except 2
teams weighed fish and afterwards were treated to Decky's famous BBQ sandwiches and drinks!! It's been a
great year for Piedmont Bass Classics and we look forward to 2017. Thanks to all our anglers and sponsors.
Without you it wouldn't work!!!

The team of Tim Penhollow & KC Choosakul took the Championship Title with 5 bass weighing 24.21 lbs. along
with winning the 1st Place TWT, 2nd Place Big Fish (7.34 lbs.) and 2 Professional Cashion Fishing Rods and
took home a total of $3,166 in cash and prizes!
1st Place Team
Penhollow on left and Choosakul on right.
The 2nd Place team of Jason Kopp & Daniel Jenkins checked in 5 bass weighing 17.38 lbs. to take home a total
of $920. The 3rd Place Team Keith Deal & Ricky Kenworthy netted 5 bass weighing 16.95 lbs. and along with
2nd Place TWT won a total of $777. 
The 4th place team of Tim Emory & Randy Fisher weighed in 5 bass at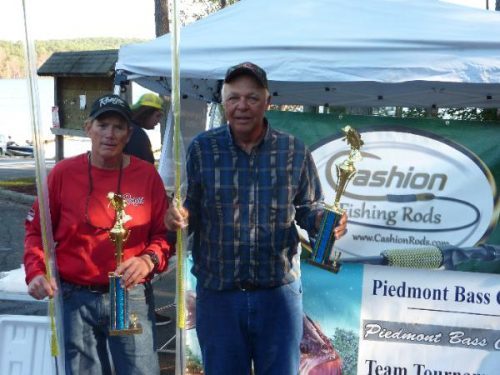 15.89 lbs and along with winning the 1st place Big Fish (8.84 lbs.), the 'End of Year' Points Championship and 2
Professional Cashion Rods, walked away with $2,239 in cash & prizes!! Tim dedicated his win to his former EOY
partner, Clay 'Newley' Livingston that passed away August 11th this year.
Emory on left & Fisher on right.

113 bass were brought to the scales for a total of 290 pounds averaging 2.56 lbs. each. Most were caught on
Senkos, Carolina worm rigs, spinnerbaits & jig combos in mostly water in the bushes.
I want to thank Cashion Fishing Rods and all the anglers that participated. Our next tournament will be the 2017
Cashion Fishing Rods Spring Team Tournament Bass Fishing Trail Qualifier #1, Saturday February 25th at
Shearon Harris out of Cross Point Wildlife Ramp. All the information on our tournaments can be found  
http://piedmontbassclassics.com/
Now here are the full results:
1st Place: KC Choosakul & Tim Penhollow of Sanford & Mebane…5 bass…24.21 lbs…$1,970
2nd Place: Jason Kopp & Daniel Jenkins of Greensboro & Burlington…5 bass…17.38lbs…$920
3rd Place: Keith Deal & Ricky Kenworthy of Holly Springs & Cary…5 bass…16.95lbs…$537
4th Place: Tim Emory & Randy Fisher of Creedmoor & Hillsborough…5 bass…15.89 lbs…$385
5th Place: William Small & Lee Williams of Wake Forest & Durham…5 bass…15.21lbs…$282
6th Place: Jeremy Martin & Charley Vaughan of Rougemont…5 bass…14.16 lbs…$231
7th Place: Todd Massey & Tim Parker of Chapel Hill & New Hill…5 bass…12.41lbs…$205
1st Place Big Fish: 4th Place Team above…8.84 lbs…$434
2nd Place Big Fish: 1st Place Team above…7.34 lbs…$186
1st Place TWT: 1st Place Team above: 24.21 lbs…$560
2nd Place TWT: 3rd Place Team above: 16.95 lbs…$240
Let us help grow your business!
If you would like to sponsor or help sponsor any of our tournaments give me a call.
Contact Information:
Phil McCarson…Tournament Director—922 Valetta Rd.—Durham, NC   27712
Home: 919-471-1571     Cell: 919-971-5042
email: [email protected]            website:http://piedmontbassclassics.com/