Throwback Thursday – The Advent of the Football Head
By Terry Battisti – Bass Fishing Archives
Along around the 2000 timeframe, I was reading an article in In-Fisherman regarding a "new style" leadhead called the Rocker Head. As I read about how this jig would rock-and-roll over rocky structures and fall straight to the bottom quickly, I thought of a jig that I'd grown up fishing and had all these same attributes.  A few paragraphs into the article, I came to realize that the jig they were describing was indeed the jig that had been invented in the mid-60s in southern California – the football head.
I'd always assumed that the football head was invented by a close friend of mine, Rip Nunnery, who owned Bandit Bass Tackle. It wasn't until I started this website and began talking to the old timers of southern California fishing lore that I found out who actually came up with the head.  Recently I was talking with one of southern California's early bass heroes, Pete Gardner, and we got on the subject of early jig fishing. Talk eventually led to the football head and that's when he told me of Larry McCain – the person who developed the football head.
Pete gave me Larry's contact information and I quickly called to talk with him. What transpired out of our conversation was a definite learning experience for me and I hope you enjoy reading this bit of bass fishing history.
McCain's History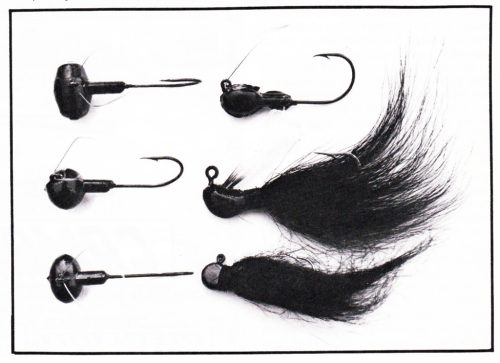 McCain started bass fishing while in junior high school in the early 50s with close friend Don Siefert. By the time the two were in their early 20s, they'd gone from fishing Reseda Park to Lake Sherwood, another close by lake in the Valley.
By the early 60s they began meeting other bass anglers, two of which would become instrumental in their bass fishing, Norm Dye (operator at Lake Sherwood) and Bud
Walsh, the local bass expert. "Bud was the most advanced angler of all of us at the time," McCain said. "He'd fish the lake for a month at a time and he learned so much about the structure of the lake. This was before the time of depth finders and he wouldn't tell us anything unless we figured it out on our own first. When we got our first depthfinders, the Lowrance Green Box, it opened up everything that was going on under water. I got my first one when I was 30 years old around 1967.
"We fished a lot of jigs back in those days and Bud made a twin spin called the Jungle Bum that was a little heavier than the Shannon. He made his own molds out of potatoes.  "We primarily fished pork on the jigs back then," he said. "We used Pedigo and the only place we could get it was at Lake Isabella (about 250 miles from his home). We'd but 25 or 30 cases at a time all in black and purple.
"Around the mid-60s, Siefert and Dye began asking the local anglers if they'd be interested in starting a bass club. They got enough interest and we formed the Southern California Bass Club – or SoCal Bass. Before this time, the anglers wouldn't talk to each other or share any of their knowledge. After forming the club, anglers began teaching each other within the club what they'd learned over the years."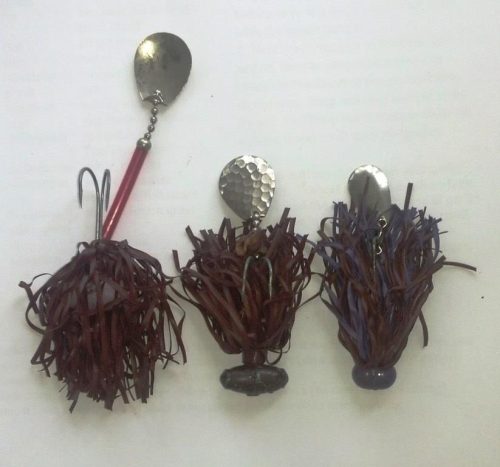 Development of the Football Head
Other than teaching each other bass tactics, they'd also get together and make lures.  "I was the only machinist in the group and because of that I'd make molds for pouring leadheads," McCain said. "We'd get a bunch of guys to come over to my garage at night and we'd set up an assembly line for pouring. One guy would load the molds with wire weedguards and hooks, another would pour and another would pull the heads and trim them.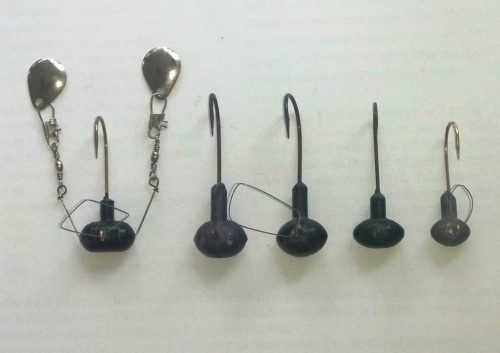 "One of the early molds I made was a barrel head. That mold didn't last too long, though, because it was difficult to pull the head from the mold. That's when I decided to taper the barrel head, in order to allow it to release from the mold easier.  "I got the mold done and had the guys over for a pouring session. When the first few heads came out of the mold, one of the guys said, 'That looks like a football.'" The name stuck. This was around 1965.
"We started fishing the head and noticed that it wobbled when it fell and when it came across the bottom. Those first heads were around 5/8 ounce, which was the most popular head size during those days.
"By the late 60s and early 70s I was making molds for Rip (Nunnery) and the Miller brothers (Mike and Dick) for their tackle companies. The Millers made a single-spin jig called The Boober and Rip had me make him a mold for his twin spin called the Double Bass Boober.  Each guy wanted something slightly different in their heads and I'd make them the way they wanted. For example, some guys wanted the eye of the hook more forward in the head and others wanted eyeballs. Each configuration, especially the hook eye placement, made the jig fish differently."
McCain is now 76 years old and lives in Florida. Not only is he credited with the development of the football head, he and partner Jack Loyd were the winners of the first Western Bass Fishing Association TriState team championship in 1976.  "I live in Florida now and fish whenever I can," he said. "I just grab some worms, put them in my bag, get on my bicycle and fish pond to pond. I went out the other day and my first couple of fish were 2-pounders and then I caught a 4-1/2 and then followed that with three more 4-pounders."  Asked how he feels about his head, he said; "All these years later the football head has become a big deal. To us, it was just a jig head. It caught fish and that's all we cared about."
Want more history of how we got to here??  Check out Bass Fishing Archives