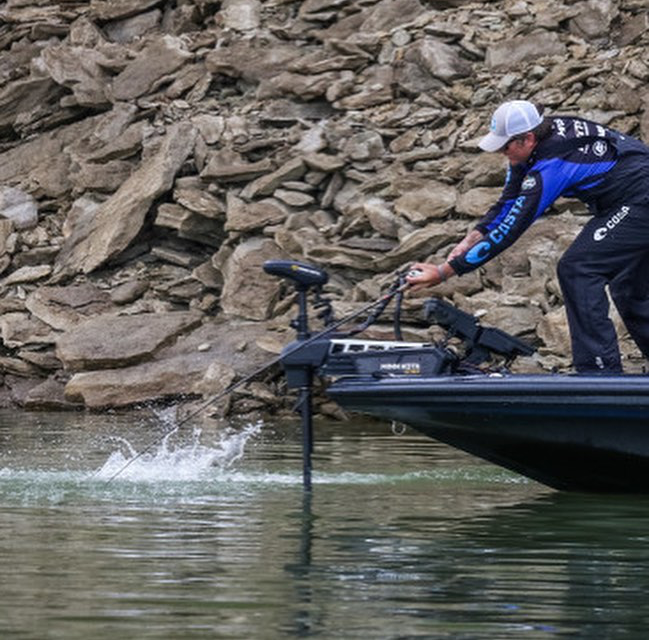 Vance McCullough – AnglersChannel.com
There are two reasons you'd find yourself alone in a bass tournament:
1) you are smarter than everyone else,
2) you are dumber than everyone else.
It turns out that Dylan Hays was the former during last week's FLW Tour on Lake Cherokee when he turned his back on the smallmouth smash fest happening on the lower section of lake and ran up the Holston River to fish for largemouth. Though he finished 3rd, at first he wasn't so sure he'd made a smart move. "I was boat number 78 when we launched the first morning. When I went under the 25E bridge – the first bridge on the lake, it's about halfway up – I was boat number 1.
"Nobody went up there. Not a soul. I said 'Oh, Dylan, you're probably screwing up'.
"And I fished the first seventy-five yards where I had a lot of bites in practice and I never got a bite. I thought 'Dylan, you're really screwing up bad.'
"Then I got my first bite. It weighed 4-6. It settled me in. My next bite was a 3-and-a-half. In my next hour I caught two keepers and then I caught a 4-11.
"Then I knew I had something special.
"The reason I chose to do that was because I just couldn't get the smallmouth game going to be honest with you."
Early the first day of practice Hays caught a 3 ½ -pounder up the lake. While it was not in the area he fished during competition, it gave him a clue. He thought he might bed fish and he marked a bunch of them, but that didn't quite pan out.
"So, day 3 of practice I decided 'I've got to figure out how to catch a bass.' I pulled out a little swimbait and caught some smallmouth, 2-and-a-half-pounders, and I thought with a couple of bed fish I might put together a limit doing that, but it wasn't the winning stuff.
"At 5 o'clock the last day of practice I went up the river; just took off.
"I pulled into the creek I ended up fishing in the tournament and it was like a different lake. I got bit, like, every other flip. Whether it was little ones or bream or whatever, it was something, just something. I liked it and thought 'man, I want to come up here, but I haven't caught any keepers yet'.
"I fished for twenty more minutes and caught a 4 ½ – pounder. The very next flip I shook off a big one. And like, five flips later I shook off another big one. I said, 'well ok, the decision's made right there'."
Hays' decision to fish the upper reaches of the lake nearly won him the tournament. "I should have made it happen. I lost the winner on Day 3. But four or five guys had the bites to win. But I did, for sure, have the bites to win."
Hays weighed-in several 4-pounders during the event which made him the envy of most guys in the smallmouth camp. Lake Cherokee has an outstanding population of 3-pound brown bass, but 4-pounders are rare.
While he had half the lake to himself, Hays caught most of his weight throughout the week from one piece of shoreline. "Out of the seven 4-pound fish I weighed, six of them came off one bank. I also caught another six that weighed 3-plus off that bank. That's over half my fish that I weighed in the tournament, off one stretch."
What made that section of the creek so productive? "The channel wrapped around this point right there. All the big females I caught in that creek were sitting right there. You could get off that, to some steeper banks, and catch some but they would almost all be males, 2 ½ pounds or less."
While he used the flipping approach – generally associated with heavy cover – to put a lure in front of fish, Hays says the magic was more about the structure of the bottom, less about the cover on it. "Contours. That's all it was – contours. There were three or four laydowns on it, only one laydown that I caught fish out of. I caught two big ones out of it the first day and never had another bite on it all week. All the rest of them, I was just flipping the rocks. There might have been a log here or there but most of those fish were just sitting on the rock."
Hays duplicated some of his magic on three other channel swings in the same creek. "I also caught a couple of 4-pounders and another 3-pounder fishing channel swings out on the main river with laydowns. I even had that to myself. I never ever had a boat in my way the whole week."
Hays did most of his work with a homemade half-ounce jig, green pumpkin/brown, tipped with a Zoom Z Craw Jr in green pumpkin. "I also caught a couple the last day on a Zoom Big Salty Chunk on the back of that same jig.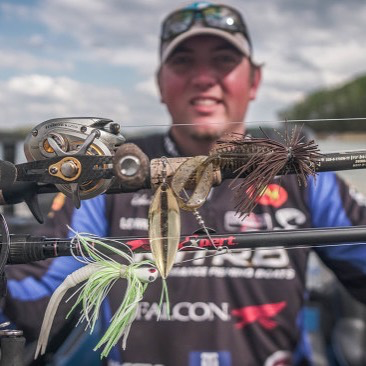 "I weighed two fish on a Phancy Lures spinnerbait. Half-ounce, chartreuse and white with tandem blades. The wind literally blew, like, ten minutes one day and I picked the spinnerbait up and caught a 4-pounder. Then it blew, like, ten minutes another day and I picked it up and caught a 3 ½ -pounder on it. It never blew in there the whole rest of the tournament."
Conditions called for fluorocarbon line. Hays opted for 20-lb Hi Seas. "That stuff is really, really strong. That was key because I was flipping rocks the whole time and that's bad on your line."
Video on FLWFishing.com shows the big, round bow of Hays' rod as he sets the hook. He says that action was critical to success this week. "A 7'3" Falcon Cara swimbait rod. That rod is awesome to flip with."
A 7:1 reel helped him keep up with feisty springtime bass.
Hays used his Costas to good advantage too. Late on the first day, when he boated his best bag of the week, he needed to cull a 15-incher. "I went and started checking some beds I had marked. I had six big ones marked and they were all gone. I went over one fish that was still there. It was a 3-pound smallmouth. I caught it sight fishing. The beds were really hard to see. I knew that wasn't the deal, but it did give me one good fish the first day."
Hays hopes to ride his newfound momentum to a Cup appearance. "I was the first person out of the cut for the Cup last year by two points. I really want to make the Cup. I just jumped from 72ndin the points to 39th. That's huge for me."
The top 40 pros get an invite to fish the Forrest Wood Cup in Hays' home state of Arkansas.
"The Cup is on Lake Hamilton which is just down the road from me."
Along the way to qualifying for the championship, Hays would like to win a Tour event. "I've been close 3 years in a row. This is my 3rdTop 3 in 3 years. But you won't hear me complain about 3rdplace."
Hays has seen Champlain, sight of the Tour finale. "I've fished it the last two years the same exact week we fish it this year. Not saying I'm going to do good. I've cut checks both times though. But I will not be intimidated by the lake like I was the first time I showed up there. That was the first time I ever saw big water in my life. I was just a freaking scared little kid. I didn't know how to get around and I was just really intimidated. At least now I won't have that factor going in."
He pre-fished Chickamauga with mixed results. "I caught 6 pounds one day and 19 the next day. I'm comfortable there but I'm still nervous – I'm always nervous about 'em. I ain't ever sure I'm on 'em wherever."
Uncertainty didn't hurt Hays this past week. He followed his gut to a $25,000 payday and a high finish. But still, it's a razor's edge between success and failure. "If I didn't find those fish in that last hour of practice, I would've probably caught ten or twelve pounds a day and finished in the hundreds."
But if Hays keeps listening to that little voice in his head . . .
---